Current Issue
February 2014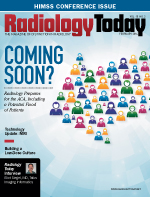 features
Coming Soon?
Experts discuss the rollout of the Affordable Care Act and how radiology practices should prepare for this transition in health care.
Technology Update: MRI
The newest MRI offerings focus on increasing patient comfort, lowering noise, and expanding into more clinical areas.
Building a Low-Dose Culture
Learn how to implement this kind of culture where everyone from radiologists to ordering physicians to patients understand the importance of dose reduction.
Radiology's Future in Big Data
Radiology Today interviewed imaging informatics expert Eliot Siegel, MD, about his thoughts on its future in radiology.
departments
Editor's Note
The Twain Have Met...at HIMSS
Imaging Informatics
Improving Pediatric X-Ray Protocols
On the Case
Product & Service Showcase

Guest Commentary
Imaging Analytics
Products and Services
Radiology Billing and Coding
Career Change Culture Shock
Datebook

Second Opinions