Current Issue
April 2014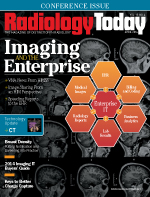 features
Imaging at HIMSS
The recent health care IT extravaganza in Orlando illustrated how medical imaging is becoming more integrated into EHRs—and changing radiology's relationship with enterprise IT.
Breast Density
Experts discuss how to best notify and screen patients with dense breast tissue.
Enterprise Image Sharing
Learn how HIM professionals can work with radiology departments to implement image-sharing technologies within their organizations.
Technology Update: CT
Aside from reducing dose, manufacturers also are trying to make their scanners faster, easier to use, and more accurate.
departments
Editor's Note
Value-Based Imaging
Imaging Informatics
A Better Connection
On the Case
Radiology Billing and Coding
Four Keys to Better Charge Capture
MRI Monitor
MRI May Predict Cardiovascular Events; 7T MRI Study Images Parkinson's Disease
Datebook

Imaging IT Buyers' Guide
News Scan
Second Opinions