Current Issue
July 2014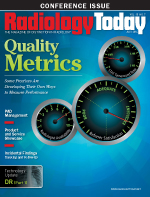 features
Quality Metrics
Measures of physician competence, patient satisfaction, operational efficiency, patient safety, and study appropriateness will be important in value-based care, so forward-thinking organizations are developing their own measures to prove their worth.
Workflow, Image Quality, and Dose Reduction
In part 1 of Radiology Today's discussion on DR technology updates, manufacturers provide a look at the latest innovations and advances.
Pursuing PAD
Interventional radiologists are treating peripheral arterial disease using various clinical approaches and practice arrangements.
departments
Editor's Note

Imaging Informatics
Tracking Incidental Findings
Managing to Succeed
Imaging Creates Smart Dashboards
MRI Monitor
Implantable Sensor Measures Brain Tumor Oxygen
Ultrasound News
Molecular Imaging News
AHRA Product & Service Showcase
News Scan
Datebook
Second Opinions