Current Issue
August 2014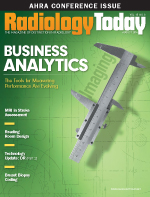 features
Technology Update: DR
In part 2 of Radiology Today's discussion on DR technology updates, four manufacturers add their observations about current market trends and provide an overview of their latest products.
Improving Stroke Assessment
Johns Hopkins researchers have developed a new technique that utilizes MRI and can predict with 95% accuracy which ischemic stroke patients could benefit from the use of a clot-busting drug and which could suffer potentially lethal brain bleeding.
Reading Room Redux
As technology continues to evolve, the space in which radiologists work has become more important. As a result, they now have a bigger say in how their workspace looks and feels in order to ensure maximum productivity.
Business Analytics
Benchmarking business processes and performance metrics for industry best practices through the use of major surveys rose to prominence in the 1980s, and recently several companies have begun filling the growing need for specialty-specific data.
departments
Managing to Succeed
Update Your Patient Dose Policies and Procedures
Imaging Informatics
Quantitative Imaging Tools
On the Case
Women's Imaging News
Coding for Percutaneous Breast Procedures
CT Slice

Products and Services
News Scan
Datebook