Current Issue
December 2013
FEATURES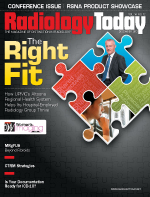 The Right Fit
The University of Pittsburgh Medical Center Altoona Regional Health System has found a way to balance physician autonomy with the security and benefits of hospital employment.
Completing the Call
Read about critical test results management systems, which help ensure major radiology findings flow quickly from the radiologist to the physician.
Reporter's Notebook: ASTRO 2013
Learn about the latest research findings presented at ASTRO's annual meeting this fall.
MRgFUS — Looking Beyond Uterine Fibroids
While this noninvasive procedure primarily is used to treat uterine fibroids, experts agree that it may be used for other complications, such as metastatic bone tumors.
departments
Editor's Note
Hospital Practice Ownership
Radiology Billing and Coding
Is Your Documentation Ready for ICD-10?
Imaging Informatics
Cloud-Based CT Dose Monitoring
MRI Monitor
Turn Down the Volume
Women's Imaging News
Women Prefer Less Invasive Fibroid Treatment; Ultrasound May Prevent Misdiagnoses of Nonviable Pregnancy
Product & Service Showcase

Datebook
Second Opinions