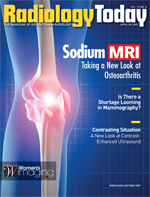 April 20, 2009
Is There a Shortage Looming in Mammography?
By Kathy Hardy
Radiology Today
Vol. 10 No. 8 P. 16
The ability to detect breast cancer and the fight for a cure are at the forefront of women's healthcare in the United States today. Experts in women's health credit the development of screening guidelines in the 1980s for starting this trend, and media attention of subsequently published studies helped spread the news. The result: More women aged 40 and older are scheduling screening mammograms, leading to early-stage detection of and a decrease in deaths from breast cancer.
With increased screening, as well as improvements in breast cancer therapy, the National Cancer Institute notes that the mortality rate from breast cancer decreased 23.5% between 1990 and 2000 for women aged 30 to 79.
"We know that the mortality of breast cancer is decreased among women who have screening mammography," says Carol H. Lee, MD, chair of the ACR's Breast Imaging Commission. "The number of women who reach the age where they should have a mammogram every year is increasing."
Unfortunately, increases in breast cancer awareness aren't carrying over into the workforce. Forecasts produced in a study by the Center for Health and Workforce Studies at the University at Albany School of Public Health in Rensselaer, N.Y., raise the concern that the workforce supply may not keep up with the demand for mammography screening services. If employment trends continue, the number of radiologists and radiologic technologists in mammography may not be able to keep up with the demand for services, resulting in a dramatic reduction in mammography professionals per woman aged 40 and older during the next 15 to 20 years. The effect of increased demand for mammography services on a potentially dwindling supply of mammography professionals remains to be seen.
"If there is a shortage in the future, it could impact access to mammographic services," says Myke Kudlas, MEd, RT(R)(QM), vice president of education and research with the American Society of Radiologic Technologists (ASRT). "The shortage does not seem to be acute in mammography now, but with these constant numbers, the demand for mammography may increase in the future as demand for services increases."
According to the study, the gap between the supply of and demand for mammography professionals over the next two decades will increase unless the annual number of new mammography professionals increases beyond current levels. Assuming mammography workforce numbers remain the same as they were from 2000 to 2003, the number of radiologists per 100,000 women aged 40 and older is projected to decrease from 21.1 in 2003 to 19.4 in 2010 and to 15.5 in 2025.
Study coauthor Margaret H. Langelier stresses that these statistics are based on current data and that, without a crystal ball, no one can guarantee that these projections will come true.
"It's difficult to forecast supply once you consider time and demand for workforce," says Langelier. "A model is a picture in time used to produce a view into the future based on data collected now. Given current and expected utilization, as well as current education patterns, we forecast that this is what could happen."
The big "if" in this study is whether current workforce numbers of mammography professionals will continue to trend downward.
"This study is based on a lot of projections and assumptions," says Lee. "Certainly, if these projections prove to be correct, we are looking at a serious manpower situation, but there are a lot of different factors that could affect this. This situation may not be as dire."
Lee, a diagnostic radiologist at Memorial Sloan-Kettering Cancer Center in New York, notes that while the number of women aged 40 and older is steadily increasing, no one can predict how many of these women will pursue annual screening mammograms, whether due to lack of interest, lack of medical insurance, or some other reason. Future demand for mammography services is a variable that is difficult to estimate.
"Although the value of mammography as a public health intervention is generally recognized, there remain women at high risk for breast cancer who fail to use mammography screening services or who, for other reasons, currently have limited access to mammography services," the authors wrote. "As a result, there are women currently who are not being screened who fall within screening parameters."
Predicting the number of new radiologists over the next 15 years is difficult as well. Today, statistics from the ACR show that about 16,000 of the approximately 26,800 radiologists in the United States interpreted at least some mammograms in 2003. That subset of radiologists read almost 38 million mammograms in the same year.
Projections based on a 2003 survey conducted by the ACR and a 2004 survey conducted by the ASRT were originally prepared for a 2004 Institute of Medicine study on mammography. The study considered three workforce supply scenarios of radiologists and radiologic technologists entering the mammography field:
• In the "status quo" scenario, the model assumed that the number of radiologists entering the mammography field would remain at the 2000 to 2003 average of 549 per year. That same model kept a constant pattern of radiologists leaving practice through 2025.
• In the "increased number" and "constant ratio" scenarios, the model assumed that 650 new radiologists enter the mammography field while the rate of departures remains at current levels. In this model, the number of practitioners per 100,000 women aged 40 and older declines at a slower rate than with the status quo, resulting in 20 in 2025. To keep the ratio of radiologists to women aged 40 and older constant with today's statistics, the number of radiologists entering mammography would have to increase to 725 per year.
Langelier acknowledges that many factors could alter the projections made in this study. For example, these findings assume that mammography will continue to be the basic tool for breast cancer screening. She notes that MRI is valuable under certain circumstances but that it is a diagnostic tool, not a screening tool.
"Mammography is not a perfect test, but it is the best screening test that we have for detecting early stage breast cancer," Langelier says. "While other technologies have been developed for use in breast cancer detection, none as widely available or as efficient in screening large numbers of women."
In addition, some recent trends show a decrease in the number of women seeking mammography screening. Should that trend continue, decreased numbers of radiologists and radiologic technologists may not have the same impact as what is projected in this workforce study.
Standard guidelines for breast cancer screening could change as well and, with that, the types of technology recommended.
"The real wild card in this equation is the role of technology," Kudlas says. "It is hard to determine what the role of digital mammography will have on departmental efficiency and patient throughput in the future as well."
Another potential deterrent to radiology professionals becoming involved in breast imaging is the issue, or perceived issue, of litigation. Langelier says questions surrounding whether the radiologist may have missed something now or during a patient's last mammography screening one year ago introduce the potential for lawsuits. She cites a recent study on the perception of increased litigation in breast imaging that shows a gap between the perceived risk and the actual rate of litigation regarding breast imaging. The study found that radiologists who work in breast imaging tend to overestimate their actual risk of medical malpractice lawsuits.
"The threat of litigation can make you more vigilant, but it can also scare radiologists away from mammography," Langelier says.
When considering the supply of radiologic technologists, the study reveals future concerns as well. According to the findings, an estimated 26,132 radiologic technologists worked in mammography in 2004. Based on the status quo model, the projected total would drop to 19,868 by 2025. By increasing the number of annual additions to the field to 1,610, the number of technologists would remain constant until 2025, but the ratio of providers to women aged 40 and older would steadily decline. To maintain a constant ratio, the number of new technologists would need to increase to 2,300 per year.
Kudlas notes that a recent staffing survey shows a slight decrease in the number of radiologic technologist openings in mammography.
"The vacancy rate in 2006 was 4.9%; in 2007, the vacancy rate was 5.5%; and in 2008, the vacancy rate was 4.2%," Kudlas says.
From the radiologist's perspective, radiologic technologists are vital to the mammography process, Lee says. Not only are they necessary for breast screening, but they are a vital part of breast MRI.
"Radiologists can't do anything if they don't have images to interpret," she says. "And it's well known that you can't read the MR images without a mammogram."
While salary can be a factor in technologists seeking other imaging specialties, Langelier notes that not everyone gets into breast imaging for the monetary benefits.
"There are those who do it because they love it," she says. "They love working with women and helping them with this important screening process. Many centers perform mammograms as a public service but not to make money."
Stress can also be a factor in technologists avoiding breast imaging. Mammography patients often come to their screenings with great anxiety about the process, even before there are bad findings.
"Burnout continues to be an issue in all imaging and therapy modalities," Kudlas says. "In fact, a course entitled 'Avoiding Burnout' is consistently one of the top five sellers in the ASRT online store."
According to the study, adjustments in breast imaging resources will be required to meet the increasing demand for mammography. At a minimum, there is a need to increase the technical and professional workforce, particularly for radiologic technologists, as they handle the technical, hands-on aspects of mammography.
Reaching radiologists during their training could be a key to filling the potential void in mammography professionals. Trends in radiologists pursuing breast imaging fellowships are on the rise, Lee says. Radiologists specializing in breast imaging are highly productive and essential to mammography services. However, in 2003, only 46 of 53 breast imaging fellowship programs were able to recruit fellows. In addition, the number of filled slots in those fellowships decreased from 76 in 1996 to 63 in 2003.
Lee adds that more residents are learning about breast imaging earlier in their training.
"Now, residents are more often doing their breast imaging rotations in their first or second years," she says. "We're actually seeing more interest among radiology residents in breast imaging."
Also, increased involvement by radiology assistants in mammography would also help fill anticipated workflow shortages; their contributions would positively impact productivity.
"My bottom line is that we need to wait and see if the trend toward a shortage of radiologists becomes a problem," Lee says. "As the eligible population increases, we need to see how this will play out."
— Kathy Hardy is a freelance writer based in Phoenixville, Pa., and a frequent contributor to Radiology Today.