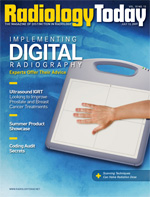 July 13, 2009
Secrets of a Successful Self-Audit
By Wendy Coplan Gould, RHIA
Radiology Today
Vol. 10 No. 13 P. 10
While the term "audit" generally brings forth feelings of fear and dread in most people, it can also convey a sense of security and peace of mind. An audit done as part of a proactive overall compliance plan ensures enough effort is being made to uncover and fix potential coding problems before they become major issues.

For one director of diagnostic imaging at a 305-bed community medical center in Colorado, a coding audit was an important step toward more accurate coding and better reimbursement. While the director was pleased to discover that her internal team's coding accuracy was 10% to 15% higher than the industry standard for radiology, she was also concerned when the audit revealed undercoding and missed revenue opportunities.
With reimbursement being squeezed and every dollar essential for fiscal health, radiology directors can't afford to leave money on the table. Coding audits confirm that coding is being done well, identify errors, and support correct reimbursement. In short, audits deliver peace of mind that is well worth the investment.
Audits are a good practice for all organizations, particularly those organizations with internal coding teams, outsourced coding provided through a billing company, or new service line(s). Best practice guidelines from the AHIMA recommend a combination of internal and external coding audits for effective coding compliance. Specifically, the association recommends internal audits every quarter and an external audit annually.
Self-Audit Your Coding Function
This article provides simple steps that radiology departments and practices can take to conduct a self-audit for coding. If you don't know whether your coding is good, bad, or great, your organization is at risk. This article helps reduce your risk and sets the stage for better coding and optimal reimbursement.
To successfully audit an internal coding team, radiology directors should take a two-step approach. First, conduct an operational assessment to identify and repair any administrative problems that may be hindering coding performance—both upstream and downstream from the actual coding function.
Then conduct a complete coding audit internally or by using an outside auditing firm. The coding audit includes a high-level review of coding outcome data, as well as an in-depth analysis of specific cases and scenarios.
• Operational assessment: The five areas for review in an operational assessment include the charge description master (CDM), noncoder staffing, workflow, report turnaround time, and coder staffing. Hospital radiology directors should check with the IT and HIM departments to make sure the CDM is accurate and up-to-date. New equipment and new radiological services can wreak havoc on coding accuracy, and often an outdated CDM is the cause. This is especially true in interventional radiology, where complex procedures are often ill-defined in the CDM. After completing a comprehensive CDM review to ensure all services are coded and charged appropriately, radiology directors can turn their focus to staffing.
Staffing at all steps in the process should be assessed, including scheduling, registration, exam, and billing. Is staffing sufficient to manage peaks in volume? Has all staff been trained sufficiently in precertification, medical necessity, and local coverage determinations? Does your practice management or hospital information system automate any of these steps? What information is being collected during registration and scheduling? Is it being duplicated?
Finally, radiology directors must evaluate staffing within the department. One organization found that administrative coverage was adequate, but a specific CT technician did not work on Tuesdays, which caused downstream delays in coding and billing. A simple staffing adjustment in CT provided the necessary fix.       
Workflow is another important area to review, with a specific focus on unnecessary paperwork, faulty information handoffs, and redundant processes. Starting with the referring physician's orders for the test and the patient's insurance information, ask yourself whether the right information is being received by the right person at the right time. Is information being duplicated unnecessarily? Are transcribed reports and other documents being photocopied and manually distributed? If so, can technology be used to automate these handoffs and eliminate redundancy?
Finally, are the billing and coding teams working in tandem or from separate silos? Simple lunch and learns and joint educational sessions to better understand each other's roles can dramatically improve coding and lead to fewer denials.
Report turnaround time is the fourth area for internal review. Directors should track sample reports from exam to billing. How many days does it take for the final report to be available for coding? In some cases, coders don't receive reports until five or six days after an exam. Delays often occur at the radiologist level, the transcription level, or both. A good benchmark for transcription turnaround time after dictation is two to 24 hours.
The last area is your coders themselves. Are they qualified and credentialed, and do they have ample continuing education opportunities? Keeping up with the increasingly complex radiology coding rules demands ongoing training. Radiology coding is truly a specialized job that requires specialized attention. Directors should work with their HIM department to ensure the right coders are in the right positions before moving on to the second phase of a complete coding audit.
• Conducting your own coding audit: As mentioned earlier, internal coding audits should be conducted quarterly and external audits yearly. Radiology directors should review summary reports, as well as individual cases. Most audits confirm the obvious: Coding errors stem from inadequate documentation, negligible documentation from the ordering physician, or insufficient dictation from the radiologist. Peer-to-peer physician education with specific case examples of lost radiology revenue is often the best remedy.
To begin the audit, compare what was coded to what was submitted on the claim and to what was paid on the claims in your sample. Reviewed monthly, this information can be trended over time and compared from year to year.
Twenty-five random cases should be included in a focused audit for each coder, with a minimum of 100 cases. The focused audit should cover the scope of services provided by the practice. A commonly accepted accuracy rate for internal coders is 95%. Are your coders below, at, or above this mark? A review of denied claims is another good indicator of problem areas—or problem staff.
There are several options for assigning the actual auditors and conducting the audit. They range from designating a coding manager as the internal review specialist to incorporating radiology coding as part of the organization's coding compliance program. Other organizations may choose to completely outsource the audit.
It is up to each facility to determine which program best meets its needs. Radiology departments and practices with seasoned, proficient coders may not need an aggressive audit program. Those with new to midlevel coders should use a stronger approach, and if radiology coding is centralized—the same coders assign hospital and physician codes—a different type of audit may be indicated.
Audit results will identify problem areas and lead to appropriate corrective action, which could include an education and training program, a clinical documentation improvement program, physician training, centralized radiology coding, or a decision to completely outsource coding (and perhaps billing).
Audit Your Billing Company
For radiology practices that already outsource the coding and billing function to a billing company, auditing takes on a completely different meaning. In these situations, radiology directors must approach a coding audit with the following specific goals:
1. Are we receiving all the reimbursement to which we are entitled?
2. Is our coding (as performed by the billing company) compliant?
The first step in auditing your billing company is to track their numbers to your own month by month and then compare all figures once per year. Look at how many cases were performed by type annually. Adjusting for volume differences, evaluate how much was billed and how much was collected—actually received—by the billing company. Did profit margins improve or decline over the past year and by how much? Also, what was the denial rate, and do the figures reveal any red flags, such as a new piece of equipment or exam resulting in a high percentage of denials? Examine samples of denials and inquire about the billing company's process to resolve them. What is the denial management process? What is the pattern, and how can you work better together to improve coding?
The second step is to take a look at coding accuracy and compliance. Billing companies should audit their own staff and have a working coding compliance plan in place. Radiology directors can ask to see the reports, keeping in mind the 95% accuracy rate mentioned earlier. Request a sample set of coded cases and ask an internal radiology coding expert or outsourced consultant to validate the results. Finally, are the billing company's coders experienced, credentialed, and up-to-date with continuing education? All too often, billing company coders are ill equipped to handle the intricacies, volume, and ever-changing rules of radiology coding.
The best billing companies in the world can deliver well-respected billing and collection services but fall short when it comes to coding. An annual audit of their coding capabilities will help keep accuracy and compliance in check.
Conclusion
Radiology coding is a complex process, and regular audits can help ensure accuracy, compliance, and a healthy bottom line. The audits do not have to be painful, threatening, or a cause for worry. They can be a valuable validation of your quality, a source of valuable information to improve revenue and compliance, or a springboard for better collaboration with internal teams or outsourced companies. By using the proactive approach to the audit process and doing a little self-analysis, your facility can reduce the risk of false claims or fraudulent coding and billing practices, ensure the appropriate reimbursement is received for all services, and improve coding integrity and clinical documentation.
— Wendy Coplan Gould, RHIA, is president and CEO of Health Record Services, an HIM coding and consulting company. She is considered an expert in HIM remote coding technology and has authored articles on coding and outsourcing and served on numerous committees for the AHIMA.