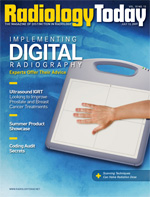 July 13, 2009
Closer to Home
By David Yeager
Radiology Today
Vol. 10 No. 13 P. 20
Pottstown Memorial Regional Cancer Center shows that first-rate cancer care doesn't have to be synonymous with big institutions.
A cancer diagnosis triggers a wide variety of thoughts and emotions, but one thought is probably universal among the newly diagnosed and their families: getting the best possible care. However, other considerations soon come into play, such as the proximity of a cancer treatment center to the patient's work or family. Many people who live in suburban or rural areas may assume that they must choose between traveling to a large teaching hospital in a major metropolitan area for state-of-the-art treatment and staying closer to home with a trade-off in care quality.
Pottstown Memorial Regional Cancer Center is part of the 227-bed Pottstown Memorial Medical Center, located within one hour of Philadelphia and 30 minutes of Reading, Pa., the largest and fifth-largest cities in Pennsylvania. Pottstown is a town of roughly 21,000 people on the edge of a major metropolitan area. In addition to current cancer treatments, the cancer center offers an interdisciplinary treatment staff that, along with physicians, nurses, dosimetrists, and radiation therapists, includes massage therapists, Reiki masters, and a harp therapist. And Michael Lambo, MD, the radiation oncology department's medical director, says the cancer center was among the first centers in the Northeast to fuse PET and CT images for cancer treatment planning.
Despite these services, a community facility located reasonably near larger and more well-known facilities could find it difficult to attract patients. But the cancer center's program director, Peg Neese, RN, BSN, OCN, says Pottstown and other community cancer centers offer a benefit that larger institutions can't provide to people who live on the fringes of their geographic areas.
"You want your patients to be able to get their care near home," she says. "We offer the technology, the biotherapies, the medicines to keep patients near home."
The cancer center offers intensity-modulated radiation therapy (IMRT), which has been performed there since 2001. Although many patients still receive 3D conformal radiation therapy, an increasing number are benefiting from the more precise radiation delivery that IMRT offers. "A little more than 40% of our patients receive IMRT," says Neese.
"And when you have an ability to modulate the intensity of a dose within a given volume, you can give more dose during a given treatment to one region than another region," says Lambo, who commonly treats prostate, breast, lung, head and neck, primary brain, and gastrointestinal cancers. "Over the cumulative treatment course, if one small area is getting maybe 225 cGy per fraction, while the general area is getting 180 or 200 cGy per fraction, there's going to be a volume that's being treated at a higher fractional dose per day and a higher total dose over the course of treatment."
"Things that would be in standard fields with three-dimensional treatment can be protected much better, and that enables us to give the tumor volumes higher doses more safely," adds dosimetrist Lisa Goulet, RT, CMD.
Reducing Side Effects
Lambo says the most dramatic change he's seen with IMRT is the reduction in radiation-related side effects. "Without a doubt, the toxicities have gone down dramatically," he says. "I've been doing this long enough to observe the era of 2D radiation therapy and the early days of 3D conformal, and what's patently obvious is that the side-effect profiles with IMRT have gone down dramatically.
"When I first started treating with IMRT for head and neck cancer, I felt compelled to review all the treatment plans because treatment-related complaints diminished significantly," he adds.
Neese says she's noticed fewer dry mouth problems with head and neck cancer patients, as well as fewer skin irritations with breast cancer patients. And Lambo has also seen significant improvement in prostate cancer patients.
In addition, Lambo notes that he's finding better tumor control rates due to the increased radiation doses. "I think the real gains are going to be in outcomes and the ability to target the areas that need to be targeted with greater precision at higher doses," Lambo says. "You have better outcomes, and you have a lesser side effect profile and happier patients. That's the mantra of radiation oncology."

IMRT Strategy
Although IMRT has shown excellent results, it presents some challenges. "Treatment planning is time consuming, as is the delivery time," says Goulet. "A three-dimensional plan can take 10 minutes to an hour, and an IMRT plan can take an hour to a couple of days. However, the time expenditure is justified by the increased precision.
"We tend to use IMRT for any irregularly shaped tumor volumes, especially head and neck cancers and prostate cancer, or anything that's next to a vital organ such as the optic nerves, so that we're not overdosing and causing people problems with their sight," she continues. "Of course, we would want to protect anything near the spinal cord, so we would use IMRT." Later this year, Pottstown Memorial Regional Cancer Center is planning to update its IMRT equipment with a new Varian linear accelerator.
But the center's focus extends beyond tumor treatment, offering a broad range of services to treat the entire patient. Along with the previously mentioned integrative team members, there are dietitians, social workers, psychologists, and a chaplain available to support patients. The cancer center also works closely with local TriCounty home care and hospice services.
"The whole diagnosis is overwhelming. If you find out you have cancer, even if it can be cured, which we've seen more of, it's still very frightening," says Neese. "So, if we can help patients in the beginning with education and emotional support and then add integrative therapies, it helps them to relax."
Keeping Current
Education and emotional support are particularly important because an increasing number of patients continue to work while they're receiving treatment, partly due to economic necessity and partly as a result of better side-effect management. Local treatment facilitates patients keeping their lives moving. The cancer center supplements their services by working with the American Cancer Society (ACS), which has a significant number of resources and programs available. The ACS also offers support groups to meet patients' varying needs. For patients who have busy schedules, the ACS' online services allow patients to connect with survivors for a one-on-one discussion.
And being a Fox Chase Cancer Center Partner has allowed Pottstown Memorial Regional Cancer Center clinicians to broaden their expertise. Neese says Fox Chase provides important support and networking systems, such as educational seminars on new topics, expert speakers, and working groups for physicians, nurses, community health specialists, and program managers.
"Fox Chase is a tremendous help to us as a resource," Neese says. "If there's a unique cancer, they are an educational support for our staff, our physicians, and our nurses. We also participate in research through them." She adds that patients can participate in radiation and chemotherapy trials at Pottstown without having to go to Philadelphia. "You don't have to go elsewhere. A patient can rest assured that he or she is not only getting the present standard of care but what will be standard therapy five years from now," Neese says.
Spreading the Word
Just because Pottstown Memorial Regional Cancer Center offers this type of care, doesn't mean there aren't challenges involved with promoting it. Neese says the cancer center's staff reaches out to the community in a variety of ways to highlight the services they provide. "We work closely with the cancer society in town. Many of us are involved with Relay For Life. I was cochair for 10 years, and that's a huge way to really let your population know because most of the people that go to the relay are our patients, but there are those who live in outlying areas who come," she says.
The cancer center has used ads on cable television and in newspapers to reach a wider audience. "Not necessarily just ads, but we try to use, for example, a physician talking about IMRT or a patient talking about his experience with radiation therapy," says Neese. "Sometimes, hearing from another patient really means a lot, so we try to do that."
On the professional side, the cancer center works closely with local doctors to keep them informed about what's going on at the facility. Neese says it's important to regularly speak with referring physicians. New physicians continually come into the healthcare system, and it is important to keep them up-to-date and familiar with the services the center provides.
Word of Mouth
However, Neese believes the most effective marketing comes from treating patients. "Our patient satisfaction scores are 95% to 98% excellent all the time, and I think that says a lot," she says. "People are pleased with their care, and they share that with their family members."
But no matter how it's presented, the main message is the same: Patients don't have to go far to receive the treatment they need. "That's really the whole thrust of cancer care, to bring your patients home, because the patients need to be with their support systems to be able to really get through the day-to-day treatments," says Neese. "We provide standard care, beyond standard care, right here. The patients should expect that."
— David Yeager is assistant editor of Radiology Today.