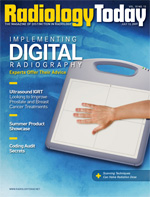 July 13, 2009
Commoditizing Radiology
By Jim Knaub
Radiology Today
Vol. 10 No. 13 P. 3
You love commoditization when it keeps money in your pocket by pushing down the price of your flat-screen TV or the canned cat food for your fussy tabby. But what about when you are the target instead of the beneficiary?
"What we don't like about commoditization is when it knocks on our door and says, 'You know what? We don't need you,'" Paul J. Chang, MD, FSIIM, told the audience during the closing session at last month's annual meeting of the Society for Imaging Informatics in Medicine. And more than a few people in radiology fear that commoditization will come knock, knock, knockin' on imaging's door. The session featured a panel discussion with audience participation on the challenges and opportunities IT is bringing to radiology.
Wal-Mart may be the very poster child for commoditization. The über-retailer is a tightly run operation that uses modern IT to profitably provide consumers consistent quality—if not always the highest quality—at low prices. That's the part you love.
Wal-Mart also has driven many smaller retail competitors out of business. That part scares radiologists who view growing, technology-driven teleradiology practices as the potential Wal-Mart of radiology—and their own practices as the threatened small retailers. In addition to the teleradiology giants, traditional radiology practices are growing bigger and serving larger areas.
Commoditization has created shakeouts in many businesses but not so much in medicine. Many believe that is changing … or will change. "In almost every economic model you have to have winners, but you also have to have losers," Chang said. "In the past decades, what we've kind of done [in radiology] is messed with the system so we don't really have losers. Have you ever heard of radiology losing? Well, you are now."
While it will be painful for some radiologists caught in the change, consistently solid quality for the masses at a lower cost is also something America needs in its healthcare system.
jknaub@gvpub.com