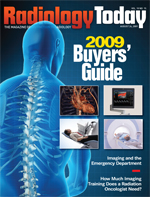 August 24, 2009
Good Neighbors — Locating Emergency Departments and Imaging Departments Side by Side Saves Crucial Time
By Kathy Hardy
Radiology Today
Vol. 10 No. 15 P. 16
Emergency department (ED) statistics illustrate how important it is for physicians to have easy access to radiology services. According to numbers gathered by the Centers for Disease Control and Prevention, 119.2 million patients passed through U.S. EDs in 2006. In orthopedics alone, the ACR notes 1.3 million annual ED visits in the country due to acute knee trauma.
Whether the reason someone ends up in a hospital's ED is skeletal, muscular, or vascular, many of those visits include orders for x-rays, ultrasound, CTs, or MRIs. The increase in diagnostic imaging studies ordered through EDs is fueling a need for more immediate radiology services.

Increased imaging in EDs can add to overcrowding, with patients waiting hours to receive medical attention. EDs often remain at or beyond volume because of inpatient bed availability and delays related to radiology and other diagnostic services.
Emergency imaging services need to be immediate, with quick turnaround times for interpretations because treatment decisions hang in the balance. And finally, there's the issue of location. Patients sent to radiology for diagnostic imaging may need to be transported across the hospital through other areas. In transit, they're exposed to the general hospital population, including the public, and using time. For overnight patients, it can mean finding an on-call radiologist to read images and consult with emergency physicians on a diagnosis.
What all this adds up to is a need for immediate access to high-quality imaging services and radiologists who can interpret images with accuracy and in real time. More hospitals are finding ways to make this happen by bringing radiology closer to the center of emergency care.
"Locating radiology in the same area as the emergency department brings the hospital's state-of-the-art imaging technology to an area where it is needed for immediate diagnosis of acute cases," says Robert Pinsk, MD, chief of radiology at Paoli Hospital, located in suburban Philadelphia. Pinsk adds that combining ED and radiology also results in better throughput in this busy area of the hospital.
Construction Opportunity
As hospitals undergo new construction and renovations that include the ED facilities, many choose to incorporate radiology into or right next to the ED suite. Such is the case at Paoli, which is part of the Main Line Health system. The hospital recently completed a $145 million expansion project that doubled the facility's size, adding a 259,000-square-foot medical pavilion that includes a new ED that's four times larger than the former department. The new ED includes 28 private patient rooms, a fast track area for nonacute cases, and four triage stations. The radiology department, including a new 64-slice CT, MRI suite, and two radiographic rooms, is located adjacent to the ED.
Steven J. Gamburg, MD, chief of emergency medicine at Paoli, explains that rooms within the department are organized to create efficient flow for patients who require radiology services, as well as more efficient workspace for radiologists and technologists.
"The technologists' area is large and well aligned with all other areas within the department," he says. "Once technologists receive an imaging order, they can simply escort over to x-ray. CT is close as well."
Due to the nature of MRI, this area of radiology is strategically located next to the ED but not as close as the other imaging modalities and has limited access to the rest of the department.
Acute trauma emergencies requiring immediate attention bypass the fast track area on their way to radiology through a back hallway, allowing rapid evaluation and stabilization while keeping more serious cases separate from those with less immediate needs. This access is also located close to elevators that take patients one floor up directly to the operating room.
Patient Focused
"The design of this facility takes into account all our emergency department and radiology needs," Gamburg says. "This layout, with emphasis on the close collaborative relationship enjoyed by the emergency department physicians and the radiologist, is more patient focused and allows for improved outcomes."
For Pinsk, this increased real estate in a prime location comes after almost 20 years of working in adapted space with little breathing room.
"Our former radiology department space was rather landlocked," he says. "We had to reinvent space to grow, converting offices and technologists' lounges into space for imaging. In the new area, everything is comfortably sized, with access to additional space for our future needs."
Combining EDs and radiology services is a matter of space and personnel, and outsourced teleradiology services can help fill that physical gap. Timothy Myers, MD, chief medical officer of NightHawk Radiology Services, says that in the past, hospitals provided a "silo-like division of care," with each department operating separately. "Transferring patients through a system like that is difficult."
Telerad Business
NightHawk plays a growing role in bringing radiology and emergency medicine closer together by providing 24/7 teleradiology services to hospitals and radiology groups throughout the United States, Australia, and Switzerland. Radiologists with NightHawk have an average turnaround time of 28 minutes for reading images and reporting on their findings. According to Myers, 90% of the company's revenue comes from ED reads.
"Waiting in the emergency department is not something patients want to do," Myers says. "Having radiology services on hand within the department enables enhanced throughput and allows physicians to determine what needs to be done now and in the future. They can treat immediate needs and advise patients as to the proper follow-up care."
While serious, acute care cases highlight the work done in EDs, in many cases, the department is the initial point of contact for patients in need of more routine medical care. As more people lose their health insurance coverage, they turn to hospital emergency physicians in place of primary physicians' offices. Having radiology services within the ED helps move patients through so they receive the treatment they need, reducing wait times.
Radiology in the ED can also play a role, albeit accidental, in screening for diseases such as cancer, Myers says. He cites an example of a patient presenting at the ED with various symptoms undergoing a CT scan of the abdomen and pelvic region. While the patient came to the ED with different symptoms, the scan picked up a small cyst that would not have been detected otherwise.
"Findings like this are documented, and the patients are instructed to follow up with their primary care physician," he says. "In this case, what was discovered with imaging is more important than what brought the patient to the ED in the first place. You can find asymptomatic issues."
Satellite Option
In cases where it's not possible to locate the ED and radiology departments next to each other, Myers suggests setting up satellite radiology areas within emergency facilities, with equipment dedicated to that area. He says this strategy is commonly used in level 1 and 2 trauma centers as a way to provide the fastest imaging services possible.
Myers adds that maintaining EMRs with incorporated images allows emergency physicians to access all the information they need to treat patients in a timely manner. He credits radiology with taking the lead in making this standard operating procedure.
"Emergency physicians have been hampered in the past by not having access to all data within patients' medical records," Myers says. "In large hospitals, it could take someone physically walking to the bowels of the building to locate films. With an electronic system, all information, including prior medical records, is available at their fingertips."
At Paoli, electronic access to images takes patients and their families into consideration. The ED's new design includes PACS monitors located in patient-friendly locations, so they can see image results.
PACS Use
"We have quick access to PACS for immediate needs," Gamburg says. "For the patient, a picture is worth a thousand words. It's easier to explain the situation when they can see the image."
Paoli has PACS-savvy radiologists dedicated to reading emergency images, adding to the hospital's desire to provide fast, accurate patient care. In addition, the hospital's PACS "red flags" images that are ready for interpretation.
"We have many procedures in place that let the radiologists know which images need to be read right away," says Dolores Nawrocki, the hospital's director of imaging.
Gamburg adds that communication is a vital part of emergency radiology, a process made easier with radiologists specifically assigned to serve the emergency department.
"We have easy access to radiologists and can consult with them as images are being read," he says.
"Cases need to be turned around within 45 minutes," Myers says. "Typical reports can take two to three days. But you have to have speed and accuracy; you can't have one without the other. If the report is back quickly but not accurate, that's not good."
Everyone at Paoli Hospital agrees that radiology efficiencies go a long way toward achieving faster throughput in the ED.
"With our new 64-slice CT and other new equipment, we're able to complete our imaging so quickly now," Pinsk says. "Our CT scan time alone has gone from 20 minutes to five minutes."
— Kathy Hardy is a freelance writer based in Phoenixville, Pa., and a frequent contributor to Radiology Today.