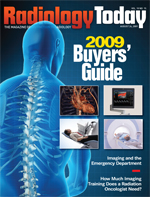 August 24, 2009
Vertebroplasty Controversy — Two New Studies Question Decades of Clinical Experience
By Jim Knaub
Radiology Today
Vol. 10 No. 15 P. 20
What happens when the best randomized and most well-controlled studies to date indicate that injecting bone cement into osteoporotic vertebral fractures is no more effective than pretending to and telling the patient that you did? The answer is unfolding as two new studies discounting the value of vertebroplasty conflict with decades of positive outcomes with the procedure.
"We found no beneficial effect of vertebroplasty as compared with a sham procedure in patients with painful osteoporotic vertebral fractures, at 1 week or at 1, 3, or 6 months after treatment," Australian researchers concluded in a study published in the August 6 issue of The New England Journal of Medicine.
The Australian research was one of two similar studies published in the journal. In the other, researchers at the Mayo Clinic found that injecting bone cement during a vertebroplasty procedure offered the same benefit as performing the procedure without actually injecting cement. The results from both studies, which combined included 211 patients, have been widely reported in the mainstream media.
The New York Times story on the studies reported that approximately 73,000 vertebroplasty procedures were done last year at a cost of $2,500 to $3,000 per procedure (plus MRI costs of $1,000 to $2,000).
But interventional radiologists and others involved with the procedure contend that the two small studies should not erase more than 15 years of data supporting vertebroplasty's pain-relieving value. Numerous physicians and patients report dramatic success with the procedure, which is one reason why the study results caused surprise among many physicians.
"I was under the impression that vertebroplasty is also proven, but these studies certainly cast a shadow of doubt on this procedure," orthopedic surgeon Nick Shamie, MD, told MedPage Today. "It's hard to believe that the vertebroplasty has such negligible benefit."
J. Kevin McGraw, MD, FSIR, heads interventional radiology for Riverside Interventional Consultants in Columbus, Ohio. McGraw is experienced with vertebroplasty and is still convinced that it's a valuable procedure for the right patients. McGraw cautions against letting two studies involving 211 patients discount decades of good data and hundreds of thousands of successfully treated patients. He points out that patient selection in the Australian study included those with less severe pain and disability than he usually treats.
"We treat many patients who have been admitted and are on narcotics in the hospital to control pain," McGraw says. "After vertebroplasty, we'd send then home the next day, getting them functional."
McGraw believes patient selection is an important factor that the new studies did not address well. He also has a theory about why: It's hard to recruit patients who are in pain into a study where one half of them won't receive treatment. "If people are in pain, they're not going to accept doing nothing," McGraw says.
McGraw says he was involved in earlier clinical trials with David F. Kallmes, MD , an author of one of the new studies, and experienced firsthand patients' reluctance to be part of the control group. He described screening 40 to 50 patients for enrollment into the trial, but patients wouldn't enroll because of the possibility of being placed in a control group where they wouldn't receive vertebroplasty.
Allan L. Brook, MD, director of interventional neuroradiology at New York's Montefiore Medical Center, agrees with McGraw that patient selection is important to vertebroplasty's success and that patient selection in the Australian study doesn't reflect how many doctors handle fracture patients. He says vertebroplasty is usually used after patients have unsuccessfully tried pain relief via other methods.
"We just don't treat people off the street; we treat people who have failed every other treatment," Brook says.
Brook also notes that the role bone cement plays in the procedure differs depending on the severity of bone damage. It could be more important in some cases and less in others. He acknowledges that the studies suggest new areas of research but remains convinced of vertebroplasty's value.
McGraw expresses concern that government and private payers could use these studies to discontinue insurance coverage for the procedure.
"We need larger studies, larger trials," McGraw says. "But we don't want to see patients denied access to these procedures because of these two studies. We don't want decades of sound data in the literature of the value of this procedure displaced."
— Jim Knaub is editor of Radiology Today.
Vesselplasty May Offer Vertebroplasty Alternative
A new minimally invasive procedure called vesselplasty increases mobility in patients with vertebral compression fractures while reducing pain and the need for painkillers, according to a study from Spain published in the July issue of the American Journal of Roentgenology.
Performed at the Hospital Universitario Doctor Peset in Valencia, vesselplasty may offer an alternative to vertebroplasty and kyphoplasty procedures currently used to treat these fractures. Vesselplasty addresses the problem of bone cement leaking out of the vertebral body, a complication associated with both vertebroplasty and kyphoplasty, according to Lucía Flors, MD, lead author of the study. Vesselplasty utilizes a balloon catheter to restore height to the vertebrae and contain the injected bone cement in the vertebral space, which is created using a precision drill.
Flors and colleagues studied 29 patients who underwent vesselplasty using the Vessel-X Bone Filling Containment System manufactured by A-Spine Holding Group Corporation. The system has received the CE mark approving it for use in the European Union.
"After the procedure, all patients had improvements in their pain scores. Ninety-three percent of patients had improvements in mobility, and 62% of patients had a decreased need for painkillers," says Flors. There was no evidence of clinical complications reported following the procedure.
— Source: American Roentgen Ray Society