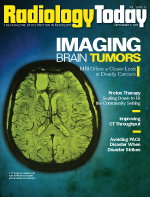 September 7, 2009
Proton Therapy — Scaling Down to Fit the Community Setting
By Dan Harvey
Radiology Today
Vol. 10 No. 16 P. 14
While proton beam therapy has advanced radiation treatment for numerous cancers, its cost to deliver tends to restrict its application to large research centers. Proton therapy facilities typically require enormous cyclotrons and magnets, multiple treatment rooms, and towering, multifloor gantries that weigh at least 100 tons. Total cost for a treatment center can easily top $100 million.
But those costs are starting to come down. Technology advances coupled with innovative business models are shrinking the size and cost of proton therapy and enabling its initial penetration into community hospital and private practice settings, making the treatment available to more physicians and patients in settings that previously seemed improbable.
For William C. Goad, MD, founder of the eight-member, Oklahoma-based Radiation Medicine Associates private practice physicians group, it's almost too good to believe. "Proton therapy is something we once only appreciated through medical literature," he says. "We never dreamed we'd set foot in a center that would provide us access to treatment technology."
When the facility that Goad directs, the ProCure Proton Therapy Center in Oklahoma City, opened July 1, it became one of only six proton therapy centers in the United States. It joins a select group that includes the Midwest Proton Radiotherapy Institute at Indiana University, the Francis H. Burr Proton Therapy Center at Massachusetts General Hospital in Boston, the Proton Therapy Center at M. D. Anderson Cancer Center at the University of Texas in Houston, Loma Linda University Medical Center in California, and the University of Florida Proton Therapy Institute in Jacksonville.
Unlike the five others, the Oklahoma center operates at the community level. It has taken proton therapy from the research setting and made it available to patients who once would have had to travel far to receive treatment.
Comprehensive Business Model
Established in 2005 by John Cameron, PhD, ProCure developed a turnkey business model that covers proton therapy facility development "from A to Z," as the founder says. "We do more than just sell or lease equipment. Our business model involves financing the operation, providing building design, supervising the construction, as well as equipment installation and facility management," says Cameron, who pioneered particle physics at Indiana University and helped create the Midwest Proton Radiotherapy Institute.
"We could never have accomplished this on our own," says Goad, medical director of the 60,000-square-foot center that includes four treatment rooms and a compact cyclotron. "The company's comprehensive business model leaves patient treatment up to the physicians. ProCure takes care of everything else."
ProCure's approach reduces capital expenditure and operating costs. Its building design has a much smaller footprint than the original proton therapy facilities, and the company says its equipment costs 20% to 40% less due to its proprietary technology and relationships with equipment providers. For the Oklahoma City proton therapy center, ProCure worked with the Belgium-based IBA, which provided the center with its compact cyclotron, a model one quarter the weight of conventional cyclotrons.
Single-Vault Center
Still River Systems, headquartered in Littleton, Mass., is also developing a less costly proton therapy system. By early next year, the company plans to complete its first project: a single-vault proton therapy center also equipped with compact technology. Affiliated with the Alvin J. Siteman Cancer Center at Barnes-Jewish Hospital and the Washington University in St. Louis School of Medicine, the Kling Center for Proton Therapy is scheduled to open in 2010, according to its director, Jeffrey D. Bradley, MD, an associate professor of radiation oncology at Washington University.
"The hospital and university were always interested in proton therapy, as it could potentially provide new ways to treat cancer, but the price tags for the facilities were too high," says Bradley. "But Still River developed the concept of a compact cyclotron that supplies the proton beam within a single room. That lowered the cost from about $100 million to about $20 million and greatly reduced facility size, which made proton therapy viable for us."
Closing the Treatment Gap
Prior to the Oklahoma center's opening, an estimated 250,000 U.S. patients stood to benefit from proton therapy, but only 6,000 treatment slots were available at the five existing centers. The Oklahoma center alone won't significantly close that gap but represents a first step toward expanding proton therapy's reach and reducing its cost. ProCure is busy developing a national partnership network of hospital- and community-based centers.
"We're looking to open a second center in the Chicago area within a year, and we're working on two more projects that should be completed in 2011," says Cameron. "Beyond that, we'll be opening more centers in 2012, and this increasing activity will boost the number of radiation treatment slots."
Still River is working on seven more projects that are in various stages of development. The company is currently involved in a project in Seattle with the Swedish Cancer Institute to develop a $22 million proton therapy facility, the first in the Pacific Northwest. "We're also working with Broward Health in Fort Lauderdale to open a facility by 2012," says Lionel G. Bouchet, PhD, Still River System's director of customer service and support. "We have other projects in New Brunswick, N.J.; Boston; Oklahoma University; Orlando, Fla.; and Long Beach, Calif."
Costs: Making a Case
ProCure's 60,000-square-foot Chicago-area facility, projected to open in February 2010, represents a partnership that includes Radiation Oncology Consultants Ltd (ROCL) and Central DuPage Hospital, a 361-bed facility in Winfield, Ill.
While ProCure again handled all of the logistics, cost consideration proved crucial in this case, says ROCL President William F. Hartsell, MD. "Initial quotes for a two-room facility were in the $40-million range, and most of ROCL's potential hospital partners didn't think it was a good investment. So, we needed to state a convincing case about proton value. That wasn't too hard. Proton treatment physics is much better than photon x-ray physics."
Proton therapy offers more precise control over the radiation energy delivered. The radiation beam deposits most of its energy directly into a tumor. This allows physicians to administer higher, more effective doses while reducing damage to healthy surrounding tissue. In contrast, photons pass through a tumor and even through the patient. The better radiation control helps proton therapy patients experience fewer short- and long-term side effects, less risk of secondary tumors, and an improved quality of life. Clinicians use proton therapy to treat cancers of the brain, head and neck, spine, eye, esophagus, prostate, and breast. Also, because it minimizes long-lasting tissue damage, proton therapy is particularly useful in treating pediatric patients.
Central DuPage Hospital was ultimately convinced to move forward with the technology. "Obviously, it's not something you just buy off of the shelf," says Hartsell. "We did a couple of years' legwork and decided to partner with ProCure. Other companies we spoke with could provide technology but left the funding, design, and facility construction up to the customer."
Major Challenge
Facility and equipment size is the biggest challenge in increasing proton therapy application. Still River and ProCure addressed the issue with innovative solutions. Collaboration with the Massachusetts Institute of Technology (MIT) led to development of the Still River compact cyclotron. In 2004, the company began working with scientists at MIT's Plasma Science & Fusion Center to develop a new high-field magnet. "They were using state-of-the-art, super-conductive material to generate very high magnetic fields," explains Bouchet. "These fields enabled us to develop a new cyclotron with a much higher magnetic field. This allowed us to greatly reduce the size of the proton source. Cyclotrons at typical proton centers can weigh as much as 250 tons. Our cyclotron weighs only 20 tons. We directly incorporate the cyclotron within the treatment rooms, so in that sense, it is similar to linear accelerators, where everything is installed in a single room."
ProCure reduces the facility footprint by decreasing the number of rotating gantries to a single unit and by innovating advanced incline beam and robotic positioning technology that reduces equipment size, weight, and cost.
"The robotics and the incline beam are the two most significant innovations that we have incorporated in the past three or four years," says Cameron. "Our robotic patient positioner enables physicians to move the patient in any direction. Also, in addition to a horizontal beam, we have a beam inclined to 30 degrees vertical. The coupling of these two innovations enables us to treat about 85% of patients without all of the gantries."
Typical ProCure centers will include the following:
• a 230- to 250-megaelectron volt, fixed-energy, isochronous cyclotron that provides a continuous proton beam;
• four treatment rooms (two dual inclined-beam rooms, one fixed horizontal-beam room, and one gantry treatment room); and
• a therapy control system that provides the interface to control and monitor equipment to deliver safe and effective treatment.
Addressing Costs
While new technology has notably reduced price, cost remains a significant challenge. Even though the equipment and facility are smaller, a center is still expensive to build, with total costs ranging from $20 million to $25 million. To justify the financial output and meet expenses, these new facilities need sufficient funding and patient throughput. Typically, facilities receive funding from public and/or private sectors, according to ProCure. For instance, the ProCure Proton Therapy Center in Oklahoma City received an initial $70 million funding from energy executive and philanthropist Aubrey K. McClendon, cofounder, chairman, and CEO of Oklahoma City-based Chesapeake Energy Corporation. Also, as part of its business model, ProCure arranges financing and further reduces client costs by investing its own capital resources. With this arrangement, ProCure assumes majority ownership while the client becomes a minority owner.
Additionally, facilities need to determine whether they will have the patient volume to generate acceptable return on investment. Both the Oklahoma City and Chicago-area ProCure centers expect an annual 1,500-patient capacity.
That ties into patient demand. In Oklahoma, cancer is the second leading cause of death. The state's health department reports that nearly 18,000 new cases are diagnosed each year. "Many patients are now doing their own homework via resources such as the Internet," says Goad. "They've learned more about their cancer and, in turn, the best treatment options. Patients have played a great part in putting the proton therapy issue on the table, which has helped the medical community push itself outside of the box."
Until recently, demand for proton therapy among physicians has been small, says Cameron. "Because of the equipment size and cost considerations, many physicians didn't aggressively pursue proton therapy, as they felt it wasn't something that would be available to patients. Patients have been more aggressive. They've become more sophisticated about treatment options and began asking more questions. We're helping physicians position themselves to meet the increasing demand," he says.
Training Challenge
While ProCure and Still River have developed the equipment and business models to confront demand, training clinical staff to use proton therapy remains a challenge.
"Now that the number of these new centers are increasing, proton therapy training is emerging as an important issue," says Bradley. "In our case, we're actively training ourselves. We have brought in experienced speakers, and we're sending staff to some of the larger proton therapy centers, where they can learn how to use the technology."
ProCure includes a training component within its business model and has established a training center in Bloomington. Goad reports that before the Oklahoma City center opened, neither he nor members of his practice group had any experience with proton therapy. But they've participated in a training process that includes didactic, lab, and online learning elements. "Training needs to be the next major step in radiation oncology as proton therapy is now rapidly moving forward," he says.
Cameron says ProCure's training is comprehensive. "We not only train people how to use the technology, we also train them in all aspects of the business, from the administrative to the physician levels. Our broad-based training brings facilities quickly up to speed."
Proton therapy is an extremely complex undertaking, and community hospitals and physicians groups can benefit from outside technological, financial, and educational expertise to make it happen. As Hartsell indicates, it requires a three-part business collaboration. "It requires a partner that knows how to build the facility, raise the funds, and supply the training; a hospital to provide a setting; and the physicians willing to spend the time and effort to bring proton therapy into practice."
— Dan Harvey is a freelance writer based in Wilmington, Del., and a frequent contributor to Radiology Today.