Web Exclusive
How Radiology Practices Can Position Themselves for Success in 2021
By Andrew Colbert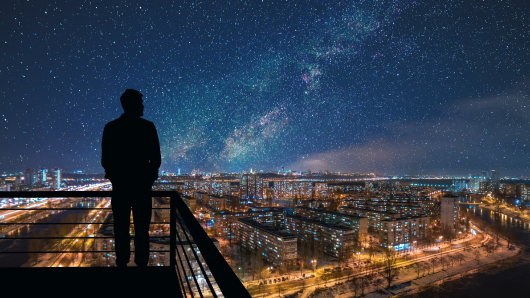 After a turbulent year for health care, it is critical that radiology groups immediately plan for 2021 and beyond, to be best positioned for immediate and long-term success. During the heart of the COVID-19 pandemic, some radiology groups saw decreases in study volumes by up to 80%. Now, most practices have seen volumes return to normal levels. With the worst of COVID-19's impact hopefully behind us, practice group leaders must learn from 2020's lessons to improve and plan for potential uncertainties in 2021 and beyond. Developing effective strategic plans now will lead to stronger and more resilient practices.

Learning how to evaluate the opportunities and challenges facing radiology practices in a post-COVID environment and how to develop strategies to build scale and maximize long-term value creation are of paramount importance. The following information is sourced from discussions with more than 20 leading radiology practices across the United States and incorporates key takeaways on how groups are handling these challenges while reconciling today's "new normal" environment.

State of the Industry: A Big Picture Analysis for 2021
2020 was a year marked by challenges and transformation due to the COVID-19 pandemic. The radiology industry must learn from this year's challenges to effectively prepare for the future. The following are five key issues affecting physician groups in 2020 and, likely, well into 2021:
Consolidation: A high volume of mergers have emerged across the radiology practice landscape as well as the broader physician ecosystem. RadPartners recently announced their agreement to acquire Mednax radiology, which will create a platform with more than 2,400 radiologists. Independent practices are coming together in record numbers, as they look to take advantage of the benefits of scale. Hospitals are consolidating as well into larger and more powerful enterprises.
Evolving reimbursement trends: The Centers for Medicare & Medicaid Services announced proposed changes to its annual Physician Fee Schedule and Quality Payment rule, which could result in up to a 10% decrease in radiology reimbursements. Further, managed care is continuing to increase pressure on value-based payment models, in order to tie more payments to clinical outcomes.
Political focus on health care: The uncertainty of the 2020 election and resulting political agenda is forcing physician groups to pause short and long-term planning, especially given that the House of Representatives and Senate may be advancing surprise billing legislation that could reduce physician group leverage in negotiating with managed care.
Ongoing COVID-19 pressures: COVID-19 risk continues to threaten business operations, and there is a heightened risk of virus transmission in many pockets of the United States. Radiology groups must prepare to continue operating in a "COVID" environment for the foreseeable future, which will put increased strain on operations in allowing for adequate social distancing measures, personal protective equipment requirements, constant sanitizing, and contact tracing. Practices need to go above and beyond to safeguard the health and safety of their patients, which will require additional cost and administrative burden. Additionally, practices need to prepare for the ongoing risk of sudden or substantial volume decreases due to potential shutdowns.
Record levels of uninsured Americans: Due to significant job losses, 10.1 million people are expected to lose employer-sponsored insurance, and the resulting impact to provider group revenue is still unknown. Patients moving from employer-sponsored insurance to Medicaid or no insurance may cause a decline in patient volume and practice revenues.
With these industry pressures, smart and diligent planning is needed. Now is the time to make critical, holistic assessments of your practice, in order to determine optimal 2021 strategies and planning. Physician groups need to reflect and conduct strategic evaluations of their business. Practices should conduct an honest and thoughtful strategic assessment of their business, identifying strengths, weaknesses, opportunities, and threats (SWOT) in 2021 and beyond. The charts below illustrate how to identify each aspect of a SWOT strategic assessment and useful questions to gather important insights: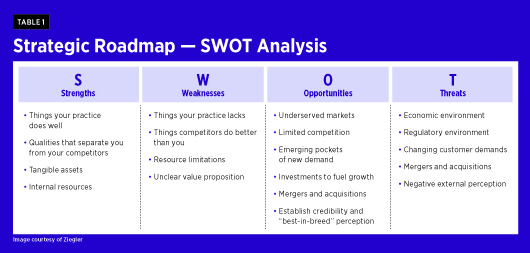 Click to enlarge

Click to enlarge
How to Drive Future Success—Identify Investment Opportunities
By implementing a SWOT analysis, practices can identify areas of opportunity and help mitigate threats to their business. Practices should take advantage of market opportunities that become available in the post-COVID-19 environment. Once complete, practices can efficiently and strategically pursue investment opportunities with confidence. Six prominent investment options that can help practices create success in 2021 are, as follows:
Invest in Leadership: The right management team is critical to shepherding long-term practice growth beyond near-term horizons. The SWOT analysis will identify potential gaps in leadership or whether your practice may benefit from adding particular personnel with specific experience that can enhance the depth and strength of the management team.
Establish a Strategic Plan: The strategic plan, informed by the SWOT analysis, guides the practice over the next five to 10 years. The plan accounts for strengths and weaknesses and helps prepare for future opportunities and anticipated threats.  Particularly relevant in today's environment is the need to recognize any near-term opportunities that may be actionable, in light of COVID-19, to increase the practice's market share or expand service offerings.
Capitalize on Consumerism: COVID-19 forced practices to alter their physical practice, shifting waiting rooms to cars and adjusting marketing strategies to emphasize the ongoing sanitization and safety precautions for ensuring safe patient visits. These changes represent a new shift in consumerism—practices must regularly remind patients of the safety precautions and extra measures they take to ensure that patients feel comfortable with in-person visits. In the COVID-19 environment, practices should take advantage of the opportunity to build a robust consumer-facing engagement strategy and invest in consumer-centric technology. These investments will pay dividends in the future to attract new patients, expand market presence, and grow revenues to drive sustainability in potentially choppy market environments.
Build Scale: Scale creates more sustainability in operations by creating less reliance on any individual physician and lowers the variable cost of administrative services by spreading those costs across more patient visits. Scale also brings greater leverage in negotiations with key vendors and managed care entities and helps practices build a foundation to broaden and strengthen their overall market presence. Scale also enables a practice to invest more resources in technology, infrastructure, and management to ensure long-term economic success.
Focus on Sustainability: Practices should construct a strategic plan that prioritizes diversity in revenue streams and service lines. Practice leaders should make critical investments in cultivating the next layer of leadership talent to ensure the practice is well-prepared for the future. A strong business plan will ensure that the practice is well-positioned to capitalize on future opportunities and withstand any negative uncertainties.
Prudent Execution: A strategic plan is only as good as a practice's ability and commitment to execute it. Practices must be disciplined to follow-through on the plan's vision and have confidence in making difficult decisions that may not always be popular in the short term. The right strategic direction may require funding a large capital investment or parting ways with a team member, but the long-term strategic plan must always be prioritized over the short-term politics. The chart below summarizes these investment approaches: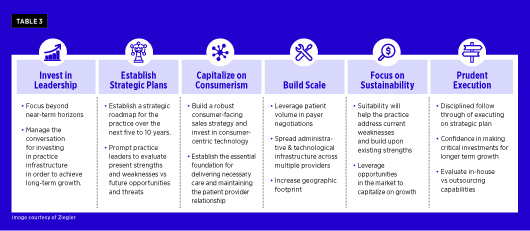 Click to enlarge
In addition to making investments in their respective organizations, practices can consider partnerships with external parties to fortify weaknesses and help build scale. Prominent partnership opportunities seen to be successful in 2020 and likely in 2021 include: management services organizations, local mergers, joint venture partnerships, national practice affiliations/mergers, minority investments, and private equity recapitalizations.

A Time for Reflection and Strategic Analysis
2020 provided a reality check for radiology practices to reflect and honestly plan for the uncertainty of the future. Smart practices will learn from this turbulent year to make strategic decisions that ensure a sustainable infrastructure and drive growth over both the short- and long-term.

Groups need to take a strategic and analytical "big picture" step back from their daily operations and identify ways to improve through conducting a formal SWOT analysis and developing a strategic plan. Practices should find ways to maximize operational efficiency, enhance revenue diversity, review cost and profit structures, increase productivity, and deliver more value in 2021 and beyond.

A good question for practices to answer is: How can we effectively measure and improve the value of patient care while increasing our practice's efficiency and scale? The groups that answer that question most effectively will likely improve practice sustainability, increase revenue, and boost quality of care and long-term valuation.
— Andrew Colbert is a senior managing director and founding member of Ziegler's Healthcare Investment Banking practice. He has represented more than twenty radiology groups in innovative transactions and specializes in advising physician groups on strategic and financing alternatives, including mergers and acquisitions, joint ventures, capital raising transactions, and partnership development. More information is available at www.ziegler.com/radiology.