Web Exclusive
The State of Radiology in Urgent Care

By Steve Riehs
Radiology services have played a key role in differentiating urgent care centers from walk-in retail health clinics by offering patients a broader spectrum of on-site radiology and lab services. As an alternative to emergency department (ED) visits for patients with nonlife-threatening illnesses or injuries, urgent care centers offer an array of diagnostic radiology exams including X-ray, CT, EKG, mammography, MRI, nuclear medicine, and ultrasound.
As on-demand care models continue to grow in popularity—often substituting for some traditional roles of EDs and primary care offices—it makes sense for urgent care clinics to expand service offerings to better attract and treat patients. However, while patients are choosing these settings over the ED, my company, Experity, conducted a research study to drill down into how often radiology services are actually performed for patients.
To analyze the impact and utilization of radiology in the urgent care industry, Experity used the industry's largest urgent care-focused data set for our quarterly research report to home in on radiology trends among our urgent care clients between July 1, 2018, and June 30, 2019. This analysis provides urgent care providers and radiology professionals with data-driven insights into patient profiles, common injuries indicating radiology, seasonality, and the most commonly utilized modalities to help clinicians keep a pulse on the industry and assess their businesses.
Looking only at urgent care visits for our customers who were active for the full year in measure, we found that 92% of clinics documented a radiology CPT code, which confirms the baseline metric for this study that clinics are in fact serving patients who need radiology services traditionally performed in a hospital or ED setting. To find out just how often radiology is included in urgent care visits, we looked at total urgent care visits in that time frame, during which a radiology exam was performed 10.7% of the time.
Radiology Trends in Urgent Care
By Modality
When breaking down urgent care radiology visits by modality, urgent care providers used X-ray most frequently, accounting for 88% of all visits with a radiology code. Trailing far behind, the second most common was EKG, making up 9.2% of services documented with a radiology code. The third most common was CT with 2%.
By Season
To identify any radiology trends based on seasonality, we analyzed and compared the data month over month. Chest X-rays accounted for a larger portion of X-ray during flu season for all age groups, most notably for patients aged 40 to 64, who had an increase of 22% for chest X-ray during flu season. As a somewhat seasonal business, this spike aligns with urgent care facilities' visit volume spike during flu season. Additionally, although chest X-ray increased during flu season, the overall percentage of visits with an X-ray decreased, likely due to a decline in injuries that require X-rays of the upper and lower extremities during the winter.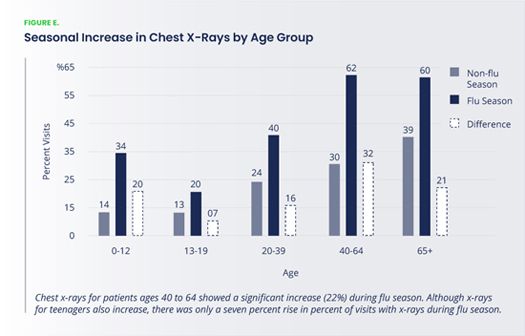 By Age and Gender
A few findings stand out when we look only at urgent care visits by gender and age. Teenaged boys had the majority of X-ray exams, for the upper extremities, while females had more X-ray exams for lower extremities across all ages and had more chest X-rays than males at most every age. And, as we'd expect due to physical activity levels, teens of both genders had spikes in the number of X-ray exams for upper and lower extremities.
By Age and Gender Based on Body Part
When looking at all urgent care visits with a radiology code, chest and rib X-rays were easily the most common radiology procedures for both genders across all ages. Interestingly, the second most common body part X-rayed for females of all ages was the foot or ankle, while for males older than 19, it was the spine and abdomen.
Additionally, children from ages zero to 12 had a significantly higher number of radiology procedures on the wrist, 13.07%, much higher than any other group. For teens aged 13 to 19, ankle X-rays were most common, but they were also the only age group for which chest X-rays are not the most common radiology procedure. For patients 65 and older, chest X-rays were the most common radiology procedure.
What It All Means
The data suggest that patients are turning to urgent care clinics for radiology, notably X-ray exams, as an alternative to expensive ED visits and inconvenient primary care appointments. This presents an opportunity for urgent care clinics to continue evolving their businesses to serve a growing clientele, and it points to a shift in the role of radiology and radiologists in health care that could continue to gain momentum over the coming years. As these services expand into nontraditional care settings and are utilized at higher volumes, radiologists could see new opportunities open in the workplace, as clinics begin to consider bringing on a full-time radiologist.
On-demand care is an increasingly important component of health care in America, and urgent care organizations must continue to observe the treatments and trends that will improve patient care. Radiology specialists and technology companies must also follow these trends closely, as their consumer market continues to shift and evolve.
— Steve Riehs is chief operating officer at Experity. Experity's full report, "An Analysis of the Impact of Radiology in the Urgent Care Industry," is available on their website.