Web Exclusive
Michael John Benzaia: From CT Screens to TV Screens

Technologist Combines Passion for Diagnosis, Drama
By Emily Senesac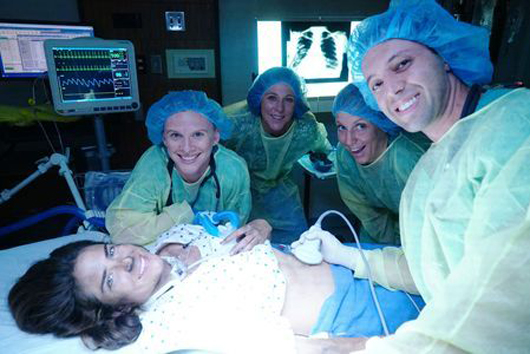 Michael John Benzaia, RT(R)(CT), truly has the best of both worlds. By channeling and embracing both his love of drama and his passion for the medical field, Benzaia has two highly successful careers: one as a radiologic technologist and the other as a sought-after actor.
Growing up in New York's Hudson Valley, Benzaia was exposed to a variety of different activities and pastimes. "When I was a kid, my parents wanted me to be cultured," he says. "So I kind of participated in a little bit of everything: soccer, theater, art. But I always really stuck with theater."
When Benzaia was around 13, however, his life began to dramatically change: His mother was diagnosed with breast cancer. This impacted Benzaia's life in many ways, including the way he thought about his future.
"Growing up in a home when someone has an ailment like cancer, you kind of realize early on that there's more important things in life. You want to start doing things for other people," Benzaia says. He soon had his chance to explore this, as he began visiting and volunteering at the Orange Regional Medical Center in Hudson Valley, where his mother was receiving treatment.
Upon meeting and shadowing his mother's oncologist, Benzaia knew almost instantly that he had discovered his passion. "I realized that X-ray was my thing. I loved being able to solve problems and loved getting to work with my hands and with computers. I think I've always found science and cutting-edge technology to be not only really important but also really interesting."
When he made the decision to become an X-ray technologist, he enrolled in the radiologic technology program at SUNY Orange County Community College. "I was the youngest one in the program," he says.
His ambitions didn't stop there, however. After graduating and working in the medical field for a time, he decided to be upwardly mobile. "I've always been the type to keep going," Benzaia says, "so I wanted to run the department. I went back to school and got my master's and became the lead technician and radiology manager."
Despite his young age—25—and the mindset of some of the older techs working under him, Benzaia thought he had the experience, education, and know-how to do the job right. "When I first got out of school, I took about five jobs and was working like crazy just to get experience. I definitely had the knowledge of patient care, empathy, the technology, and everything in between," he says.
Although he had chosen a scientific path, Benzaia says that his artistic side never left him. "I was always that X-ray tech who was a little more of a free spirit than the others because we, as a group, can sometimes be more science based," he notes. "I was a good balance between the two. And I knew that, eventually, [theater] would come back for me, I just didn't know how. I'm a big believer in just letting the universe work for you, so I just allowed whatever was meant to be come for me."
A New Role
He didn't have to wait long. Five years into his career as a tech, a friend reached out to him about auditioning for a spot on a television show. Putting aside any initial hesitations, he auditioned for the part; although he didn't get that job, he promptly landed a different role.
"Once I started getting on set, I realized that this was where my next season of my life would be," Benzaia says. While the entertainment industry is arguably one of the most difficult to break into, Benzaia had a secret weapon: his knowledge of the medical field. "I knew that my experience as a tech was going to be a sort of 'in' for me. Using that, I have been able to work more and establish credibility," he says. Accordingly, Benzaia has done several medical roles, working with ABC and Shonda Rimes on shows such as Scandal and How to Get Away With Murder, and has earned the opportunity to branch out into different types of characters, making appearances on Modern Family and Shameless.
While it may seem as though the careers of X-ray technologist and actor couldn't be more different, Benzaia wholeheartedly disagrees. "They are similar in a lot of ways," he says. "You can't do one or the other without empathy."
Benzaia believes that actors, in order to be successful, need to understand what people and characters feel on a deeper level without judging them. Additionally, although it is common for medical professionals to dial down emotions in order to do their jobs, Benzaia believes there is room for empathy in the medical field and in X-ray. "I think we need to help our patients feel at ease and feel like we understand what they're going through."
Benzaia recognizes another considerable overlap between these seemingly disparate endeavors. "If you live in the moment," he says, "you're truly experiencing life. When you're an X-ray tech, if you don't live in the moment, you'll miss a pathology. If you're an actor and you don't live in the moment, you won't discover the truth of your circumstance."
Benzaia says that, without his medical career, he would never have been able to pursue his dream of acting. "If I wasn't making a decent amount of money and if I didn't have the time to go on auditions … I really am able to do both fields because of my medical field," he says.
Although he has been spending a bit less time doing radiology as of late, he still intends to continue with both careers moving forward. "I've always loved acting and radiology and have never wanted to choose one over the other. I'm very fortunate that I have two careers that I am so passionate about."
— Emily Senesac is an editorial intern at Great Valley Publishing.