Web Exclusive
Intelligent Automation Aids Revenue Cycle Management
By Casey Peters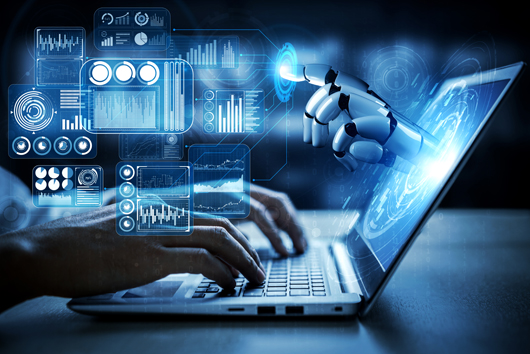 As imaging and radiology organizations continue to face increasing cash flow challenges in the financial exchange and reimbursement landscape, given the additional hurdles posed by COVID-19, they are left with two distinct choices: adding more resources or turning to the automation of key workflow processes. Additionally, due to decreased utilization during the pandemic and the consumerization of health care, radiology practices are being forced to aggressively examine their administrative procedures to optimize efficiency and accuracy.

For example, the decrease in utilization has led to a reduction in staffing levels while payer reimbursement changes, such as increased prior authorization requirements, have added more work to the revenue cycle staff. Additionally, due to growing high-deductible plans, patient responsibilities continue to increase while there is a continuous shift toward digitally guiding the patient's financial experience, thus requiring a new level of resources and focused efforts.

This tectonic shift in health care, combined with industry reports showing a 300% increase in prior authorization denials and the lack of integrated technology between billing and EHR systems, adds more complexity to an already convoluted revenue cycle.

That said, adopting advanced technologies capable of boosting efficiency throughout the revenue cycle is no longer something practices can afford to delay. This not only allows employees to focus their time on value-added activities but addresses new, evolving hurdles as well. Now, more than ever, practices must adopt and leverage technologies such as AI, machine learning, and consumer-centric workflows to enable digital transformation in their workforce and practice. Combining and implementing innovations, eg, robotic process automation (RPA) and machine learning, as part of the revenue cycle management system creates an opportunity for radiology groups to streamline even the most complex end-to-end processes and functions, allowing them to recapture lost revenue.

RPA in Action

For example, a radiology group facing an increase in accounts receivable (AR) may begin to explore initial steps to automate repetitive or mundane tasks, to gain the most significant efficiency for improvements to their bottom line. Apart from the increase in AR, the radiology group would also face an average of a seven-day delay in claim submission. With the implementation of machine learning algorithms, the radiology group would be able to recognize patterns and suggest predictive actions for optimal claim follow-up and denial resolution.

Next, predictive denial modeling and reporting are performed in advance of the payer's response. These cases equip billing teams with the correct resolution to solve their denial challenges by using the past learning and underpayment analysis for out-of-network claims.

In one specific case, due to the implementation of this technology across revenue cycle processes, one privately held Washington, D.C.–based radiology group was able to successfully reduce more than 90 insurance AR from 40% to 15%, in turn reducing the time in AR from 49 days to 25 days—well within the industry benchmarks. It also increased the percentage of clean claim rates by more than 99%.

Finally, this radiology group was able to obtain transparency into the root causes of the delay in claim submission. With the implementation of advanced, agile technology, they were able to decrease the delay in submission from seven to four days. RPA solutions can not only reduce the risk of denials but also, as shown in this example, positively impact cash acceleration for your organization.

Benchmarking Is Key

While every radiology group has its unique challenges, the approach to automation implementation is the same. The first step is to identify the most critical challenges and inefficient workflow processes to address. This crucial first step allows practices to identify where automation can truly drive efficiencies and enhance accuracy by augmenting their administrative team.

Once the analysis is complete, the practice should reengineer the key processes and then prioritize which workflows to automate based on the ease of implementation and return on investment. It's important to note that many organizations make the mistake of attempting to automate current inefficient manual processes without reengineering them or accurately evaluating the workflow first. As high-priority workflows are identified, keep in mind what should be occurring in the processes and avoid using automation to simply enhance the speed of an existing process.

Ultimately, an automation solution does not fully replace existing technology investments but, rather, supplements any gaps or shortcomings of core and ancillary systems. Automation for administrative functions offers a layer of support capable of empowering organizations to boost their productivity and focus on more value-added tasks, while minimizing time and costs that arise from repetitive tasks. This, in turn, helps accelerate cash flows and improve operating margins.
— Casey Peters is the senior director of consulting and transformation for SYNERGEN Health.