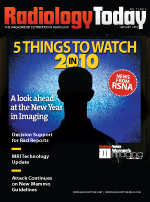 January 2010
Decision Support for Rad Reports
By Kathy Hardy
Radiology Today
Vol. 11 No. 1 P. 16
A Google search of the words "kidney stones" reveals more than 2.2 million results—not bad if you're looking for the largest number of references for this medical malady. But what if you really want to know whether any of those hits contain reliable information that could add value to a case you're reading?
Tools to fine-tune the search for clinical decision support, including images, have a basis in the radiology world, where reading rooms full of textbooks are being augmented by free and subscription-based online databases that pull together vetted, peer-reviewed journal articles and images using search terms containing medical terminology. These evidence-based electronic resources provide radiologists with reliable, timely information that, in turn, helps them add value to diagnostic decision making, whether for the purpose of determining appropriate imaging or to support findings in a radiology report.
Providing decision support is where some radiologists believe their profession can add value to the diagnostic services they provide the medical community. Paul J. Chang, MD, FSIIM, a professor and the vice chair of radiology informatics at the University of Chicago School of Medicine, says technological advancements in medical imaging in the form of PACS and RIS are commodities within radiology. These advances represent a "double-edged sword" since they help radiologists in their work but could also make their services seem obsolete. Adding decision support to radiology reports, he says, demonstrates how doctors provide value as a specialty and are not just a diagnostic tool.
At a Crossroads
"This technology creates more efficiencies, but it could turn radiologists into commodities," Chang says. "Do we have a future where we will be commoditized or used to add value? We could be outsourced.
"I believe we are at a crossroads regarding the future of imaging," he continues. "The biggest question, however, is 'What is the role of the radiologist?'"
Overall, the goal of decision support is to provide educational material to a user to improve clinical decision making, with an ultimate result of more evidence-based medicine. Ideally, decision-support materials should be easily embedded into routine workflow so the information is readily available at the time of clinical decision making. In many cases, this means moving from textbooks to journals and other materials published on the Internet.
"Decision support is any tool that allows me to add value and context to my interpretation," Chang says. "However, the easier decision support is to locate and integrate into reporting, the more likely it is that it will be used."
Most often, he notes, radiologists' training provides the knowledge necessary for reading and interpreting images. However, they are also under increasing pressure to add more value to medical imaging in the form of more educated, accurate, and efficient interpretations, particularly as imaging modalities become more complex. Some cases present challenges that require more than standard interpretation.
"A radiologist could be tempted to bail out, particularly if there's not enough time, and then you'll have a report that hedges," Chang says. "You could just say the image shows a mass and that's that. But to add value, you need more detail. You need to be truly integral to the solution, not just give a report."
Helping Referrers
Another reality of reading images is that the reports generated can be difficult to understand, according to Chang. Advancements in MRI and CT scans haven't made the medical language barrier any easier. Reports are geared more toward subspecialists and surgeons, leaving primary care physicians who also refer patients for imaging with difficulty understanding their patients' diagnosis.
"Our reports are prepared at levels that aren't understandable by all consumers, with the consumers being the physicians who order the studies in the first place," he says. "To help with that, instead of just sending the report, add decision support with links to where you found the information. We need to share our resources."
J. Raymond Geis, MD, a radiologist with Advanced Medical Imaging Consultants, PC in Fort Collins, Colo., says he sees evidence of radiology practices trying to implement processes that would allow them to synthesize what they see on images, clinical data, and medical knowledge to reach an interpretation but finds a gap between the theory and reality. They need to provide this information as quickly and efficiently as possible, he says.
"The hype vs. the reality is that a lot of places don't have the resources for decision support or are finding it difficult to implement," Geis says. "It's not that they don't think it's worthwhile; it's just not in general use."
Geis agrees that including information from other medical sources adds value to the report. However, gaining access to that information without subscriptions to major medical journals, which can be costly, can be problematic.
"Publishing companies have not learned from iTunes," he says. "I won't pay $15 for an article, but I'll pay 99 cents."
Fortunately, there are growing numbers of reliable databases where this knowledge can be gleaned and added to reports. David Avrin, MD, PhD, a professor of clinical radiology and vice chairman of informatics at the University of California, San Francisco, also sees radiologists using IT to integrate image archiving and communication systems with the rest of the healthcare enterprise.
"There is the potential for multimedia reports," Avrin says. "Physicians have access to PACS, which provides them with access to images. This is all tremendously valuable. There is definitely a role for improved utilization of images in reports and references from other sources."
Online Resources
Avrin refers to a variety of online resources, both free and subscription based, all of which act as search engines for data that have already been made available, either via peer-reviewed journals and other similarly vetted sources or, in some cases, by permission of the patients involved. There are no HIPAA or intellectual property issues with any of the images or information provided in these sources.
Free online resources include the following:
• Yottalook, an ever-evolving medical imaging search engine that provides decision support at the point of care. A Yottalook search provides information ranked using a relevance algorithm that differentiates medical terms from other words in text associated with medical images. This database has a built-in understanding of medical terminology that identifies synonyms and relationships between terms.
• My RSNA portal, a resource for RSNA members that searches the organization's Web site, as well as the Internet at large. This tool provides customizable functionality, allowing users to create profiles indicating areas of interest. Users can also bookmark articles and pages, organize them within the portal, and access them from any location. In addition, RSNA annual meeting presentations are entered into the portal immediately following the event. In addition, the Yottalook Image Engine plug-in for the My RSNA portal allows users to search images based on certain key words and save those searches for future reference.
• ARRS GoldMiner, a database of more than 230,000 radiological images published in approximately 260 selected, peer-reviewed journals developed by Charles E. Kahn, Jr, MD, MS, a professor of radiology and the chief of the division of informatics at the Medical College of Wisconsin. This resource supports searches using medical vocabulary, recognizing abbreviations, synonyms, and kinds of diseases. It searches both concepts and key words, with the ability to refine searches based on a patient's age and sex. GoldMiner is based on the same search technology used by the U.S. National Library of Medicine's PubMed and supported by the American Roentgen Ray Society.
• CT is us, as the name says, is a resource specific to CT. The site was created by the Advanced Medical Imaging Laboratory, a multidisciplinary team dedicated to research education and the advancement of patient care using medical imaging, with a focus on spiral CT and 3D imaging. Headed by Elliot K. Fishman, MD, the imaging lab is part of the department of radiology at the Johns Hopkins medical institutions in Baltimore. The site provides images, articles, and other resources.
Subscription online resources include the following:
• STATdx, an imaging point-of-care diagnostic clinical decision-support system from Amirsys, Inc. The system streamlines workflow by reducing the time required to research and complete imaging analysis. Its digital format gives physicians an on-demand reference tool wherever and whenever needed. The premier version can be integrated with PACS. Avrin, a consultant and stockholder of Amirsys, says STATdx is a reference system that provides access to images that can help radiologists determine what to look for in their own imaging studies. Chang is also a technical consultant for the company.
• Medicalis, a database used primarily by referring physicians that captures clinical knowledge and makes it available for use at the point of care or service. This evidence-based support system was founded as a joint venture between Mitra Imaging Inc and Brigham and Women's Hospital in Boston to design and implement a Web-based system for the delivery of clinical decision support to ordering physicians. The system can be embedded into an EMR.
• DR Systems, which, according to Avrin, was one of the first systems to include the insertion of patients' images into their reports. The company provides solutions for integrated PACS, RIS, dictation, voice recognition, transcription, advanced imaging processing, and Internet image/results distribution systems, as well as associated interfaces.
Ease of Use
Chang notes that the easier it is to access any of these online resources, the more likely they will be used. The best decision-support references, he says, are those that fill the role of a "just-in-time tool" that doesn't add hours to the report process.
"If I could just right click to search for images, that would remove a barrier to research," he says.
Regardless of which databases are used, Kahn points out that they not only serve a valuable purpose by making it easier to access decision-support data, but they highlight a number of quality journals and make their information readily available.
"The goal is to make these images and the associated content more widely available," he says. "It's all open access information, but we're facilitating that process. We don't make copies of the images, which are owned by the journal publishers; we point to them. Journals have a wealth of information, but we needed a better way to use them."
Finding relevant and reliable support materials can be half the battle, as using online resources for decision support can also come down to a matter of IT compatibility. Computer-assisted decision support must be incorporated into physician's workflow to really provide value. Geis notes that in some instances, reports can include links to images and other support materials; however, those same systems cannot support embedding images in the report.
"The technology can't always support the inclusion of electronic decision-support materials," Kahn says. "If a process isn't always reliable from the technology perspective, it causes people to hesitate to use it."
Integrating Images
Speech recognition is another area where Chang has seen limitations on integration of images for decision support in reporting. While not a technologically difficult process, he says there is no off-the-shelf solution.
"You need a programmer to help you incorporate images with speech recognition software," he says.
With different hardware and software vendors, Geis says there may be different issues when trying to share or combine information. If one facility's RIS is incompatible with another facility's PACS, report formatting can become skewed. If it takes additional software to enable two systems to "talk" to each other, the speed and simplicity of including support materials with reports is lost.
"A cardiology group might refuse to use a certain hospital's system due to an incompatibility issue," Geis says. "The hospital's system may not be as sophisticated as what the cardiologists have."
While databases of vetted, peer-reviewed decision-support materials provide reliable information, they still don't address the issue of standardizing medical care, an issue Geis believes will become more important as legislators address healthcare spending and the role imaging plays in spending increases.
"How do you standardize your recommendations?" he asks. "In a large group, where you may have differing opinions, you may have different recommendations. Some are based on conservative image readings and backed up by data, but there are different opinions in the practice. Some are based on anecdotes. There are still a lot of anecdotes that drive recommendations. Is there a way to standardize this?"
RBM Alternative?
With this desire for standardization in making imaging decisions, Chang believes radiologists are value-added resources for referring physicians as they consider the appropriate imaging for their patients. Decision support provides backup for making appropriate imaging decisions based on actual instances of imaging applied to certain medical conditions. Why not use decision support to assist in the decision-making process, he asks.
Proponents say decision support could be an alternative to radiology benefits managers for fighting imaging overutilization. It gives physicians the tools to more effectively order imaging studies. With the increased scrutiny on imaging, Chang says radiologists will be challenged to demonstrate the value they add to quality, appropriate imaging.
"Enhance the level of collaboration by extending these support tools to referring physicians," Chang says. "These databases can be seen as pop-up appropriateness criteria, which is a value coming from radiology that helps right in the beginning of the decision-making process."
When it comes to widespread adoption, Chang says the medical community is five years behind other industries in the practice of providing research data as support for conclusions made within the decision-making process. He refers to patients as "evidence-based shoppers," who look for any data possible when it comes to buying cell phones or automobiles. For them, the assumption is that their physicians are doing the same type of research when it comes to diagnosing their medical conditions.
"We're arrogant and ignorant in believing that we don't need to provide decision support," he says.
— Kathy Hardy is a freelance writer based in Phoenixville, Pa., and a frequent contributor to Radiology Today.