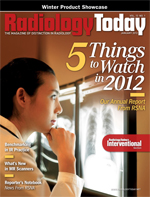 January 2012
Hooking the Public on Healthcare IT
By Julie Knudson
Radiology Today
Vol. 13 No. 1 P. 30
The ONC's new program aims to engage consumers and increase the public's use of healthcare IT tools. Image sharing is just part of a larger picture.
The impact of technology is everywhere. Plane tickets are no longer purchased from an airline counter (nor are they printed on paper); banking transactions happen online; books are downloaded to e-readers; and families share photos on Facebook.
Healthcare records, too, are making the move into the digital age, with new healthcare IT (HIT) tools being adopted at a frenetic pace. As a result of more providers going electronic, the Office of the National Coordinator for Health Information Technology (ONC) is working to engage consumers through a recently launched program designed to promote these "newfangled" resources.
Lygeia Ricciardi, the ONC's senior policy advisor for consumer e-health, says the organization is taking a three-pronged approach in its public campaign. First, it is working to give consumers easier access to their electronic personal health information. Once that is achieved, support will be given to the development of tools, applications, and services that can help the information become "actionable," which would afford consumers, patients, and caretakers the opportunity to make use of electronic health information.
The third component focuses on changing attitudes, "really supporting a shift in people's thinking and expectations around how you can engage in your health and healthcare and the tools you can use to do it," Ricciardi explains. As part of this effort, the HealthIT.gov website has been relaunched with an emphasis on education, including teaching consumers how they can best use HIT to engage in their own care.
The ONC also plans to spread the message by partnering with numerous organizations. "Through the National eHealth Collaborative [NeHC], we are working with a consumer consortium that has over 150 members who are helping us to take the contents we've already prepared in part with their input and really get it out to very specific demographic groups," Ricciardi says.
"Our mission was to pull together every organization and individual—anyone that has an interest in doing work to encourage consumer engagement in health IT—across every interested stakeholder group," says NeHC CEO Kate Berry, who along with Ricciardi is cochair of the steering committee for the Consumer Consortium on eHealth Committee. Members include consumer groups, provider organizations, payers, employers, technology companies, government entities, and individual patient advocates.
"We've got a great multistakeholder collaborative forum," Berry says. The consortium's efforts range from developing a knowledge base of resources to coordinating priority outreach strategies.
Hello, Lab Results
The jump to electronic access may be just around the corner. In fact, a recently proposed rule would allow patients to access their lab results directly from labs themselves. This increased access to medical information has been widely applauded, and many feel it will usher in greater patient demand for electronic healthcare tools and access.
The proposed rule, however, raises a few concerns. By skipping a doctor's translation and going straight for raw data, the reports could cause patients to become confused about their exact content. Expecting consumers to correctly interpret their medical information may not always be practical.
"The other piece is when lab data may show something unfortunate in terms of the onset of a serious medical condition," says Charles Jarvis, vice president of healthcare services and government relations at NextGen Healthcare. "The best way for the patient to learn about that is probably not by picking up a piece of paper and seeing it but rather in the course of a discussion with a provider."
Jarvis believes physician insight on care options and alternatives are important components of a good clinical outcome. "One of the major roles that the provider needs to play is to put [information] in the proper perspective," he notes.
Could direct access to lab results reduce communication between patients and providers? "I think [patients'] ongoing discussions with their physician will change, but I think it will change for the better in that they will be a more informed consumer," says John Moore, managing partner at Chilmark Research, who anticipates patients with more information at their fingertips will be able to ask physicians more direct questions.
Lab testing companies are already taking the initiative to reduce patient confusion and maximize understanding. Quest Diagnostics has experience providing lab results to patients—it's been doing it for years in the 30-plus states where the practice is already allowed. "Our intent is to deliver the results and bridge that communication gap between patient and physician," says Neil (Nilesh) Desai, Quest's director of enterprise architecture and technology, who acknowledges that patients with complicated results often benefit from reviewing their data with their provider.
"One of the things we've implemented is that we always release results to the doctor first, and after 48 hours, we release them to the patients," he says. "That gives the doctor an opportunity to react, either by calling the patient or bringing the patient in and explaining the lab results."
Measuring Success
Because the ONC's consumer-focused program is still in its early stages, not all of its objectives have been fully outlined. Nevertheless, Ricciardi says, empowering patients is a prime goal. "I can tell you in sort of a general sense that I think some of [the goals] are going to have to do with the ability of members of the public to easily get copies of their health information," she says. "That's one thing that's very important to us."
Measuring public awareness levels and consumers' actual usage of health information tools such as PHRs may also be among the objectives. "Ultimately, of course, I would love to see an uptick in positive health outcomes," Ricciardi says, "but all those things may not be measurable in a very short-term basis."
Defining the program's success will likely be a challenge. "Metrics are really hard," Berry says. "As part of the consortium, we've been talking about how to measure success since the first time we convened the steering committee."
Berry believes the sheer number and diversity of the member groups is itself an early sign of success. Other milestones will likely include the building of an organized repository for information, the popularity and usability of such a knowledge base, and consensus from consortium participants on what consumers should be made aware of, what providers and patients should be talking about as it relates to HIT, and perhaps what consumers should do with that information.
"Now we're stopping short of saying we believe we will move the needle of public awareness," Berry says, "because we don't yet have the resources available to us to really measure that."
Jarvis says careful discussions about the advantages and disadvantages of increased access to patient data will be needed to make the program as effective as possible. "I think some of the issues need to be looked at closely," he says, adding that good planning and sufficient advance communication will be crucial to maximizing patient education efforts. "I think you've got a combination of both process and outcome metrics."
Jarvis points to electronic and personal health record adoption rates as one potential measure of success, along with clinical outcomes and "looking at the number of patients who say they're actively engaged in maintaining their personal health record." Those figures aren't likely to be available anytime soon, but he believes it's the kind of information that could be effective in gauging the program's long-term progress.
Hurdles to Overcome
Efforts to educate consumers about health information tools and inspiring them to actually use them will be met with a series of stiff challenges. Overcoming the inertia of a system that hasn't historically provided patients with direct access to their health information may top the list.
"We have a culture here, at least in North America and the United States in particular, where people have been disassociated with this information," Moore says. "This has been going on for decades, where [consumers] have not had direct access to this information. It was always provided via a filter, that being their physician or nurse.
"I think another barrier … is how do we as healthcare organizations present this information to the patient in a way they truly understand," he adds.
These problems affect patients, providers, and the industry as a whole. "I feel like our healthcare system is in many ways like a pre-Internet era," Desai says, likening it to retrieving information from a library instead of looking up something online. "Accessing your lab results or your prescriptions or doctor notes, it's quite difficult for a patient to do."
One challenge continues to be providing widespread direct access to health information, says Desai, who calls the ONC proposal "a game-changer for patients" and hopes it will expose consumers across the country to the convenience and empowerment of accessing health information directly.
Even with the proposed access to lab results acting as a barometer, some patient groups will likely be difficult to engage in the concept of electronic health information. "My opinion is that those that are most likely to have challenges with accessing the information in a format they can understand will be those that are recent immigrants or for whom English is a second language," says Moore, citing potential issues with deciphering complex lab results. "That is probably the largest sector of the population that there's reason to be concerned about."
Consumers in rural communities who may not have full access to broadband or Internet technology may also prove to be a tough group to reach. And healthy people, while fully capable of leveraging HIT tools, are likely to be completely uninterested. "In some ways, healthy people might be hard to reach because they just don't care," Berry says. "People don't think about healthcare until they get sick."
One population that stands to benefit tremendously from HIT but which may be the most resistant is the elderly. Even though Berry says, "I think sometimes we underestimate the ability of older people to adopt technology," significant attention is being paid to how best to bring this demographic—which often has the greatest need for healthcare—on board the digital train. To that end, the NeHC has enlisted AARP to serve on the consortium's steering committee. It plans to leverage the organization's extensive network of existing touch points with this crucial demographic.
Getting in front of these different groups is difficult for a single entity, but the ONC-NeHC collaboration is banking on its diverse team of stakeholders to get the job done. Ricciardi says the initial approach is to take advantage of "partnerships with organizations that may have a deeper reach into a variety of communities than we do directly." This strategy will enable the various organizations to "highlight the elements of our outreach messaging that resonate most intensely with those groups," she adds.
Protecting Sensitive Information
Privacy and security continue to be topics of concern for consumers as well as providers and technology companies. "I think it's incredibly important that people trust the systems they use," Ricciardi says. While she doesn't think there's any system that's completely fail-safe, she's quick to point out that a paper system isn't entirely trouble free from a privacy perspective either. "In the paper world, a lot of people can pick up your chart and look at it and you would have no idea," she says.
To its advantage, an electronic environment permits a built-in audit trail that allows consumers to see who has accessed their information. Regulations also require that data breaches exceeding a preset threshold be made public, so the system and its integrity remain transparent. "I think it encourages the institutions that hold health information to be more careful and aware in safeguarding it," Ricciardi says.
Organizations that manage patient data understand they have a tremendous responsibility to balance security with access. "We have taken a lot of steps around ensuring that it is private, it is secure, and that we're not sharing it," Desai says. "[Access] used to be very, very complicated and we required authentication and all that, but we have taken out all the pain" by creating a platform that allows for a simplified experience that is also secure.
Still, while Desai believes HIPAA does a good job of protecting patient data, he feels more work will need to be done as technology evolves and more pieces of the traditional system transition to digital form.
— Julie Knudson is a freelance business writer based in Seattle.