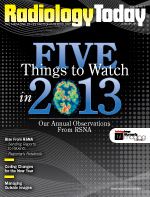 January 2013
RSNA 2012 Reporter's Notebook
Radiology Today
Vol. 14 No. 1 P. 18
Editor's Note: This article was prepared from materials provided for the press conferences at RSNA 2012, held November 25 to 30 in Chicago.
Patients Know Little About What Radiologists Do
Study finds that about one-half of people who have CT scans know radiologists are doctors.
New research presented at RSNA 2012 shows that even patients who've had imaging exams in the past know little about the profession of radiology. Researchers said the study findings highlight an opportunity for radiologists to educate the public about their role in healthcare.
"We know from previous studies that about half of the general public doesn't even know that radiologists are physicians," said Peter D. Miller, MD, a radiology resident at the Indiana University School of Medicine in Indianapolis. "In our study, only 53.5% of patients who had undergone computed tomography knew that radiologists were physicians."
The roots of the new study trace back to a speech by the late Gary Glazer, MD, former chair of the department of radiology at Stanford University School of Medicine in California.
Miller and colleagues focused on patients undergoing outpatient CT at the university hospital. During a four-month period, they asked adult patients if they would be willing to meet with a radiologist and complete two brief surveys concerning radiologists and their role in healthcare. Of the 307 patients surveyed, almost one-half had at least a college education or higher.
Slightly more than 64% of respondents reported that they had little or no idea what radiologists do. Only 35.8% reported having much understanding, despite the fact that almost 83% replied it is important or very important to know who interprets their imaging exams. Overall experience was reported as very positive by 70% of those who met a radiologist vs. 53% of those who did not meet a radiologist.
"We need to better understand what patients want to know about radiologists in order to improve service and patient care," Miller said. "In my experience, people who've had the opportunity to interact with radiologists appreciated the chance to talk with them and get their thoughts on the imaging results."
Slightly more than 83% of respondents said they were interested or very interested in receiving a copy of their radiology report. Only 2.7% were not interested. More than 62% expressed interest in having access to a website with their radiologists' biographies and pictures.
"Many patients would like to know more about the role of radiologists in their healthcare," said the study's senior author, Richard B. Gunderman, MD, PhD, a professor and vice chair of radiology at Indiana University. "These findings present an important educational opportunity for radiology practices."
Print and electronic materials, advertising, and social media are among the ways that some institutions and organizations have worked to increase awareness of the radiology profession. Changing the infrastructure and work process of radiology departments is another promising avenue to facilitate more patient interaction with the radiologists interpreting their imaging exams. n
Radiologic and Physical Findings Identify Elder Abuse
Radiologists from Canada presented findings at RSNA 2012 that have begun to identify a pattern of injuries that may be indicative of elder abuse.
According to Kieran J. Murphy, MD, FRCPC, FSIR, of the University Health Network in Toronto, only 2% of physical elder abuse is reported by clinicians. "Unlike cases of child abuse, there is very little information available on this subject," he said. "It's a much neglected area."
Murphy conducted a literature review and searched databases for elder abuse cases to locate radiologic evidence of the types of injuries found in abuse victims over the age of 60. An analysis of more than 1,100 cases revealed that the most frequent injuries among the abused elderly were facial trauma, dental trauma, subdural hematoma, eye and larynx trauma, rib fractures, and upper extremity injuries.
"Radiologists need to be aware of the pattern of injuries frequently seen in the abused elderly," Murphy said. "More importantly, we need to integrate the physical and radiological findings with the social context of the patient to help identify those at risk."
The analysis also revealed that elderly victims of abuse were most often in a home setting being cared for by nonprofessionals. "In the cases we reviewed, the abused elderly were often socially isolated, depressed, and unkempt," Murphy said. "The caregivers were not only financially dependent on the elderly person in their care, they were often dealing with their own substance abuse problem."
Compared with older adults who were accidently injured, the abused elderly patients were more likely to have brain, head, and neck injuries. Autopsy studies revealed that subdural hemorrhages were the cause of death in one-third of elder abuse cases. n
High-Altitude Cerebral Edema Can Lead to Later Bleeds
New MRI research has found that some mountain climbers who experience high-altitude sickness have traces of bleeding in the brain years after the initial incident.
High-altitude cerebral edema (HACE) is a severe and often fatal condition that can affect mountain climbers, hikers, skiers, and travelers at high altitudes, typically above 7,000 feet (2,300 meters). HACE results from brain tissue swelling due to fluid leakage from the capillaries. Symptoms include headache, loss of coordination, and decreasing levels of consciousness.
"HACE is a life-threatening condition," said Michael Knauth, MD, PhD, of the University Medical Center's department of neuroradiology in Goettingen, Germany. "It usually happens in a hostile environment where neither help nor proper diagnostic tools are available."
Knauth and colleagues at the University Hospitals in Goettingen and Heidelberg, Germany, compared brain MRI findings among four groups of mountaineers: climbers with well-documented episodes of HACE, climbers with a history of high-altitude illness, climbers with a history of severe acute mountain sickness, and climbers with a history of isolated high-altitude pulmonary edema, a life-threatening accumulation of fluid in the lungs that occurs at high altitudes.

Two neuroradiologists assessed the brain MRI findings without knowing the status of the mountaineers and assigned a score based on the number and location of any microhemorrhages. "In most cases, these microhemorrhages are so small that they are only visible with a special MRI technique called susceptibility-weighted imaging," Knauth said. "With this technique, the microhemorrhages are depicted as little black spots."
The MRI results showed brain microhemorrhages almost exclusively in HACE survivors. Of the 10 climbers with a history of HACE, eight had evidence of microhemorrhages on an MRI. The other two had uncertain results. Only two of the remaining 26 climbers were positive for microhemorrhages.
"It was previously thought that HACE did not leave any traces in the brains of survivors," Knauth said. "Our studies show that this is not the case. For several years after, microhemorrhages or microbleeds are visible in the brains of HACE survivors."
Survivors of the most clinically severe cases of HACE had the most prominent evidence of microhemorrhages on an MRI. The microbleeds were found predominantly in the corpus callosum, the thick band of nerve fibers that connects the right and left halves of the brain, and showed a characteristic distribution different from other vascular diseases, such as vasculitis.
"The distribution of microhemorrhages is a new and sensitive MRI sign of HACE and can be detected years after HACE," Knauth said. "We will further analyze our clinical and MRI data on patients with acute mountain sickness, which is thought to be a precursor of HACE."
Knauth does not think HACE survivors need to give up climbing. "We cannot give such a strong recommendation," he said. "However, mountaineers who have already experienced HACE once should acclimatize to the altitude very slowly." n
Over- and Underuse Can Speed Cartilage Degeneration
Too much and too little physical activity can accelerate the degeneration of knee cartilage in middle-aged adults, according to a new study presented at RSNA 2012.
Nearly one in two people in the United States may develop knee osteoarthritis by the age of 85, according to the Centers for Disease Control and Prevention. By 2030, an estimated 67 million Americans over the age of 18 are projected to have physician-diagnosed arthritis.
Researchers at the University of California in San Francisco (UCSF) previously had found an association between physical activity and cartilage degeneration, but that study focused on one point in time. In a new study at UCSF, researchers looked at changes in knee cartilage among a group of middle-aged adults over a four-year period. They used MRI-based T2 relaxation times to track the evolution of early degenerative cartilage changes in the knee.
"T2 relaxation times generated from MR images allow for analysis of the biochemical and molecular composition of cartilage," said Wilson Lin, a research fellow and medical student at UCSF. "There is increased water mobility in damaged cartilage, and increased water mobility results in increased T2 relaxation time."
The researchers analyzed 205 patients aged 45 to 60 from the UCSF-based Osteoarthritis Initiative, a nationwide study funded by the National Institutes of Health on the prevention and treatment of knee osteoarthritis. Participants used a questionnaire to record their physical activity. The researchers measured T2 values of cartilage at the patella, femur, and tibia of the right knee joint at baseline and at two- and four-year visits.
"When we compared the scores among groups, we found an accelerated progression of T2 relaxation times in those who were the most physically active," said Thomas M. Link, MD, a professor of radiology and chief of musculoskeletal imaging at UCSF. "Those who had very low levels of activity also had accelerated progression of T2 values. This suggests that there may be an optimal level of physical activity to preserve the cartilage."
Along with the findings on changes in knee cartilage, the study also highlighted the potential of T2 relaxation times as an early indicator of cartilage degeneration. "Standard MRI shows cartilage defects that are irreversible," Link said. "The exciting thing about the new cartilage T2 measurements is that they give us information on a biochemical level, thus potentially detecting changes at an earlier stage when they may still be reversible."
Lower impact sports, such as walking or swimming, are likely more beneficial to preserving cartilage than running or tennis, especially for individuals at risk for osteoarthritis, Link said. n
Study Raises Issue of Racial Differences in Heart Disease
Blacks have a higher risk of coronary artery disease (CAD) than whites, yet they have much less fat around their hearts compared with whites, according to research presented at RSNA 2012. The counterintuitive finding suggests research is needed to investigate potential racial differences.
"Prior evidence suggests that increased fat around the heart may be either an independent marker of CAD burden or a predictor of the future risk of acute coronary events," said U. Joseph Schoepf, MD, a professor of radiology and medicine and director of cardiovascular imaging at the Medical University of South Carolina in Charleston. "You would think that African Americans, who have a higher prevalence of CAD, would have higher rates of thoracic fat in an acute chest pain setting. However, this was not the case. White patients had significantly higher thoracic fat volumes than African American patients."
According to the Centers for Disease Control and Prevention, coronary heart disease is the leading cause of death for people of most ethnicities in the United States. In 2010, the age-adjusted prevalence of coronary heart disease was 6.5% among blacks compared with 5.8% among whites.
"We were very interested in finding an explanation for the racial difference in CAD and suspected differences in thoracic adipose tissue between races might be one of the contributing factors," said Paul Apfaltrer, MD, of the Institute of Clinical Radiology and Nuclear Medicine at the University Medical Center Mannheim, Heidelberg University in Germany.
For the study, researchers evaluated cardiac dual-source CT images of 411 age- and gender-matched black and white patients, quantifying thoracic fat volumes, including epicardial adipose tissue (body fat that is in direct contact with the heart) and mediastinal adipose tissue (body fat within the chest cavity). Results showed that while the prevalence of significant stenosis (narrowing of the coronary ducts) and plaque was similar in black and white patients, black patients had less fat around their hearts.
According to Schoepf and Apfaltrer, the findings are surprising given the higher number of cardiac and metabolic disorders among blacks despite the presence of less fat in the chest cavity. The researchers suggested that epicardial adipose tissue may act as a protective buffer or that it may be related to plaque maturation, including calcification, and could contribute to a lower risk of acute coronary events.
"Understanding the mechanism behind the racial disparities we found may improve the prevention, risk stratification, and management of CAD," Schoepf said. n
Study Finds Gender-Based Differences in Alzheimer's Disease
The pattern of gray matter loss is significantly different in male and female Alzheimer's patients, according to a study presented at RSNA 2012.
"We found that the extent and distribution of regional gray matter volume loss in the brain was strongly influenced by gender," said lead researcher Maria Vittoria Spampinato, MD, an associate professor of radiology at the Medical University of South Carolina in Charleston. "There is a strong interest in using magnetic resonance imaging to assess brain atrophy with the purpose of monitoring dementia progression noninvasively and to aid in understanding which factors can influence brain atrophy progression and distribution in the Alzheimer's brain."
In the study, Spampinato and colleagues analyzed data on 109 patients, 60 men and 49 women (mean age of 77), who participated in the Alzheimer's Disease Neuroimaging Initiative, a major study that followed hundreds of cognitively healthy individuals, individuals with mild cognitive impairment (MCI), and individuals who had Alzheimer's disease over a period of five years.
During the five-year period, each of the 109 patients progressed from amnestic MCI, in which the patient suffers memory loss but maintains cognitive function, to Alzheimer's disease. Using MR images of the patients' brains taken when they were diagnosed with Alzheimer's disease and 12 months before and after the diagnosis, the researchers created brain maps that illustrated gray matter changes. These maps revealed that compared with male patients, the women had greater atrophy in gray matter 12 months prior to their Alzheimer's disease diagnosis and at the time of their diagnosis. The brain maps also showed that the men and women in the study lost gray matter volume in different areas of the brain as their disease progressed from MCI to Alzheimer's disease.
"The female patients in our study initially had more gray matter atrophy than the male patients but, over time, the men caught up," Spampinato said. "In the men, the disease developed more aggressively in a shorter period of time."
Spampinato suggested the gender differences in atrophy patterns have important implications for the development of therapies for MCI and Alzheimer's disease. "These differences should be taken into consideration when testing new drugs in clinical trials," she said. "Knowing the difference between the male and female patterns of atrophy will help researchers better decipher a patient's response to drug therapy."