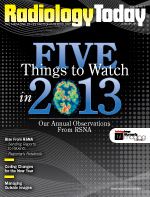 January 2013
Reporting to Patients
By Jim Knaub
Radiology Today
Vol. 14 No. 1 P. 2
Should radiologists provide their exam reports directly to their patients? The idea is trending.
That said, if you've ever followed Twitter, you understand that it's even money whether trending means important. For every Twitter-fueled wonder like Arab Spring, you'll see dozens of #banalirrelvancy tweets. Many radiologists worry about an analogous relationship with providing radiology reports directly to patients: For every case where the direct-to-patient reporting makes a significant difference, lots of radiologists envision numerous patient calls stealing efficiency-killing minutes in their work days.
Fortunately, some early adopters of patient reporting are not seeing that erosion of radiologist efficiency. "We saw no change in patient calls to clinics or to radiologists, and we received no complaints from patients," radiologist Curtis P. Langlotz, MD, PhD, told writer Beth W. Orenstein. Langlotz, a staff radiologist at Penn Presbyterian Medical Center and the Hospital of the University of Pennsylvania, also shared his institution's experience with patient reporting in a session on the topic at RSNA 2012. Orenstein's article on page 24 contains interviews from many of the participants in the RSNA session. The news from Langlotz and others is encouraging for radiologists because such interaction is likely to increase in the coming years, so it will be good if it's minimally disruptive.
Not coincidentally, that changing relationship with patients is one selection for Radiology Today's annual "5 Things to Watch" in the coming year article, which appears on page 16. We also have our Reporter's Notebook article on research presented at RSNA.
This issue also includes David Yeager's article about reducing repeat imaging and CD importation at Seattle's Harborview Medical Center. And Ruth Broek, MBA, RT(R), CIRCC, CCS, CPC-H, CHC, offers an update on radiology coding changes for 2013.
Enjoy the issue.
jknaub@gvpub.com