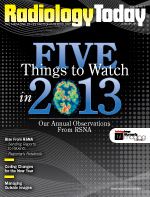 January 2013
Voice Recognition Technology for Structured Reporting
By Barbara Dumery
Radiology Today
Vol. 14 No. 1 P. 32
Recent studies show that incomplete documentation among radiologists' offices is not only common but contributes to lost revenues and inefficiencies. One ACR study, which found errors in 9.3% to 20.2% of abdominal ultrasound reports that resulted in 2.5% to 5.5% in lost professional income, serves as one example. For today's radiologist tackling regulatory measures, coding changes, more intricate exams, and increased patient data, achieving streamlined reporting isn't always easy.
To improve clinical documentation and mitigate lost revenue, the ACR emphasizes the use of thorough, structured reporting. To accomplish this, some radiologists are leveraging voice recognition technology with predefined templates and data integration capabilities. Outlined below are a few scenarios in which the capture of detailed exam findings can be structured through the use of voice-driven templates.
Exams With Contrast Agents
In exams utilizing contrast agents, radiologists often fail to mention the type of agent used and the dose associated. Unfortunately, this can lead to inaccuracies when reports are delivered for coding because contrast information cannot be added after the fact.
At Mount Sinai Medical Center in New York City, radiologists document CT contrast injection data through connectivity between Bayer Healthcare's Certegra Informatics platform and Nuance's PowerScribe 360|Reporting. Data are autopopulated into structured templates at the point of care, allowing radiologists to secure proper reimbursement for what was actually used during the exam.
In addition to enhancing the accuracy of documentation, Mount Sinai's radiologists have reduced turnaround time on reports, improving overall efficiencies and positively impacting revenue cycle management. 
Chest X-Rays
Standard chest X-rays are the most common type of radiologic exam. In fact, it's estimated that nearly one-half of all radiologic exams performed in hospitals are chest X-rays.
Due to the high volume of this type of test, chest X-rays are one area where radiologists are likely to leverage voice-enabled reporting and templates for efficiency reasons. Templates are particularly useful and time saving on the back end when a two-view chest X-ray is used, capturing both the frontal and lateral views of the chest. Both views are automatically included in a structured two-view template based on the order information, saving reimbursement by ensuring that this information is quickly and accurately included prior to the exam.

Abdominal Ultrasounds and Knee MRIs
When dealing with radiology exams that focus on several parts of the body, such as abdominal ultrasounds and knee MRIs, reports need to encompass the entire area being tested to be considered complete. With abdominal ultrasounds, reports must reference the liver, gallbladder, bile ducts, pancreas, spleen, kidneys, abdominal aorta, and inferior vena cava. Missing just one of these body parts can drop the reimbursement fee by up to $25. To that end, it has become critical for radiologists to capture each portion of the exam in documentation.
A similar example of this occurs in MRI scans of the knee, which need to reference multiple anatomical areas, including the medial meniscus, lateral meniscus, and ligaments. Sophisticated templates remind the radiologist to reference all components of the exam, ensuring that all body parts scanned are referenced and complete documentation is achieved.
3D CT and Other Postprocessing
Radiologists qualify to receive additional reimbursement for certain types of CT postprocessing on independent workstations, such as with specialized 3D reconstructions, but they may fail to note this in their reports. Structured templates can capture this additional element to ensure the full reimbursement is received.
The capture of intricate details is essential in the workflow of all radiologists, especially when many reimbursable elements of exams can inadvertently be overlooked. Downstream effects of reporting inaccuracies can lead not only to money left on the table but delayed billing cycles due to slower turnaround times, affecting a provider's entire revenue cycle. Through the use of structured, voice-enabled radiology reporting workflow, clinicians can capture full details of each patient encounter in a narrative form and real time.
In addition, templates allow for the capture of IV contrast doses and critical results reporting and documentation, improving compliance with increasing regulatory requirements and enhancing consistency and completeness of communication between the radiologist and referring clinician. Data integration with these templates also allows for the automated capture of key information, such as radiation dose exposure. With Senate Bill 1237 legislation in California now requiring all providers to report dosage provided and the belief that this regulation will eventually spread across the United States, this can be a critical time-saver for radiologists.
Through voice-enabled reporting and adherence with the ACR's recommendation of structured reporting, radiologists can ensure appropriate reimbursement while keeping high-quality patient care top of mind throughout the care and related documentation process.
— Barbara Dumery is director of diagnostic solutions marketing for Nuance's Healthcare division. She has more than 15 years of experience in healthcare IT.