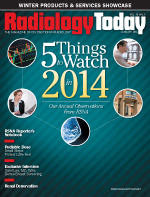 January 2014
Renal Denervation
By Dan Harvey
Radiology Today
Vol. 15 No. 1 P. 22
Interventional radiologists are investigating catheter-based treatments for drug-resistant high blood pressure and possibly other diseases involving overactive sympathetic nerves.
Renal denervation has an interesting history that dates back at least 60 years. But what's new is the once open surgical procedure now translates into a minimally invasive interventional technique that provides an effective treatment for certain patients with high blood pressure.
Renal denervation always has involved destroying the sympathetic nerves surrounding the kidney. "Surgeons cut the nerves to treat terribly high blood pressure," explains Alan H. Matsumoto, MD, a professor of radiology and the department chair at the University of Virginia Health System, based in Charlottesville. "The problem was that surgery was not often easy, and sometimes it worked just a little bit too well, which meant that patients felt light-headed, and that hampered their daily function."
Such problems were averted with the rise of pharmacologic management for hypertension. While surgical sympathectomy was recognized as effective, medications made treatment far simpler. "It seemed so much easier just to take pills," says John Fritz Angle, MD, a professor of radiology and the director of interventional radiology at the Virginia Health System. "Medication suppressed the fight-or-flight response overdrive that hypertensive patients experience."
Nerves are integral to the human body's sympathetic nervous system, Angle says. Stress triggers the fight-or-flight response, which can worsen hypertension levels. Surgical sympathectomy was largely set aside in favor of the medicinal approach.
But medical therapy treatment ran into its own roadblock: pharmacological resistance, or resistant hypertension. For some patients, medication to treat hypertension proved ineffective. Resistance compelled physicians to take another look at renal denervation. The overlying concept was that renal sympathetic and somatic nerves contribute to hypertension. Destroying the nerves surrounding the kidney could significantly impact control over hypertension in resistant individuals. Also, the times and tools have changed, as renal denervation has evolved into a minimally invasive catheter-based interventional procedure.
Ardian, a small startup company in the United States eventually acquired by Medtronic, was interested in the potential of using existing radio-frequency technology to ablate the sympathetic nerves surrounding the renal artery. "The idea certainly was not new, but this approach was completely new," Angle says. "The idea goes back way before the days of pharmacologic intervention, when surgeons would open up the patients and cut the sympathetic nerves, which improved hypertension patients' condition. Ardian reintroduced the idea and made it appear more feasible by using a minimally invasive approach. Through trials conducted in Australia and Europe, researchers found that the catheter-based approach could indeed reduce blood pressure levels. That led to more recent additional studies.
Low-Energy, High-Frequency Waves
Essentially, the modern version of renal denervation—that is, as translated into an interventional procedure—involves placing an endovascular catheter into the groin area that leads to the renal arteries. This placement enables physicians to deliver low-energy, high-frequency waves to the renal artery, specifically toward the outer walls where the nerves thrive. Once delivered, energy from the waves burns the nerves; blood flow protects the artery from the delivered heat so it's not injured. But outside the artery, the delivered heat is just enough to deconstruct the surrounding and problematic sympathetic nerves.
The procedure reduces renal sympathetic afferent and efferent activity, thus reducing harmful blood pressure levels. International studies have revealed that this is an effective option to reduce high blood pressure in patients with pharmacological treatment-resistant hypertension. With the destruction of the sympathetic nerves surrounding the kidney, the cycle of nerve signals that raises blood pressure is eliminated.
Angle describes it as a durable procedure that sustains blood pressure management. It offers a treatment option to a significant portion of blood pressure patients who demonstrate persistent blood pressure elevation despite medical therapy. It also offers a treatment to patients without reliable access to blood pressure medications.
SIR Addresses the Questions
How might renal denervation impact hypertension treatment in the United States? In October 2013, the Society of Interventional Radiology (SIR) Foundation sponsored a research consensus panel designed to address questions surrounding the renal denervation procedure, including how the procedure should be used, which patients would be best served by it, and how it would benefit the pharmacological-resistant patient portion of the hypertensive population.
"How do we use this [procedure]? Until recently, much of the research involved worst-case scenarios—the patients who still experience high blood pressure despite taking three to five prescribed dosages," explains Angle, who chaired the panel. "That's a good starting point, because those people who demonstrate an unsatisfactory response to medication face the risk of complications and even fatal stroke."
In clinical trials, both abroad and in the United States, results showed that the renal denervation procedure provides benefits that outweigh risks.
Matsumoto, who also is a SIR officer and fellow, says the panel included about a dozen physicians "who brought to the discussion different perspectives and different backgrounds. It included pathologists, cardiologists, basic scientists, and interventional radiologists, among others. The purpose was to get a broader sense of knowledge about the pathophysiology of hypertension and what happens when you destroy the sympathetic nerves that lead into the kidney."
For the layman or patient, nerve destruction may seem to be a frightening prospect. It's likely they will ask whether the technique will impair their kidney function.
"So far, studies have shown that it will not have any significant impact on kidney function," says Mahmood Razavi, MD, a panel participant and SIR fellow who serves as an interventional radiologist at St Joseph Vascular Institute in Orange, California, about the procedure. "If someone comes in with good kidney function, would the procedure have a negative impact? That hasn't been yet observed."
Also, the technique fosters a versatile usage, according to Matsumoto. Panel physicians indicated how the concept may be best deployed. "For instance, I talked about the possibility of using ultrasound energy for destruction of the sympathetic nerves," Matsumoto says. "Also, we talked about how denervation can be employed above and beyond high blood pressure. Could it positively affect sleep apnea, obesity, diabetes, pulmonary hypertension, anxiety, heart arrhythmias, and heart failure? Existing evidence indicates that overstimulation of the sympathetic nervous system can contribute to these conditions."
The big question still is how this approach could best help hypertensive patients. "That's an important question because despite advancement in pharmacologic therapies, a significant proportion of patients have persistent high blood pressure despite being treated with medication," Angle says.
"One of this multispecialty panel's objectives was to address unmet research needs in this area," Razavi says, "and that included determining who are the nonresponders and why do they not respond. This area needs more study."
At the same time, research into renal denervation turned up some interesting findings. "The procedure appears to produce positive effects in other areas," Razavi says, indicating the aforementioned conditions. "There are at least 15 areas where renal denervation has come under active study in various locations and by various sponsors."
"As far as the benefits for specific hypertension patients, that remains under investigation," Angle says. "That's the short answer. But researchers have turned up other intriguing potential applications, which have been described in small studies. Investigators have turned up things not even thought about."
For example, individuals suffering from sleep apnea can have high blood pressure, and this therapeutic approach could make sense as part of their treatment. It also could be a tool to help manage diabetes, as investigators have looked at the procedure's potential in addressing glucose tolerance. "Research has posed a question: Could this procedure play a beneficial role in the treatment of glucose-intolerant patients? Could it improve their blood sugar levels?" Angle says.
This appears to be good news for people with diabetes, Razavi says: "Any condition impacted by sympathetic nerve overactivity could potentially be improved by this procedure."
Angle says the panel discussion raised important and fascinating questions—more than were anticipated. "Right now, no one knows the answers to these questions, but it is an exciting frontier," Razavi says.
SIR's research panel did reach a consensus, even if it pointed to new areas of research. "We all agreed that this is exciting technology," Matsumoto says, "and preliminary data [from Europe and the United States] is equally exciting. But we are talking about a work in progress. Panel members agreed that we don't know how effective it will be down the road. Right now, we really don't know how safe it is, nor do we completely understand how it could affect the kidney.
"We need to have a better understanding of how this all works, what methodology will be the best, and who will be best served," he adds.
Future Direction
When could renal denervation treatments reach mainstreamed medical care in the United States? "The best case scenario would involve perhaps a two-year timeline," Angle says. "The technology is available, and it offers interventional radiologists a good opportunity."
Of course, usage will hinge on FDA approval and reimbursement issues. That's why Matsumoto foresees a longer timeline. "If it won't get reimbursed, people are not going to spend the money to get the technology, nor will patients want to undergo the procedure," he says. "Realistically, we are looking at five to 10 years down the road, and during that time, we need to gather data that would indicate that the benefits outweigh both cost and risk."
Razavi, who has participated in clinical trials, paints a broad picture. "The procedure is available outside of the United States, and US physicians await FDA approval," he says. "The first US study—a randomized, premarket approval trial—was completed in May 2013. Six months after the trial [November 2013], all participating patients will have reached their end points, and at that point, analysis will be conducted and submitted to the FDA. If the study proves positive, we could be two years away from approval in the United States. Once [the procedure] becomes available, I am sure that it will have attached to it strict inclusion criteria for resistant hypertension. [Then] it will be reviewed by insurance companies, and there is that disconnect between FDA and payment approval, which is typical for all new forms of therapy," Razavi says.
He uses carotid stenting as an example to underscore his point. "For that treatment, studies revealed [positive outcomes], but insurance companies didn't want to pay for it for financial reasons and not scientific reasons," he explains. "This could be the same case. My guess is that if the study is positive and leads to FDA approval, the groundswell of pressure on the insurance companies and the CMS [Centers for Medicare & Medicaid Services] would be such that they would have to approve payments."
But also coming into play will be production costs. "A bigger question is how much will [insurance companies] pay and how will they cover the costs," Razavi says. "And how much will manufacturers market the device for. For instance, Medtronic will most likely be the first to market in the United States, and it has spent more than $1 billion on this technology. The company will need to recoup their costs, so I am sure that the technology will not come cheap. But we will see what happens."
Still, there is optimism. "This is a good direction in which to move because we are talking about one in four people in the United States that suffer from hypertension," Matsumoto says. "The prevalence of the condition is so high that if we only impacted 5% of that population, we would still be effectively treating a huge number of people. This opportunity has great potential. At the same time, we need to remember that any treatment must be based on individualized assessment of a patient's disease. We must realize that one size doesn't fit all, and we need to identify the population that will most benefit."
— Dan Harvey is a freelance writer based in Wilmington, Delaware.