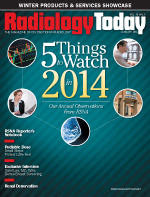 January 2014
Off We Go…
By Jim Knaub
Radiology Today
Vol. 15 No. 1 P. 3
Happy New Year! I hope your 2014 is off to a good start on both professional and personal levels.
This new year will prove challenging, as it brings us the implementation of the Affordable Care Act's state and federal insurance exchanges as well as the dawn of ICD-10 this coming fall.
In response, we thought we'd seek some help in the form of relaunching our editorial advisory board. Actually, the timing is just coincidence, but we here at Radiology Today want keep improving our magazine's medical imaging coverage. We've chosen friends and supporters of Radiology Today—professionals we've worked with as sources, met at meetings, those who have contributed to the magazine, and people we've e-mailed and phoned with questions. And these four radiologists are just a start:
• Tessa S. Cook, MD, PhD, Philadelphia, Pennsylvania;
• Stamatia Destounis, MD, Rochester, New York;
• Rahul V. Pawar, MD, Livingston, New Jersey; and
• Robin B. Shermis, MD, Toledo, Ohio.
Radiology has become more subspecialized, so it follows that this magazine requires a diverse group of imaging professionals to cover the three primary groups of our readership: radiologists, imaging administrators, and technologists. We'll be looking for friends of the magazine to increase our advisory board in the coming year.
Of course, that doesn't mean that you must be on the advisory board to contribute to Radiology Today. Pick up the phone and give me a call or send me an e-mail if you have an idea for a story or some news your colleagues in the field may be interested in knowing about. Let's make 2014 an excellent year.
Enjoy the issue.
jknaub@gvpub.com
610-948-9500, ext. 111