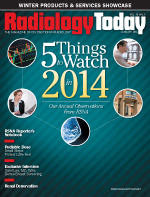 January 2014
Changes for 2014
By Leslie Jones, BS, RCC, CIRCC, CPC, CPC-H
Radiology Today
Vol. 15 No. 1 P. 36
As the industry looks forward to a new year of updated health care policies, compliance measures, and regulations, CPT code changes in interventional radiology will be no exception. There are no diagnostic radiology changes for this year, but as in previous years, radiologists can expect new interventional radiology–combined codes that will include imaging guidance in the 2014 CPT changes.
Breast Biopsy Codes
The first combination codes created for 2014 are breast biopsies with imaging, clip placement, and specimen radiography. Three new main codes will be added that include clip placement and specimen radiography, when performed, and there also are three new add-on (+) codes for each additional lesion.
All codes differ by three imaging modalities: stereotactic, ultrasound, or MRI guidance. The type of biopsy, whether core needle or vacuum assisted, no longer dictates the code that will be selected. CPT surgery codes 19102 (needle), 19103 (vacuum), +19295 (clip placement), and supervision and interpretation (S & I) code 77031 (stereotactic guidance) will be deleted.
The breast specimen radiological examination code 76098 still exists for a specimen if radiology imaging is performed outside of the breast biopsy. Since this code includes all procedures, whether or not they are performed, the assigned relative value units will be interesting.
Needle Localization Codes
In addition to new breast biopsy codes, needle localization procedures will be bundled into one code for breast seeds, clips, wire, or pellets.
Currently, an unlisted CPT code is applied for a stand-alone clip or radioactive seed placement, which may or may not result in payment. These codes differ by four imaging modalities: mammography, stereotactic, ultrasound, and MRI. Each modality will be coded by each lesion, primary code, and additional lesion with an add-on code.
If specimen radiology is performed on the lesion separate from surgery, 76098 can be coded in addition. CPT surgery codes 19290 (needle localization), 19291 (additional needle localization), and S & I 77032 (mammography guidance) will be deleted.
Vascular Codes
In the vascular section, codes with stent and embolization combined will majorly impact reimbursement this year. Exclusive of head/neck and lower extremity codes, the stent codes will be revised to be similar to the already existing lower extremity stent codes that include angioplasty. The new codes will be divided into separate codes by artery or vein, respectively. Angioplasty will no longer be coded in addition to a stent when the angioplasty falls in the same vessel.
These new codes are open or percutaneous and include conscious sedation and imaging guidance. CPT surgery codes 37205 (initial stent), 37206 (additional stent), and S & I 75960 will be deleted.
The other major change in the vascular section is the creation of combined embolization procedures. The new codes are divided based on the reason for the embolization or occlusion and the vascular system involved (arterial or venous). The new codes include the following:
• two codes (arterial or venous) for malformations, fistulas, aneurysms, and pseudoaneurysms;
• one code for tumors, organ ischemia, or infarction; and
• one code for hemorrhage or lymphatic extravasation (arterial or venous).
This is the first time radiology has seen the division of codes by the reason and not by the body location. The new uterine fibroid embolization (UFE) and liver embolization CPT code is 37243 since that code is designated for tumors. These four embolization codes include imaging guidance, road mapping, and conscious sedation, but do not include catheter placement. CPT surgery codes 37204 and 37210 (UFE) will be deleted, and no changes will be made to the neuroembolization procedures; therefore, S & I 75894 will remain the same.
The last CPT vascular change includes new codes for aortic grafts that were previously category 3 or T codes, which have expired one to two years earlier than scheduled. These combined codes will be divided by graft location and the number of visceral artery endoprostheses. The codes do include imaging guidance.
Now that only one code exists, the surgeon and the radiologist both will receive part of the supervision and interpretation with the use of modifier 62. Category 3 CPT codes 0078T, 0079T, 0080T, and 0081T will be deleted.
Catheter Drainage Codes
The catheter drainage sections will be revised with four new codes that include imaging guidance and conscious sedation. These four codes are divided by location and approach, and they include conscious sedation. The four categories are visceral (liver, kidney, spleen, and lung), peritoneal/retroperitoneal, peritoneal/retroperitoneal by transvaginal or transrectal approach, and soft tissue.
The new descriptions include any type of drainage, abscess, hematoma, seroma, lymphocele, cyst, etc, whereas previously the descriptions were specific to the reason for the drainage.
Since the new codes state "image guided," they will include ultrasound or CT and catheter placement, either transient or permanent. All of the body trunk percutaneous catheter drainage codes throughout the CPT book will be deleted.
More Details to Come
As radiologists work with a new set of CPT codes in 2014, they can look to industry medical societies for more detailed application instructions that will be published throughout this year. Resources for radiologists include the American Medical Association, the ACR, and the Society of Interventional Radiology. The Federal Register also published new relative value unit details in early November 2013.
The best approach for radiologists is to stay aware of newly published information as they tackle new CPT changes this year.
— Leslie Jones, BS, RCC, CIRCC, CPC, CPC-H, is an AHIMA ICD-10 trainer and the director of coding and physician education for Zotec Partners, a medical billing services provider.