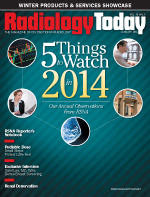 January 2014
Sharing Images Outside of PACS
By David Yeager
Radiology Today
Vol. 15 No. 1 P. 8
The ever-growing volume of medical images and clinicians' demand for quick access to them pressures health care organizations to find more efficient ways of sharing those images. To meet this need, some organizations, such as Vanderbilt University Medical Center (VUMC) in Nashville, Tennessee, are turning to Web-based tools to help direct traffic.
VUMC handles nearly 3,000 acute trauma admissions each year and provides trauma care and some teleradiology services for patients in a 65,000-square-mile area. Hundreds of community hospitals send trauma cases to VUMC.
To streamline the patient evaluation and intake processes, VUMC has instituted an access center that serves as a hub for all outside referrals. To handle patient images and reports, VUMC recently installed Claron Technology's NilRead zero-footprint universal viewer, which received 510k clearance for diagnostic image interpretation in October, and NilFeed image sharing solution. Facilities send images to the access center through NilFeed, and clinicians view them in NilRead. The viewer's tool set includes volume rendering, multiplanar reconstruction, maximum-intensity projection, and rule-based hanging protocols. It supports diagnostic image viewing of DICOM modalities on single or multiple monitors and can be accessed on laptops, tablets, and various mobile devices through most operating system platforms. It leaves no information on the viewing hardware when the session is over.
"One thing the neurologists and radiologists love is they can view these images on their iPad, their iPhone, any laptop they have, with Chrome, Firefox, or Explorer," says Jennifer Tucker, team leader for VUMC's imaging informatics group. "They can be viewed on pretty much any device, anywhere."
Keeps PACS Clean
Images are uploaded to VUMC through a secure remote server directly from the referring facility's PACS, eliminating the need for point-to-point virtual private networks, which are costly and time consuming to install. The uploader is installed through an Internet link and takes around 10 minutes to install, depending on the facility's IT capacity. VUMC keeps identical versions of its uploader on servers at its main data center and its disaster recovery site, although the uploader can be installed on any workstation.
The uploaded images are routed to VUMC's server. If the patient needs to be transferred, the images can then be moved to VUMC's PACS. A worklist match capability allows users to enter an order number through the RIS and match the patient's information with his or her image without routing it through a quality control station. "It's going to be a great way to keep our PACS system clean," Tucker says. "Our PACS is only going to have patients in it that have Vanderbilt demographics."
Tucker says the ability to receive a patient's information and images before he or she arrives allows the access center to assign a specialist to a case in advance and allows the specialist to more efficiently address the patient's condition. The Web tools allow specialists to collaborate with referring physicians in real time to determine whether the patient needs to be transferred. Tucker says this is particularly helpful because, in addition to trauma care, VUMC provides teleneurology services for several rural areas. The ability to see patient images can reduce the number of transfers, depending on the specialist's assessment, saving the time and cost of moving the patient to VUMC.
From an IT perspective, the ease of installing the uploader has dramatically simplified the implementation process for outside facilities. Rather than working through multiple layers of "IT politics" to get authorization for a virtual private network, Tucker says the process usually can be handled at the PACS administrator level. There's also a link for password assistance on the log-in screen, which has significantly reduced VUMC's volume of IT help desk tickets from outside facilities. Internally, VUMC's users can log in with the credentials they regularly use for other systems.
Multiple Workflows
Tucker says VUMC is considering the Web tools for other workflows as well. She says the tools' capability to include patient reports with the images makes the solution a viable option for the file room. Normal transfers would be handled in a similar way as trauma cases, except the patients would be scheduled weeks, rather than minutes, in advance.
VUMC's endoscopy lab also is a candidate. It uses an older modality that produces JPEG files, which PACS can't handle. The tools' ability to upload and view JPEGs and bitmaps would make endoscopy files easier to access throughout the medical enterprise. Tucker says the tools offer several opportunities to bring outlying workflows into VUMC's main data stream.
The largest one is through the EMR. Within the next year, VUMC plans to make NilRead its in-house EMR viewer. Tucker says doing so will allow all VUMC clinicians to access the most up-to-date patient information in one place.
"When we link it up to the EMR and it becomes our house viewer, we're going to set up a feed from our RIS so the reports will go into the system there," Tucker says. "So there are a couple of different ways with the workflow that we're going to implement the system. It's going to solve quite a few workflows for us."
— David Yeager is a freelance writer and editor based in Royersford, Pennsylvania. He writes primarily about informatics topics for Radiology Today.