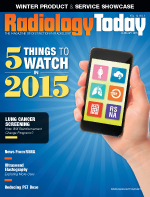 January 2015
Reporter's Notebook: RSNA 2014
Radiology Today
Vol. 17 No. 1 P. 14
This article includes reporting by Radiology Today Editorial Assistant Tony Fioriglio and press conference materials distributed at the Radiological Society of North America's 100th annual meeting, held from November 29 to December 5 in Chicago.
High School Players Show Brain Changes After One Football Season
Playing even a single season of football may cause measurable changes to the white matter in the brain even if a player has not been clinically diagnosed with a concussion, according a study presented by Christopher T. Whitlow, MD, PhD, MHA. It is not known whether those changes have long-term clinical consequences.
Whitlow, an associate professor of radiology at Wake Forest School of Medicine and radiologist at Wake Forest Baptist Medical Center in Winston-Salem, North Carolina, says his study looked at a North Carolina high school football team of 40 players and compared the results of pre- and postseason MRIs, including diffusion tensor imaging (DTI), to examine the white matter in the brains of the players. Additionally, Whitlow says the study prescreened participants to ensure that no player had previously been diagnosed with a concussion and, with the assistance of a neurologist and neurosurgeon, ensured that all participants had no preexisting neurological disease. Once prescreening was complete, the team ultimately studied 24 players on the team.
"The purpose of this study is to try to determine if these head impacts that are acquired over a season of high school football produce changes in white matter in the brain, even in the absence of concussion," Whitlow said, adding that "[t]he vast majority of studies that are out there … really focus on college and NFL players" and those players only account for approximately 30% of the football-playing population.
According to Whitlow, the helmets of these players were fitted with Head Impact Telemetry System (HITS) helmet-mounted accelerometers to measure frequency and severity of helmet impacts. Additionally, every game and practice was filmed in order to confirm contact.
"In addition to collecting these data with the HIT System, we record every single football game and have some team members watch every game to confirm that a hit that's measured is associated with a hit that's been recorded on video and not something like a helmet drop," Whitlow said.
Risk-weighted cumulative exposure was computed from the HITS data, representing the risk of concussion over the course of the season. These data, along with total impacts, were used to categorize the players into one of two groups: heavy hitters or light hitters. There were nine heavy hitters and 15 light hitters. None of the players experienced concussion during the season.
From there, Whitlow says researchers used DTI to produce a fractional anisotropy (FA) measure of the movement of water molecules along axons. In healthy white matter, the direction of water movement is fairly uniform and measures high in fractional anisotropy. When water movement is more random, FA values decrease, suggesting microstructural abnormalities.
The results showed that both groups demonstrated global increases of FA over time, likely reflecting effects of brain development. However, the heavy-hitter group showed statistically significant areas of decreased FA postseason in specific areas of the brain.
"Often, in other studies, decreases in fractional anisotropy and increases in mean diffusivity have been associated with microstructural abnormalities of the white matter," Whitlow said. "I think it does raise concerns in our minds because these are changes that are associated with high cumulative head-impact exposure."
Whitlow cautioned that his study had several limitations, including a lack of a control group, a small sample size, and a short length. He also said his research would continue.
"Our main conclusion is that high school football players who experience the highest levels of cumulative head impact exposure, even in the absence of concussion, do have changes in their brain that have been associated with microstructural abnormalities in the white matter and have been reported in studies of [mildly] traumatic brain injuries," Whitlow said. "The reason we need to think about it is we need to evaluate for risks and if we find risks, then we can work to prevent the risks and make the sport as safe as possible."
Source: "Head Impacts and White Matter Changes in High School Football: A TBSS Analysis"
Most Pediatric Chest X-rays Unnecessary
Researchers at Mayo Clinic have found that the overwhelming majority of chest X-rays performed on children may be unnecessary and ultimately do not alter the treatment plan in any fashion.
According to Ann Packard, MD, a radiologist at the Mayo Clinic in Rochester, Minnesota, researchers examined 719 chest radiographs ordered between 2008 and 2014 for patients that had chest pain, syncope/fainting, dizziness, or a general feeling of unease, also known as spells. Of those 719 radiographs, Packard said patients that had a history of heart disease, an illness for which they were currently being treated, and recent surgery were removed from the study.
After eliminating those patients, researchers looked at 637 patients, including those with syncope, dizziness, spells, cyclical vomiting, or postural orthostatic tachycardia syndrome (POTS), and 330 patients suffering from chest pain.
"Radiologists removed the X-rays attached to the patients' clinical information and then to determine if the results changed treatment, a comparison was made to a limited review of each child's medical record," Packard said.
After reviewing the medical records of the children, researchers determined that the treatment for all patients with syncope, dizziness, spells, cyclical spells, or POTS was not altered or changed in any way as a result of findings from the chest X-rays. Additionally, Packard said only 38 of the remaining 330 patients (about 12%) of those who had chest pain had their treatment altered as a result of the chest X-rays and the most common cause of the chest pain was pneumonia and bronchial inflammation.
"Chest X-rays for dizziness, syncope, spells, and POTS offered little value to children. It is our job as radiologists to educate ordering doctors to help reduce radiation, boost cost savings, and increase our value," Packard said.
Source: "Common Indications for Chest Radiographs in the Pediatric Population: Are We Adding Value or Radiation?"
IR Treatment Can Avoid Hysterectomy in Placenta Accreta Cases
Placing balloons in the iliac artery of the mother's pelvis prior to a C-section so they can be quickly inflated protects against hemorrhage, is safe for both mother and baby, and can preserve fertility and potentially save the lives of women with placenta accreta, a condition in which the placenta abnormally implants in the uterus and can lead to massive obstetric hemorrhage at delivery that requires a hysterectomy, according to a new study presented at RSNA.
The study was led by Patrick Nicholson, MB, BCh, an interventional radiologist trainee at Cork University Hospital in Cork, Ireland, whose hospital treats patients with abnormal placental implantation detected on routine prenatal ultrasound. A multidisciplinary team plans both the C-section and prophylactic internal iliac balloon placement under fluoroscopic guidance. Immediately prior to the patient's C-section, an interventional radiologist inserts balloons into the two internal iliac arteries in the pelvis that supply the uterus with blood flow.
For the study, Nicholson retrospectively reviewed the charts of all patients with abnormal placental implantation who received prophylactic internal iliac balloon placement since 2009. Over a 44-month period, the hospital treated 21 patients (mean age 35) who underwent balloon placement immediately followed by C-section.
In 13 of the 21 deliveries, the arterial balloons were inflated and, when no longer needed, deflated and removed from the patient. The interventional radiology procedure was a technical success in 100% of the cases. However, despite use of the balloons, two patients did require a hysterectomy.
There were no maternal or fetal complications resulting from the interventional procedure.
"We are the first group to report on the fetal outcomes associated with prophylactic internal iliac artery balloon placement," Nicholson said. "There were no adverse outcomes for the babies as a result of this procedure."
According to Nicholson, the incidence of abnormal placental implantation has been increasing steadily in recent years.
"The risks for placenta accreta and its variations increase with a woman's age, previous C-sections, and in vitro fertilization, all of which we expect to see more of in the coming decades," he said.
Nicholson said results of the study add to a growing body of evidence that high-risk placental implantation pregnancies are best managed in a multidisciplinary setting.
Source: "Prophylactic Internal Iliac Balloon Placement Prior to Caesarean Section in Patients With Placenta Accreta — Maternal and Foetal Outcomes"
3D Mammography Improves Detection in Dense Breasts
Digital breast tomosynthesis has the potential to significantly increase the cancer detection rate in mammography screening of women with dense breasts, according to a research team led by Per Skaane, MD, PhD, of the department of radiology at Oslo University Hospital in Norway.
According to information provided by RSNA, the researchers compared cancer detection using full-field digital mammography (FFDM) vs FFDM plus digital breast tomosynthesis in 25,547 women between the ages of 50 and 69. Breast density was classified based on the ACR's BI-RADS. The BI-RADS breast density scale runs from 1 to 4, with 1 being the least dense and 4 being the most dense. Research has shown that dense breasts are more likely to develop cancer, a problem compounded by the fact that cancer in dense breasts can be difficult to detect on mammograms.
There were 257 malignancies detected on FFDM and a combination of FFDM and tomosynthesis in the study group, including 105 in the density 2 group and 110 in density 3. Of the 257 cancers, 211 (82%) were detected with FFDM plus tomosynthesis, a significant improvement over the 163 (63%) detected with FFDM alone. FFDM plus tomosynthesis pinpointed 80% of the 132 cancer cases in women with dense breasts, compared with only 59% for FFDM alone.
"Our findings are extremely promising, showing an overall relative increase in the cancer detection rate of about 30%," Skaane said. "Stratifying the results on invasive cancers only, the relative increase in cancer detection was about 40%."
Skaane and colleagues have been studying tomosynthesis as a promising breast cancer screening option that addresses some of the limitations of mammography by providing 3D views of the breast.
Other imaging modalities like ultrasound and MRI are often used to help find cancers that can't be seen on mammograms, but both modalities have higher rates of false-positive findings. This higher false-positive rate often results in more tests and unnecessary biopsies, making MRI and ultrasound more expensive to implement in high-volume screening programs, according to Skaane, the lead author of the study.
"The intention of our study was to see if tomosynthesis really would significantly increase the cancer detection rate in a population-based mammography screening program," Skaane said.
According to the study, tomosynthesis not only improved the cancer detection rate in women with dense breasts, it also helped increase detection for women in the "fatty breast" BI-RADS categories. The addition of tomosynthesis to FFDM improved the cancer detection rate from 68% to 84% in women with BI-RADS density 1 or 2 breasts.
Source: "Comparison of Digital Mammography (FFDM) and FFDM Plus Digital Breast Tomosynthesis in Mammography Screening for Cancer Detection According to Breast Parenchyma Density"
Risk-Based Screening Misses Many Breast Cancers in Women in Their 40s
A study of breast cancers detected with screening mammography found that strong family history and dense breast tissue were commonly absent in women between the ages of 40 and 49 diagnosed with breast cancer.
The retrospective study, conducted at University of California, San Francisco (UCSF), included 136 women between the ages of 40 and 49 with breast cancer identified by screening mammography between 1997 and 2012. Symptomatic patients undergoing diagnostic mammography and those with a personal history of breast cancer were excluded from the study. Patient family history, breast density, type of malignancy, lymph node status, and tumor receptor status were recorded.
"Notably, we found that almost 90% of the invasive cancers we would have missed using risk-based triage had positive receptor status, meaning they were very treatable and worth finding early," said Bonnie N. Joe, MD, PhD, an associate professor in residence and chief of women's imaging at UCSF.
Of the 136 breast cancer cases identified, one-half were diagnosed as invasive, and one-half were diagnosed as ductal carcinoma in situ (DCIS), an early noninvasive form of breast cancer. In the study, 88% of DCIS cases were intermediate or high grade.
A very strong family history was absent in 90% of patients, and extremely dense breast tissue was absent in 86%. Seventy-eight percent of patients had neither strong family history nor extremely dense breasts, including 79% of the cases of invasive disease.
"Our results show that by exclusively using a risk-based approach to screening mammography, we could potentially miss more than 75% of breast cancers in women in their 40s, thereby eliminating most of the survival benefit from screening mammography that has been previously shown in randomized controlled trials," Joe said.
Joe urges proponents of risk-based screening to continue research to find more effective means of risk-based triage. "Neither family history nor breast density in combination or alone are sufficient risk factors to safely triage patients in risk-based screening," she explained.
Routine annual screening mammography has traditionally been recommended by organizations such as the American Cancer Society and the American Medical Association for all women beginning at age 40. In 2009, the US Preventive Services Task Force issued controversial new guidelines recommending screening with mammography every two years beginning at age 50.
"Based on our current knowledge and evidence shown in previous trials, it is still safest to get annual mammograms starting at age 40 in order to maximize the survival benefit of screening mammography," Joe said.
Source: "The Potential Impact of Risk-based Screening Mammography in Women Age 40-49 Years"
CT and 3D Printing Make Models to Guide Human Face Transplants
Researchers are using CT and 3D printing technology to re-create life-size models of patients' heads to assist in face transplantation surgery, according to a study conducted by researchers at Boston's Brigham and Women's Hospital, where five subsequent transplantations have been performed. A research team assessed the clinical impact of using 3D printed models of the recipient's head in planning face transplantation surgery.
Each of the transplant recipients underwent preoperative CT with 3D visualization prior to the surgery. To build each life-size skull model, the CT images of the transplant recipient's head were segmented and processed using customized software, creating specialized data files that were input into a 3D printer.
"In some patients, we need to modify the recipient's facial bones prior to transplantation," said research fellow Amir Imanzadeh, MD. "The 3D printed model helps us to prepare the facial structures so when the actual transplantation occurs, the surgery goes more smoothly."
Although the entire transplant procedure lasts as long as 25 hours, the actual vascular connections from the donor face to the recipient typically take approximately one hour, during which time the patient's blood flow must be stopped.
"If there are absent or missing bony structures needed for reconstruction, we can make modifications based on the 3D printed model prior to the actual transplantation, instead of taking the time to do alterations during ischemia time," said Frank J. Rybicki, MD, a radiologist and director of the hospital's Applied Imaging Science Laboratory. "The 3D model is important for making the transplant cosmetically appealing."
The researchers said they also used the models in the operating room to increase the surgeons' understanding of the anatomy of the recipient's face during the procedure.
Senior surgeons and radiologists involved in the five face transplantations agreed that the 3D printed models provided superior preoperative data and allowed complex anatomy and bony defects to be better appreciated, reducing total procedure time.
Based on the results of this study, 3D printing is now routinely used for surgical planning for face transplantation procedures at Brigham and Women's Hospital, and 3D printed models may be implemented in other complex surgeries.
Source: "Application of 3D Printing in Face Transplantation"