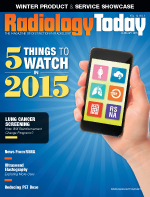 January 2015
Editor's Note: Putting Some Pop Into Data Aggregation
By Jim Knaub
Radiology Today
Vol. 16 No. 1 P. 3
The lobby café at the Hilton Chicago has one of those Coke machines that enables you to mix your personalized fountain soda from a potentially daunting array of cola and fruit flavors—with or without sugar. The machines, called Freestyle, utilize new soft drink technology that uses concentrated flavor ingredients—think of an inkjet printer for beverages—to put all those flavors into a box roughly the size of a refrigerator. Several times during RSNA week, I mixed a tall, cold cup of roughly 80% Mello Yello Zero and 20% Mello Yello. I'd score my caffeine fix and then sit down to review my notes and fire off some #RSNA14 tweets—while my drink-selection information was recorded and ultimately relayed to the Coca-Cola company by the computerized, Internet-enabled soda machine. Each of those new drink machines is a kind of shiny market research unit. The company can collect drink data from thousands of such machines scattered around the country.
What does a fancy pop machine with an ISP number in Chicago have to with radiology?
Providing the caffeine to help propel a weary editor through RSNA week is an answer, just not the important one. The important answer is well-organized data aggregation. An imaging-relevant example of this aggregation might be Nuance Communications developing PowerShare Innovation Program. More than 2,000 providers have shared more than 3 billion images over the cloud and more than 1,600 utilize the company's PowerScribe reporting systems. What might doctors be able to do with all that information?
That's what the PowerShare Innovation Program hopes to learn and develop. Working under contract with the ACR and Massachusetts General Hospital (MGH), the program wants to provide better information to radiologists, referring clinicians, patients, medical societies, government agencies, and others. Together they hope to improve clinical decision on the front end by suggesting the most appropriate imaging exams and, ultimately, clinical decision-making support on the back end with reports that include evidence-based treatment options for various exams. Examples include automating collection and submission of Physician Quality Reporting System data for radiologists and including ACR clinical guidance in PowerScribe workflow.
MGH wants to deliver a set of radiology clinical decision-support guidelines into its PowerScribe workflow.
The results, particularly the back-end components, are still a ways off, but are one piece of this data aggregation idea: Set up a system to gather data in the field, aggregate and normalize the data, then push them back to the field where system users can put the information to work in the context of their everyday workflow. It's still a work in progress, but an example of how imaging should be thinking about IT tools in 2015 and beyond.
Enjoy the issue.