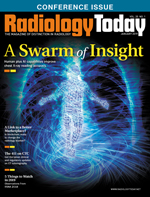 Five Things to Watch in 2019 — Observations From RSNA 2018
By Dave Yeager
Radiology Today
Vol. 20 No. 1 P. 24
Another year, another RSNA conference. There was more to see and learn than one mortal can absorb in a week, but this edition of Radiology Today's annual 5 Things to Watch will attempt to slice some of the notable news and trends from RSNA 2018 into manageable portions.
I'll get the Captain Obvious part of this article out of the way by noting that AI was once again a hot topic. What I found interesting, however, is that the discussion is beginning to move from the "what" phase to the "how" phase. To be more specific, there wasn't quite as much emphasis this year on what AI can do. Instead, there was decidedly more talk about how it can be integrated into radiology practice. It seems that fears about AI replacing radiologists are receding into the background, at least for the foreseeable future.
Many AI discussions tracked with ideas relating to value in radiology, and several people talked about ways that AI may be able to increase productivity, alleviate workflow issues, and allow radiologists to spend more time focusing on patient care. The fact is there were many more than five interesting conversational threads, some AI related and some not, but here are the ones that, for one reason or another, stood out.
1. Better Images Through AI
One of the interesting uses of AI that was on full display this year was its ability to improve image quality rather than identify specific features. While companies such as ContextVision have been doing this for a few years, many other vendors at this year's show were also showcasing algorithms that improve image quality. For X-ray, CT, and PET, these algorithms produce diagnostic-quality images with significantly lower radiation doses. For MR, they reduce the amount of time needed to obtain the necessary images. Some algorithms even optimize patient positioning to reduce the dose and/or time needed to acquire an image.
The Big Four, of course, each touted algorithms of one sort or another that addressed image acquisition, as did HeartVista (MR), Konica Minolta (DR), MedicVision (MR), and Subtle Medical (MR and PET), among others. As these types of algorithms become more refined, they offer the potential to dramatically improve workflow and safety. I'll be interested to see how long it takes to achieve the much sought after five-minute MR scan.
2. AI Aggregators
Whether they're referred to as platforms or marketplaces, more companies are focusing on bringing AI to the masses. Much like Apple's App Store or Google Play, the concept makes sense. Rather than hunting for an algorithm that performs a specific task, most busy people would rather have a pool of algorithms to choose from. Aggregators also make it easier for developers to get their algorithms in front of a larger audience.
Nuance, in partnership with NVIDIA, debuted its AI Marketplace at RSNA 2017, and others have since joined them. Arterys is actively building out its AI network to make it interoperable across vendor platforms. Fujifilm's REiLI, MEDNAX's MDR-AI Incubator, Philips' IntelliSpace Discovery 3.0, and Fovia's F.A.S.T. AI Suite are other offerings that aim to connect developers with radiology departments. Hey Google, download the intracranial hemorrhage app.
3. Blockchain
An interesting technology making its way into the radiology space is blockchain. There has been talk for a couple of years about adapting it for the imaging marketplace, but it seems to be finally gaining traction; a recent article in the Journal of the American College of Radiology cited blockchain as a hot market trend.
NucleusHealth has been working on radiology-specific blockchain projects for a while, and Change Healthcare recently acquired PokitDok, which should allow it to expand its blockchain offerings beyond what it already has.
The goal is to create a means of exchanging patient data that allows security and transparency. Proponents believe blockchain has the potential to reshape the market by improving governance of patient data. As Michael Averbach, CEO of Medical Diagnostic Web, told me at the show, "The people who operate the marketplace should decide how it runs."
(For more on blockchain, see our feature on page 16.)

4. What About China?
China was also a hot topic of conversation. More than a dozen first-time exhibitors were from China, and it was hard to miss the United Imaging Healthcare booth. It appears that Chinese companies are aiming for a larger share of the American imaging market, and with China's business-friendly policies, those companies should receive plenty of support. One person I spoke with believes that Chinese companies are poised to take a significant share of business from the Big Four, and other people I talked with believe it's not out of the question.
A related topic was the ongoing trade tension between China and the United States. An executive whom I spoke with said opinions about whether the United States' current policies will ultimately help or hurt manufacturers was split at a recent industry meeting. The executive said opinions tended to diverge depending on whether a company gets the majority of its parts from China. Where this trade tug-of-war is headed is anybody's guess, but it's a safe bet that its ultimate conclusion will have a significant impact on medical imaging manufacturers.
5. Collaborative Care
Finally, the theme of this year's conference, "Tomorrow's Radiology Today," was squarely on the future of the profession. Many people believe that the future lies in collaborative care, which seems to be edging out "patient-centered care" as the descriptor for care that includes a team-based approach and patient engagement. Although this is the least radiology-centric of our 5 Things, it may bring the most noticeable changes to the way radiology is practiced.
In the opening lecture, Vijay M. Rao, MD, 2018 RSNA president and chair of the department of radiology at Thomas Jefferson University Hospital in Philadelphia, laid out her vision of how radiologists may be participating in health care 25 years from now. In addition to recommending that radiologists embrace AI and form partnerships with other specialties, Rao suggested that radiologists should eventually be responsible for the direct imaging care of patients.
That notion was seconded by Michael P. Recht, MD, chair of the department of radiology at NYU Langone Health in New York, in the Annual Oration in Diagnostic Radiology. Recht also noted that giving patients more control over their care, such as allowing them to schedule their own exams, improves the overall efficiency of radiology workflow. In addition, he mentioned that patients are interested in their radiology reports and proposed that radiologists make their reports more interactive and easier to understand, both for clinicians' and patients' sake.
The idea that radiology reports should be easier to read and more useful was echoed in a talk about patient-centered imaging by Hanna M. Zafar, MD, MHS, an associate professor of radiology at the University of Pennsylvania's Perelman School of Medicine in Philadelphia. Zafar emphasized the importance of brevity as well as including links to medical terms, even if the meanings of those terms seem self-evident. She referenced a study that found that "normal" was the most searched term by patients who read their radiology reports.
As health care organizations attempt to provide more information to patients, my guess is that patient portals such as those from Carestream, Konica Minolta, Life Image, Ambra Health, and others will assume a larger role in patient care, especially where radiology is concerned.
Collaborative care also featured prominently at the Fast 5 session that preceded the closing session. Each of the presenters discussed a topic that touched on either patient or physician interactions. There were presentations about patients rating radiology reports, Yelp style (Arun Krishnaraj, MD, MPH); human-centered design in radiology and humanizing radiology practice (Achala S. Vagal, MD); patient-friendly imaging appropriateness criteria summaries (Andrea K. Borondy Kitts, MS, MPH); the use of AI to augment rather than replace human intelligence (Vasanthakumar Venugopal, MD); and the importance of mentorship and sponsorship through social media for a new generation of radiologists (Amy K. Patel, MD). (The topics were chosen by votes from RSNA members.)
Although he didn't address radiology specifically, Donald M. Berwick, MD, MPP, FRCP, president emeritus and a senior fellow at the Institute for Healthcare Improvement and a former administrator of the Centers for Medicare & Medicaid Services, gave a plenary session talk about the need to collaborate within health care and change the balance of power to include patient input. One of the reasons he cited was the significant effect that social determinants have on health outcomes. Empowering patients to make healthy choices extends beyond diet and lifestyle; it includes helping them to make informed decisions about which courses of treatment offer them the most overall benefit in light of their health status, a practice area where radiologists could potentially help.
— Dave Yeager is the editor of Radiology Today.