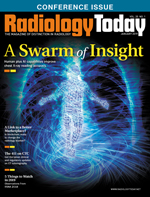 Editor's Note: A Page Turner
By Dave Yeager
Radiology Today
Vol. 20 No. 1 P. 3
It's a brand new year, and we're ready to contemplate what's ahead. In this issue, we're looking at some of the developments that may shape radiology not just this year but in the years to come.
Our feature story by Beth W. Orenstein visits the intersection of AI and humanity. Over the past few years, many influential thinkers have extolled the combined processing powers of humans working with AI to render a diagnosis, and now there are some data to compare. Orenstein offers an early look at what may be the future of radiology, or at least a significant part of it.
Another technology that seems poised to gain ground is blockchain. Although blockchain for radiology has been slow to develop, it appears to be gaining steam. Many in the industry believe it will eventually be the backbone of health care data exchange. Kathy Hardy details the state of the technology and where it may be headed.
One technology that is less new but still underutilized is CT colonography. Many people avoid colon cancer screening because of the discomfort associated with it, yet, with the average age of colon cancer patients skewing younger, screening has never been more necessary. Keith Loria reports on the current reimbursement landscape and what to expect as CTC becomes more accepted as a screening technology.
And, of course, it wouldn't be January without our 5 Things to Watch. If you missed RSNA 2018 or you're just looking for another perspective on the show's highlights, check out the feature on page 24 to find out what got our attention.
Finally, 2019 marks a milestone for Radiology Today: our 20th year. With the new year beginning and two decades behind us, it seems an appropriate time for reflection and gratitude. It takes a lot of work to produce a magazine. From editorial and art to marketing and sales to office and business administration, everybody has an important role to play, and I'm fortunate to work with people who perform their roles extremely well, every day. I especially appreciate the efforts of former editors Marianne Mallon, who kicked things off way back in 1999, and Jim Knaub, who built RT into what it is today. Without their hard work, I wouldn't have the opportunity to do this job. I'm also grateful to you, the readers, who have supported this magazine throughout the years. Thank you, we truly couldn't have done it without you. I look forward to our third decade together.
Happy New Year, and enjoy the issue.
david.yeager@gvpub.com