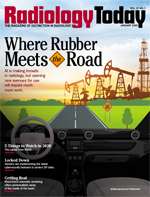 Ultrasound News: A Winning Combination
By David Valenzuela, MD
Radiology Today
Vol. 21 No. 1 P. 29
Imaging fosters collaboration between primary care providers and radiologists.
As radiology technology leaps forward, radiologists are increasingly interacting with family physicians, urologists, and other primary care physicians (PCPs) to diagnose conditions and determine treatment options. The collaboration is a harbinger of health care's future, as patient care and technology merge to improve outcomes at a lower cost.
One area where this collaboration shows promise is in detecting prostate cancer, an area in which PCPs have long faced a conundrum. About 1 in 9 men will be diagnosed with prostate cancer during his lifetime. Most will live out their lives with the non–life-threatening, slow-growing cancer, requiring only active surveillance; but not all of them will. A few require more expedited treatment. Determining the difference has been a murky process for PCPs, resulting in potential missed diagnoses, undertreatment, overtreatment, and anxiety for both doctors and patients.
Image Fusion
Increased utilization of MR/ultrasound fusion–guided technology, however, is changing that. MR/ultrasound fusion–guided technology can help radiologists confidently identify lesions and thereby help stratify patients into active surveillance and treatment groups.
Traditionally, prostate biopsies have been performed by dividing the prostate into different zones and taking tissue from each. Small lesions as well as those located in regions of the prostate that are historically difficult to biopsy, however, can be missed and result in a false-negative biopsy.
MR is the preferred modality for imaging the prostate, mainly because it demonstrates better tissue contrast compared with ultrasound. In other words, lesions within the prostate are more conspicuous against a background of normal prostate tissue compared with ultrasound. But performing MR-guided biopsies is much more involved and challenging than performing the same biopsies under ultrasound, due to the extra care and special instruments that are necessary when performing the procedure in the presence of a strong magnetic field. Performing procedures under ultrasound also provides real-time feedback, as opposed to MR, which takes longer to acquire images.
MR/ultrasound–guided fusion is an attempt to capture the superior lesion detection and conspicuity of MR and combine it with the better temporal resolution and real-time imaging that ultrasound technology affords. Fusion works by acquiring standard MR images of the prostate and using specialized software to outline its boundaries as well as any lesions that are detected. This data set is then uploaded to an ultrasound machine that also contains specialized software, allowing users to "overlay" the MR images that contain the outlines and boundaries on the real-time ultrasound images.
The ultrasound images and MR images are "fused" by matching up landmarks seen on ultrasound with the same landmarks seen on MR. To the urologist performing the biopsy, this appears as a topographical map with data from the MR layered on top of the ultrasound, which is being performed in the course of the biopsy.
A Better Map
Prostate MR/ultrasound can map lesions to help identify high-grade cancers that may have otherwise been missed. The technology allows physicians to precisely target clinically relevant lesions rather than simply using landmarks to perform the biopsy. With this added mapping, physicians can take a more strategic approach to screening for prostate cancer, reducing the risk of missing an aggressive cancer or overtreating a slow-growing cancer. In a prospective cohort study of more than 1,000 men undergoing both targeted and standard biopsy, MR/ultrasound fusion biopsy was associated with increased detection of high-risk prostate cancer.
The following is an example that highlights the benefits of this technology. A patient in his 50s had a history of a gradual continuous rise in his prostate-specific antigen (PSA), despite having undergone negative prostate biopsy twice. After the second negative biopsy and an additional rise in his PSA, he underwent a prostate MR. The prostate MR demonstrated a lesion in the far anterior aspect of the prostate, a region notorious for harboring lesions that may be missed with traditional prostate biopsy. The prostate MR was able to identify the lesion and subsequently map it to the ultrasound–guided biopsy. The urologist was then able to perform a targeted biopsy that revealed the location of the prostate cancer.
Knowing whether to monitor a slow-growing cancer or conduct immediate treatment may change the lives of men. But doing so relies on the clinical collaboration between PCPs and radiologists, a relationship that is only going to grow closer as advances in imaging guide treatment options with increasing precision.
In this new era, as radiologists, it is our job to educate referring physicians about how to better serve patients when it comes to screening and diagnosing cancer. By building clinical partnerships, we can ensure patients have access to the most beneficial and appropriate imaging technologies while increasing accuracy, decreasing overtreatment, and improving outcomes.
— David Valenzuela, MD, is a practicing radiologist at Scottsdale Medical Imaging in Arizona, a partner practice of Radiology Partners. At Scottsdale Medical Imaging, he is in charge of the prostate reading group.