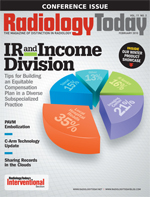 February 2010
C-Arm Technology Update
Radiology Today
Vol. 11 No. 2 P. 22
When working with C-arm systems, enhancements accumulate over a long timeline. In many cases, the changes are subtle, including image quality and systems that are easier to use.

GE Healthcare Surgery
What's New: Revamped OEC 9900 Elite
To imcrease the clinical value of mobile C-arm imaging in advanced endovascular  procedures, GE Healthcare reintroduced its OEC 9900 Elite mobile C-arm system. Features in this revamped system include dynamic range management (DRM) and motion-tolerant subtraction, which help deliver superior images in various mobile C-arm imaging situations such as small and dense anatomy. According to Elizabeth K. Usher, chief marketing officer for GE Healthcare's surgery group, the advanced processing algorithms provided by DRM and MTS technologies enable real-time elimination of background information without using a mask image and stepper table.

"This patented imaging technique delivers digitally subtracted angiographic runs even while the patient is moving," she says.

In addition, OEC's articulating SmartView pivot joint eliminates positioning challenges by allowing the C-arm to swivel and lock into almost any angle. This flexibility helps technologists obtain the correct image quickly with fewer exposures, improving workflow and reducing patients' radiation exposure.
The 9900 Elite also offers a motorized option that provides surgeons and technologists the flexibility to control the C-arm remotely or at the tableside with a remote user interface and foot pedal.

"Having the surgeon in control empowers operators to quickly position the C-arm at exactly the correct spot and angle to give them the image they need quickly," she says. "Getting the right image quickly can mean decreased radiation and contrast media, saving time through improved workflow."

Looking ahead, GE Healthcare is exploring how to improve the outcomes of spine procedures through the addition of real-time 3D images on a mobile C-arm.
"This technology could enable a majority of those fixed-room procedures to be done on a mobile system, which would mean more people have access to a procedure that costs less to perform but still results in a positive outcome," Usher says.
Hologic
What's New: Improved Ease of Use
Recent improvements to the Hologic Fluoroscan™ InSight Mini C-arm make the system more versatile, efficient and cost-effective for  completing precision extremity surgery.
"Fluoroscan InSight is used by orthopedic surgeons in operating rooms," says Hologic Fluoroscan national sales manager Richard Keil. "Because surgeons do their own imaging, our mini C-arm needs to be easy to use and automated as much as possible.

"We want the surgeon to simply step on the pedal and get the best image possible," he continues. "New software improvements give the system even greater imaging flexibility and allow the user to set and store physician preferences for all imaging parameters."

Another improvement includes a deeper C-arm that accommodates virtually any hand table. The redesigned flex arm increases articulation range and improves maneuverability. Although the mini C-arm reduces radiation exposure for those who work around the device, it is still important to record the exposure for each patient. With the new DAP report, this information can now be printed and/or exported as a permanent record.

With applications for orthopedics, emergency rooms and pediatric imaging, the mini C-arm is a standard piece of equipment in the hospital, surgery center and physician's office. In some cases, the mini C-arm can be found outside of healthcare facilities such as work sites and athletic playing fields. These systems are preferred over the large C-arm systems when doing extremity fluoroscopy due to their low-dose and good image quality benefits.

Thinking to the future, Keil says that Hologic continues to look for ways to make the system even more cost-effective, efficient and reliable. Also, as technology advances present themselves, Hologic plans to continue these improvements with the right technology to serve this unique market.
Philips Healthcare
What's New: More Room to Work
Producing better images and creating more space for people in the operating room (OR) highlight Philips' C-arm offering as the company released its Veradius x-ray system, a mobile C-arm with a thin flat detector that is less obtrusive within an OR setting. Operating rooms and interventional suites are crowded with equipment, doctors, nurses, and other medical personnel. The Veradius' flat detector creates space during challenging procedures and makes it easier for physicians to see their team and the patient.

"The flat detector takes up less space in the operating room, creating more space above the table," says Mark Manum, director of marketing for Philips' operating room channel. "We expected better images with the flat detector, but the space gained, while important, was a surprise."

This flat detector was designed by Philips engineers experienced in flat-detector technology used in fixed cardiovascular systems. Early system users have reported an overall improvement in image resolution and contrast. A high dynamic range combined with automatic calibration provides high levels of contrast, Manum says. In addition, the flat detector eliminates the classic "S" distortion pattern in which the image becomes more distorted as it stretches farther from the center.

"This is the first major change in imaging with C-arm systems in decades," Manum adds. "This is the biggest advance in mobile  C-arm systems in decades" Manum adds. "In the cath lab world, flat detectors completely replaced image intensifiers within about two years of their introduction. Mobile C-arm users are starting to make that same transition, so we believe the future of image intensifiers is limited."Manum stresses that this change came about due to customer requests and isn't just technology for technology's sake. Ease of use remains a factor and a simplified user interface enables clinicians to work on proper technique for using the device.

"You don't want too many choices for the clinicians," he says. "We simplify the process and make it easier to decide what features to use."

The Veradius also helps reduce radiation doses received by patients and staff by combining beam filters that reduce patient skin x-ray doses by 40% over conventional filters with a "pulsed fluoroscopy" mode that can reduce x-ray doses by up to 75%.

"At Philips, the push dose with our C-arm is as low as possible, measuring significantly under the legal limit," says Scott Burkhart, vice president of general x-ray and surgery for global sales and service in North America. "We provide better image quality with lower dosage by applying digital technology."

While the device was first adopted for vascular procedures, the Veradius is appropriate for a full range of procedures, including abdominal aortic aneurysm repair, coronary angiography, orthopedic procedures, and neurologic stimulation.

"There isn't any one thing that makes this new system unique," Burkhart says. "We're redefining the entire surgical environment."
Siemens Medical Solutions, USA
What's New: Floor-Mounted and Fully Robotic C-Arm
Siemens incorporates robotics into C-arms with its Artis zeego multiaxis system for interventional radiology, part of the Artis zee family of C-arm systems. According to Gerhard Schmiedel, senior director of product marketing for Siemens, this integrated robotic system is the only flexible positioning C-arm on the market with such unique movement capabilities. The arm can be moved to the left or right of the patient and pushing a button completely clears the area around the patient for full access by the surgical team.

"Although this model sits on the floor, it is still fully robotic," he says. "You can park the arm on the ceiling or fold it into the base."

In addition to flexibility, the Artis zeego's syngo DynaCT imaging produces large-volume cross-sectional images measuring up to 18.5 inches in diameter, enabling users to see complete organs. This is particularly helpful for interventional oncology, allowing specialists to perform minimally invasive tumor treatments.

The Artis family of C-arm products incorporates a number of applications that enhance its functionality. One example is the syngo iFlow, which allows for the visualization of a complete digital subtraction angiography run in a single full-color image.

"You can see the flow of blood through the vessels in color," Schmiedel says. "This allows for color coding of the contrast flow and makes it easier to determine vascular issues."

The system also offers the capability of fusing images to create one 3D view. Siemen's syngo iDentify technology enables the display of low- and high-contrast volume images in a single view. Soft tissue information can be combined with images showing anatomical landmarks and contrast-filled vessels, allowing for better planning of surgical treatments.

"In the future, image overlays could be done during treatment," Schmiedel says. "For example, PET/CT data would be helpful to see a tumor in the interventional radiology lab."

Other future developments include software that would enable the C-arm to assist in providing perfusion imaging that would generate CT-like data while a patient suffering from a stroke or heart attack is in the interventional lab. This capability could help speed the determination of a patient's medical status.

"You save time if you don't have to transport the patient back and forth from the interventional lab to the CT area," Schmiedel says.

As Siemens continues to incorporate robotics into its systems, Schmiedel sees the potential of developing a C-arm that rotates faster than its current 40 degrees per second.

"Faster, better images taken with less radiation could be possible," he says, "while considering the safety of patients and physicians alike."
Toshiba America Medical Systems
What's New: Hybrid Catheterization Table
Toshiba's Infinix C-arm systems feature floor- or ceiling-mounted C-arm multi-axis positioners that allow head-to-toe and fingertip-to-fingertip coverage, as well as increased patient access. Recently, the company announced new features to its Infinix line that include hybrid catheterization tables, new mid- and large-sized flat panel detectors and enhanced image processing. The catheterization table, designed for the five-axis Infinix-i cardiovascular x-ray family of products, offers head-to-toe tilting and side-to-side cradling that meets the needs of both surgeons and interventional radiologists. When working on patients in a hybrid setting, it is critical that the imaging system provides outstanding image quality, as well as the flexibility to reach ancillary equipment and the patient quickly and easily.

"There's no need for surgeons and interventional radiologists to maneuver around the C-arm with the bi-plane five-axis arrangement," says Allan Berthe, Toshiba's product manager, x-ray vascular unit, "This system has the flexibility to simultaneously be out of the way but right where you need it."

Toshiba recently introduced a bi-plane vascular x-ray system with large- and mid-sized flat panel detectors that enable clinicians to obtain variations in angle combinations as well as complete anatomical coverage of the patient. A mid-sized 12- X 12-inch flat panel detector is situated on the lateral plane while a large 12- X 16-inch flat panel detector is located on the frontal plane. Berthe sees this technology emerging into the surgical market, combining the C-arm with a hybrid table where both catheterization and surgery could be performed.

"This arrangement allows clinicians more coverage than with regular C-arms and traditional smaller flat panel detectors," he says. "In one view, you can capture images of two kidneys or perform a bilateral run off. The panel sizes are increased but you're not sacrificing maneuverability."

To further improve workflow during interventional procedures, Toshiba introduced Next Generation Advanced Image Processing (AIP) that increases image quality, sharpness and contrast during interventional procedures. Berthe explains that this proprietary technology was designed to eliminate lag time, which benefits clinicians while guiding and deploying devices during fluoroscopy.

"With the electronics of this technology there is a fast response time," he says. "The clinician steps on the pedal and immediately sees an image."

This technology also compensates for "blooming," the flash of light that often appears when imaging thinner tissue, as well as eliminates "ghosting," the shadow that can appear around an image when movement occurs. Enhancements such as these, which can improve image quality, all work toward improving workflow and a patient's exposure to radiation.
Ziehm Imaging
What's New: Mobile Versatility
Ziehm Imaging received FDA approval for the compact Solo C-arm that produces high-quality images while requiring minimal operating room space. According to Martin Herzmann, director of global marketing for Ziehm, this compact C-arm provides the benefits of its high-end systems at a lower price. This C-arm has a versatile arrangement with ceiling-mounted monitors and optional viewing stations that fits well in smaller operating rooms.

The Ziehm Solo can be configured in a number of ways, Herzmann says. The most compact version provides C-arm-mounted monitors on an articulating support arm. In addition, this system can be integrated into a hospital's operating room infrastructure by using existing ceiling-mounted or wall-mounted monitors for fluoroscopic display.
In other developments, the Ziehm Vision RFD, the company's mobile interventional suite, expanded its clinical range of applications from just vascular procedures to cardiac heart valves and other cardiac interventions.

With its 1.5k X 1.5k resolution and 30- X 30-cm flat-panel detector, Herzmann adds that the Vision RFD is a good candidate for hybrid room applications.
"Ziehm Vision RFD is the first mobile C-arm to be used in hybrid room applications, which shows that the current knowledge about intraoperative imaging and image quality is still a field to be explored and expanded," he says.

Finally, Ziehm introduced a wireless LAN (WLAN) connection for the PACS and KIS/HIS that allows a smooth transfer of data to and from the monitor cart. With this advancement, patient data can be retrieved or sent through the network without wires or cables, making the management of data much easier than in the past, he says.

"WLAN is the future for today's communication supporting the mobility of imaging systems and physicians," he says.