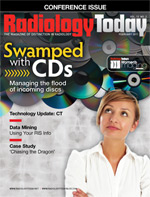 February 2011
Swamped With CDs
By David Yeager
Radiology Today
Vol. 12 No. 2 P. 12
Patients have been carrying their medical images from imaging facilities to referring physicians for about as long as medical imaging technology has existed. As it has in many other ways, the digital revolution has put a new spin on an old practice. Patients still carry images between healthcare providers, but burning CDs for patients offers advantages, including portability, greater storage capacity, and lower cost. However, CDs also require new protocols, including how and when to import digital images into your facility's PACS. Defining those protocols can be a challenge.
"So many places have policies that are in evolution," says Eliot L. Siegel, MD, a professor of radiology and nuclear medicine and vice chairman of imaging informatics at the University of Maryland Medical Center. "Most places [already] had policies that were around film and issues related to saving film or copying film or importing film as well as issues related to billing and how one bills for an outside study and under what circumstances."
In the Beginning
Although viewing a CD seems like a simple matter, multiply that CD by hundreds or thousands of patients and the challenge becomes more complex. Depending on an imaging facility's volume and the role it performs in its community, a facility needs to consider many factors before settling on a policy. Hospitals that specialize in cancer treatment have different needs from large trauma centers or small community hospitals. Fundamentally, a facility has to determine whether it has the resources and technological capability to accept patient CDs.
"As a practical matter, at least based on my experience, this is where hospitals and medical centers tend to have a little bit of an advantage over freestanding imaging facilities," says W. Kenneth Davis, Jr, a healthcare attorney and partner at Katten Muchin Rosenman in Chicago. "When facilities do this, they don't really get paid for it, yet there is a cost associated with actually putting it on the system."
Once the decision has been made to accept CDs, imaging facilities need to find an efficient way to get the images from the CD to the radiologist. In some facilities, technologists load the studies. In others, someone in the film library or a designated CD clerk does it. Some facilities load the images into PACS; others have special laptops for this purpose. Whichever method a facility chooses, it's important to load and track the CDs in a consistent manner. It's also important to verify that a CD is labeled correctly because, according to some estimates, as many as 1% of CDs may be mislabeled annually. But having a physical process for CDs is just the beginning.
Davis says it's important for hospital and imaging center managers to work with their radiologists to determine the clinical needs for CD images. A trauma center may be getting more CDs that haven't been interpreted, while a cancer center may be getting CDs that were interpreted a year or two earlier. In many cases, the CDs that come in are for comparison purposes. Facilities that perform a lot of mammography rely heavily on prior studies. A CD's purpose influences how it needs to be processed.
"When the images come in, do we just scan the images or do we also include the reason for the study?" Siegel asks. "Do we include full images for comparison, depending on what's been found, and what's the policy related to that?"
Technically Speaking
Clinical needs should guide receiving and processing procedures, but there is a technological component as well. CDs can contain a great deal of information, but putting that information in a readable format can be difficult. Radiology must work closely with the IT department to ensure that the process succeeds.
"A lot of the CDs that come through are in a format that is either unreadable or provides some sort of barrier to the radiologist or the surgeon who is trying to look at the images," says Chris Meenan, director of clinical information services for the radiology department at the University of Maryland Medical System.
Meenan says adherence to standards is the biggest challenge to CD readability. Many CDs don't comply with Integrating the Healthcare Enterprise data profiles. They often have various levels of compression; some aren't even in DICOM format; others launch their own viewers, which may or may not be compatible with a facility's computer systems. All these issues can cause downtime. And then there are viruses and malware to consider.
"You don't know what's going to be on a CD or if it has a virus problem, which has been known to happen a couple of times a year," says Michael Toland, PACS manager at the University of Maryland Medical System. "We have specific PCs that are designed to do this particular task, and we've had several occasions where they've been hit with a virus, nothing disabling the system but definitely disabling the PC for a little bit."
Despite the challenges of loading and reading images, the extra effort can provide radiologists with information that improves patient care. Radiologists want to see prior imaging data whenever possible to help spot irregularities. Also, quality comparison images reduce the need for repeat imaging.
"I think it's good if the patient doesn't have to have a second study unnecessarily, so we try to pay attention to the outside studies," says N. Reed Dunnick, MD, a radiology professor and the radiology department chair at the University of Michigan. "It would be great if all of the institutions did similar quality work, and I think that is improving. I think the quality of imaging technology is improving … so that we don't have a lot of old equipment doing inadequate studies."
To Archive or Not to Archive?
Although the percentage of prior studies coming to the University of Maryland from other facilities is small, it is increasing. Patients more frequently request CDs to take to other institutions, and there is a greater demand from clinicians for prior studies. Overall, CDs are becoming a bigger part of patient care.
"The surgeons want [the patient's] data from whatever previous facilities [the patient was] at to be loaded onto our system, and the trauma transfers just come with CDs," says Toland. "And that really started within the past year. More and more patients have CDs with them all ready to go."
While more information is often good, it can become too much of a good thing if policies aren't in place to manage it effectively. Maryland's film library has begun asking surgeons to choose relevant studies whenever possible. In cases where a surgeon thinks he or she might need all available information, the film library provides it but asks clinicians to think about what they really need in an effort to maximize storage space and manpower. Patient demand has increased the library's workload as well.
"From a film library staffing perspective, what used to be one CD coming in is now a plastic envelope filled with CDs," says Meenan. "So I think there's a real practical staffing impact. Film librarians have to figure out which studies are relevant, how to bring them over, and whether to import them all."
The storage issue is also important. Aside from CD requests, if new imaging shows an interval change, the facility must consider whether to archive the comparison images. Determining which data need to be saved long term and which data only need to be stored temporarily can be tricky. What that leads to is a discussion of what the facility is obligated to archive.
"If the radiologist sees a particular indication and makes a recommendation based upon a CD that may leave his or her possession right away, the question is should we have that data as supporting documentation in regards to why a particular path was chosen," says Meenan.
Depending on the circumstances, a radiologist may issue a report based on the prior images, which will also affect the decision regarding how long to store it. Those circumstances among institutions based on the policies that are in place and whether the institution allows the radiologist to read a study on his or her own or requires a formal request for interpretation. An important consideration is the age of the study; a study that was done a couple years before may warrant a reinterpretation compared with a recent study. Another important consideration is the quality of the study.
"We're careful in not attempting to interpret a study that we think is inappropriate or poorly done," says Dunnick. "If it's adequate for interpretation, we will indeed interpret it, and we'll stand by our interpretation. And that, of course, is why we insist that we keep the study. We archive the study into our bank of Michigan studies."
There are also privacy issues to work out. How should facilities safeguard CDs? They have to decide whether to store them in file rooms, return them to the patients or the institutions that they came from, or destroy them. In addition, there are HIPAA requirements for studies that are done internally, but those requirements are less clear as they relate to outside studies. Facilities need to decide how stringent their auditing process will be for monitoring who has access to outside CDs, who has seen them, and where they are.
Moving On
Even as facilities adjust to the increasing use of CDs, many in the radiology community see them as a transitional step between film and direct digital transfer between facilities. There are already plans in the works to move beyond physical media and transfer images directly between institutions. The Mayo Clinic; Mount Sinai Medical Center in New York; the University of California, San Francisco; the University of Chicago; and the University of Maryland are participating in a joint RSNA-National Institute of Biomedical Imaging and Bioengineering pilot project "to build a secure, patient-centric medical imaging sharing network that is based on open source principles and open standards architecture." The project will not only allow the direct transfer of medical images between institutions; it will allow patients to control access to their information through PHR accounts.
"We're in the process of changing the way we think about [medical information transfers]. There's no doubt in my mind that [direct digital transfer is] going to be the future, and that's going to get around some of the challenges [associated with CDs]," says Siegel. "I'm really looking forward to an era where the images and their full DICOM data set format will be transferred from a facility that acquires the images to a patient's health record or to another facility."
In the meantime, facilities will need to have sound CD policies in place to keep their operations running smoothly.
— David Yeager is a freelance writer and editor based in Royersford, Pa.