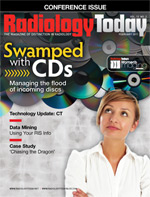 February 2011
Reporter's Notebook
Radiology Today
Vol. 12 No. 2 P. 30
Editor's Note: This article is based on press conference material presented at RSNA 2010 in Chicago.
Sleep Apnea Boosts Risk of Aggressive Heart Disease
People with obstructive sleep apnea (OSA) have more noncalcified ("bad") plaque in their coronary arteries, according to research presented at RSNA 2010.
"Our study reveals that individuals with obstructive sleep apnea are prone to developing an aggressive form of atherosclerosis that puts them at risk for impaired blood flow and cardiovascular events," said U. Joseph Schoepf, MD, a professor of radiology and medicine and director of cardiovascular imaging at the Medical University of South Carolina in Charleston, S.C.
OSA is caused by the obstruction of the upper airway during sleep and is characterized by periodic pauses in breathing, which last for 10 seconds or more. It is commonly associated with obesity and snoring. According to the National Heart, Lung, and Blood Institute, millions of Americans have OSA, and approximately one half of them are overweight.
In the study, 49 obese OSA patients with a mean age of 61 and a mean body mass index (BMI) of 33, and 46 obese patients without the disorder (mean age of 60 and mean BMI of 30) underwent coronary CT angiography (CCTA), which provides detailed pictures and information on plaque buildup and narrowing in the vessels. The OSA group included 26 men and 23 women, and the matched control group included 22 men and 24 women. Imaging revealed that the amount of calcified plaque in the coronary arteries was not significantly different between the two groups, but the overall composition of vessel plaque was notably different.
"Compared to the non-OSA group, the patients with OSA had a significantly higher prevalence of noncalcified and mixed plaque," Schoepf said. Noncalcified plaque is considered bad plaque because it is more vulnerable to rupturing and causing a blood clot, which could lead to a heart attack or other cardiovascular event.
Patients with OSA also had a significantly higher prevalence of vessel narrowing and more extensive vessel involvement. Eighty-eight percent of OSA patients had narrowing in at least one vessel compared with 59% of non-OSA patients. One third of OSA patients had narrowing in four vessels.
"Coronary CT angiography is an effective way to noninvasively diagnose noncalcified and mixed plaque," Schoepf said. "With technological advancements that are lowering the radiation dose required for CCTA, this exam could become a screening tool for obese individuals at increased risk for cardiovascular disease."
— Source: RSNA
CT Is Best Scanner for Concealed Drugs
CT scans are the best technology to detect cocaine in the body of a human drug courier, known as a mule, according to a study presented at RSNA 2010.
Patricia Flach, MD, a radiologist at University Hospital of Berne and the Institute of Forensic Medicine of Berne in Switzerland, reported that when Swiss legal authorities suspect an individual of being a drug mule, they often turn to radiologists to help quickly detect the presence of cocaine concealed in the body. Cocaine containers, which may be swallowed or inserted in the vagina or rectum, can be as large as a banana or as small as a blueberry.
"In these cases, it is important for us to know that we have identified all the drug containers in a body, both for legal purposes and for the health of the patient," Flach said. "However, there was no research telling us which imaging modality was best in detecting cocaine containers in the stomach, intestines, or other body orifices."
Flach and colleagues analyzed images from 89 exams performed on 50 suspected drug mules over a three-year period at University Hospital. The study group included 45 men and five women between the ages of 16 and 45. Forty-three of the suspects were ultimately identified as drug mules.
Of the imaging exams conducted, 27 were CT, 50 were digital x-ray, and 12 were low-dose linear slit DR, an extremely fast, high-resolution, full-body x-ray system primarily used for trauma patients. The radiologic findings were compared with a written record of the drug containers recovered from suspects' feces.
"As we expected, CT imaging allowed us to see all the drug containers, especially when we knew what to look for," Flach said.
The results showed that the coating and manufacture of the containers changed their appearance, especially on CT images. Rubber-coated condoms filled with cocaine appeared very hyperdense, or white, on CT, while other containers of similar size with plastic foil wrapping appeared isodense to hypodense, or gray to black. This contradicts some previous reports that have suggested image density may correlate with drug content.
The sensitivity of CT was 100%; linear slit DR had a sensitivity rate of 85%; and digital x-ray was able to identify the presence of cocaine containers 70% of the time.
"CT is the way to go," Flach said. "But low-dose protocols need to be implemented to ensure the safety of the people undergoing the procedure."
— Source: RSNA
fMRI Shows Acupuncture's Effect on Pain Perception and Processing
Using functional MRI (fMRI), researchers have captured images of the brain while patients experienced a pain stimulus with and without acupuncture to determine acupuncture's effect on how the brain processes pain. Results from the study were presented at RSNA 2010.
"Until now, the role of acupuncture in the perception and processing of pain has been controversial. Functional MRI gives us the opportunity to directly observe areas of the brain that are activated during pain perception and see the variances that occur with acupuncture," said Nina Theysohn, MD, who was part of the team that completed the research at University Hospital in Essen, Germany.
In the study, conducted in close collaboration with the department of complementary and integrative medicine at the University of Duisburg-Essen, 18 healthy volunteers underwent fMRI while an electrical pain stimulus was attached to their left ankle. Acupuncture needles were then placed at three places on their right side: between the toes, below the knee, and near the thumb. With the needles in place, fMRI was repeated while electrical currents were again directed at the left ankle. fMRI measures the tiny metabolic changes that take place in an active part of the brain while a patient performs a task or is exposed to a specific external stimulus. The researchers then compared the images and data obtained from the fMRI sessions with no acupuncture with those of the fMRI sessions with acupuncture.
"Activation of brain areas involved in pain perception was significantly reduced or modulated under acupuncture," Theysohn said.
Specifically, fMRI revealed significant activation in the contralateral supplementary motor area, somatosensory cortex, precuneus bilateral insula, and ipsilateral somatomotor cortex during electrical pain stimulation without acupuncture. During acupuncture, activation in most of these pain-processing areas of the brain was significantly reduced.
According to Theysohn, in addition to the assumed specific effects on the pain signal, acupuncture affected brain activation in areas governing the patients' expectations of pain, similar to a placebo analgesic response.
The anterior insula, for example, plays a role in transforming pain sensation to cognition and represents a subjective component of pain sensation. The reduction in activation of the primary somatosensory cortex and the insula during acupuncture indicates an acupuncture-induced modulation of the sensory encoding of the painful stimulus.
"Acupuncture is supposed to act through at least two mechanisms—nonspecific expectancy-based effects and specific modulation of the incoming pain signal," Theysohn said. "Our findings support that both these nonspecific and specific mechanisms exist, suggesting that acupuncture can help relieve pain."
— Source: RSNA
MRI Shows the Effects of Long-Distance Running on the Body
Using a mobile MRI unit, researchers followed runners for two months along a 4,500-kilometer course to study how their bodies responded to the demands of an ultra–long-distance race. The two-month TransEurope-FootRace 2009 took place in spring of 2009, starting in southern Italy, with runners traversing approximately 4,488 km to the North Cape in Norway. Forty-four of the runners, approximately two thirds of the entrants, participated in different aspects of the study.
"Due to the exceptional setting of this study, we could acquire huge amounts of unique data regarding how endurance running affects the body's muscle and body fat," said Uwe Schütz, MD, a specialist in orthopedics and trauma surgery in the department of diagnostic and interventional radiology at the University Hospital of Ulm in Germany who presented data from the study during RSNA 2010. "Much of what we have learned so far can also be applied to the average runner."
Study Parameters
Urine and blood samples as well as biometric data were collected daily from participating runners. The runners were also randomly assigned to other exams, including electrocardiograms, during the course of the study. Twenty-two of the runners received whole-body MRI exams approximately every three or four days during the race, totaling 15 to 17 exams over a period of 64 days. At the close of the race, researchers began to evaluate the data to determine, among other things, stress-induced changes in the legs and feet from running. Whole-body volume, body fat, visceral fat, abdominal subcutaneous adipose tissue, and fat and skeletal muscle of the lower extremities were measured. Advanced MRI techniques allowed the researchers to quantify muscle tissue, fat, and cartilage changes. According to Schütz, MRI is the gold standard for evaluation of the runner's musculoskeletal system.
The results showed that runners lost an average of 5.4% body volume during the course of the race, most of which was in the first 2,000 km. They lost 40% of their body fat in the first half of the race and a total of 50% over the duration of the race. Loss of leg muscle volume averaged 7%.
"One of the surprising things we found is that despite the daily running, the leg muscles of the athletes actually degenerated because of the immense energy consumption," Schütz said.
While most people do not run to this extreme, several of the study's other findings have implications for marathon runners and even recreational runners, according to Schütz. For example, the results showed that some leg injuries are safe to "run through." If a runner has intermuscular inflammation in the upper or lower legs, it is usually possible to continue running without risk of further tissue damage. Other overuse injuries, such as joint inflammation, carry more risk of progression but not always with persistent damage.
"The rule that 'if there is pain, you should stop running' is not always correct," Schütz said.
Another key finding of the study was that the first tissue affected by running was fat tissue. More importantly, visceral fat loss (mean of 70%) occurred much earlier in the running process than previously thought. Visceral fat is the most dangerous fat and is linked to cardiovascular disease. The findings also revealed that the greatest amount of overall fat loss appeared early in the process.
"When you just begin running, the effects of fat reduction are more pronounced than in athletes who have been running their whole life," Schütz said. "But you should do this sport constantly over the years. If you stop running for a long time, you need to reduce your caloric input or opt for other aerobic exercises to avoid experiencing weight gain."
— Source: RSNA