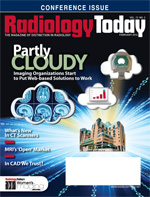 February 2012
Partly Cloudy — Imaging Organizations Put Web-Based Solutions to Work
By Juliann Schaeffer
Radiology Today
Vol. 13 No. 2 P. 16
While the forecast in McCormick Place at RSNA 2010 might be described as "partly cloudy," the exhibit hall at this past November's annual meeting could be termed "cloud covered." With image-sharing solutions,, storage options, EHRs and other systems, everyone seemed to be touting something cloud based—even though Web-based platforms are nothing new to healthcare.
Florent Saint-Clair, general manager for DR Systems' eMix cloud-based medical data-sharing service, attributes part of the cloud's increased popularity to its resurgence in the consumer space. "While very few people knew the meaning of cloud computing in 2009, 2011 is the year in which the cloud became a part of pop culture thanks to Apple's iCloud and Amazon.com, among others," he says. "This consumer-level awareness has quickly evolved into the consciousness of healthcare IT decision makers, making them increasingly comfortable with the idea of using IT resources that they do not control directly."
Saint-Clair says the adoption of cloud computing technologies among healthcare providers has accelerated since 2010. "Low cost of acquisition, increased confidence in high security and HIPAA compliance standards, ease of implementation, and cost-effective operating models are key elements that are influencing decision makers," he says.
While Ed Heere, president and CEO of CoActiv Medical Systems, notes that the cloud in radiology is nothing new (CoActiv first offered its cloud-based archiving solution in 2003), he says radiology cloud solutions are "unquestionably gaining popularity and visibility today."
Why such increasing interest now? Heere says the cloud offers hospital administrators real cost benefits, something that is welcome to those working in today's healthcare arena of such uncertain economic realities. "The two major factors driving technologies are cost and image sharing, in part, relating to meaningful use," he says. "Few would argue that 'cloud' has become a popular buzzword, but the technology has genuine cost-cutting benefits—for example, built-in hardware and software upgrades and IT maintenance provided by the vendor, shifting technology acquisition costs from a capital expense to an operational budget through the elimination of hardware purchase, to name a few. These are all important in today's uncertain economic times."
Just what's out there in the way of real cloud options and who in radiology is implementing these solutions? Radiology Today spoke with a few facilities that have implemented cloud-based solutions to see what drove them to their respective choices and how they've fared thus far.
Northern Westchester Hospital
While noting that several cloud services exist geared specifically toward radiologists, Mariano Maluf of GNAXHealth, which offers cloud-based archiving options, says storage is certainly at the core, "with [vendor-neutral archives] being a specific architecture that provides significant benefit in terms of efficiency, cost containment, and greater interoperability."
Northern Westchester Hospital, a 163-bed general medical and surgical hospital in Mount Kisco, New York, is one hospital that has been utilizing cloud storage services since it went digital about eight years ago, according to David Natoli, administrative director of imaging and cardiology services.  Natoli says the hospital implemented CoActiv's EXAM-VAULT QUAD-REDUNDANT ARCHIVING for primary storage, disaster recovery, and business continuity. "We also utilize EXAM-PACS running from the cloud to provide users outside the radiology department with fast, secure, and easy access to our images," he says.
Natoli explains that CoActiv stores its images in four separate locations for better security while also providing image backup, archiving, and business continuity along with archiving. "This has given us significant cost savings when compared to in-house archiving by eliminating archive hardware, software, and maintenance costs," he says.
Cost was a big part of Northern Westchester's decision to try out the cloud, as was keeping its referring physicians happy. "With the CoActiv cloud-based archive service, we know exactly what our full archiving expenses will be year in and year out," says Natoli. "By contrast, in-house archiving might require an unplanned capital equipment purchase of hardware if exam volumes exceed the predicted amount. Additionally, their cloud archiving eliminates the expenses of archiving maintenance and upgrades.
"Because images are stored in a vendor-neutral archive format, they can be easily communicated anywhere—for referrers, physician collaboration, second opinions, and even remote third-party post processing systems," he adds.
Second, facilities considering cloud options might be concerned about the possibilities of downtime when dealing with Web-based solutions; that hasn't been an issue for Northern Westchester. Natoli says there hasn't been a single minute of downtime in eight years with CoActiv.
The hospital is happy with its cloud experience, and the imaging department is awaiting CoActiv's newest cloud option, the EXAM-BROWSER zero-footprint universal DICOM viewer, which enables anywhere, anytime review of medical images via a Web browser.
"Shortly we hope to become one of the first sites to take advantage of CoActiv's EXAM-BROWSER," he says. "With this CoActiv EXAM-BROWSER, users can view and manipulate exams from any browser-enabled computer or mobile device, including the iPad, iPhone, Kindle Fire, Android, and other tablets and smartphones and actually be able to collaborate in real time and simultaneously view and manipulate studies in 2D, MPR [multiplanar reconstruction], and full 3D. This product will provide the service that I have been asked for most frequently by our doctors for the past several years … image access from their iPads."
Jacksonville Orthopaedic Institute
The cloud also offers a secure way to transfer images via the Internet between multiple facilities, connecting directly to a hospital's PACS system. "This helps hospitals avoid implementing [virtual private networks] to connect facilities and also eliminates physical media transfer, such as by CD or films, [which is traditionally] slow and prone to errors," says Marc Mackey, general manager of Voyant Health.
Facilities routinely deal with large numbers of CDs with patient images. Managing these discs and images is time consuming. Lost, forgotten, or unreadable CDs can delay the treatment process. Cloud-based image sharing service allows hospitals to electronically receive images directly, which helps expedite urgent cases and eliminates the high costs of duplicate imaging, according to Mackey.
Jacksonville Orthopaedic Institute (JOI), which encompasses six facilities and 31 physicians in the Jacksonville, Florida, area, entered the cloud arena more than one year ago hoping to benefit from these image exchange benefits. Utilizing VoyantLink to receive patient images from multiple area imaging centers and urgent care clinics, the institute is also expanding its use of VoyantLink to provide physicians with access to online data enrichment applications and image viewing.
"We are using Voyant Health's product called VoyantLink to download studies performed at numerous area independent imaging centers directly into our PACS system," says Debbie Wright, JOI's IT director.
Beyond allowing users to access images, VoyantLink also allows users to employ clinical planning tools and push completed plans to any device or storage location, allowing for live collaboration, data enrichment, and planning applications, all aimed at allowing more effective clinical decision making.
Wright explains that several factors led the practice to the conclusion that there had to be a better way to make outside studies available, both at the time of a patient's appointment and in preconsultative capacity for physician review.
"We have 20 busy clinics running at any given time," she explains, noting that the many CDs that patients were bringing in caused workflow problems for the practice. "Patients frequently either forgot to bring the CD with them or failed to mention that a previous study was performed before arrival. Managing, importing, or locating CDs that required time-consuming importing at a later time was also problematic. Studies from some outside sources failed to import at all, and intermittent problems with individual CDs occurred frequently."
JOI's physicians also expressed interest in being able to view images within their own PACS to avoid manipulating through unfamiliar and time-consuming viewers. Now with VoyantLink, studies are made available to all physicians inside their PACS utilizing their own viewer, most times prior to the appointment, with little to no intervention on the part of JOI's medical assistant, according to Wright.
"While instances still occur when patients present with CDs, these are greatly reduced and there is less confusion surrounding what needs to happen with them," Wright says. "The occasion also arises where we need a study and the patient is in clinic. Obtaining the study is much more efficient due to availability through the portal, and it saves the clinical staff and the patient valuable time."
Noting that the newness of the technology has been challenging, as it took some time for JOI to tailor the product to its unique needs and workflow, Wright says the use of this cloud-based solution has undoubtedly improved workflow at the practice and allowed for improved efficiencies while enhancing patient services. "Practices should be aware that dedicated effort is required, and essential elements of success are the willingness to devote time for coordination and commitment to communication between parties," she advises facilities considering a similar cloud solution.
Cottage Health System and Sansum Clinic
Santa Barbara Cottage Hospital (SBCH), a 408-bed acute care teaching hospital in California, has experience with another image sharing service, eMix. Quick to sign up for the service two years ago, the health system decided to defer implementation until a zero-download application (ZDA) version of the service became available, which happened recently.
"This ZDA version on the receiving end works through any browser, without any client to download and install whatsoever. So we plan to start using eMix going forward in a production fashion," explains Michael A. Trambert, MD, who along with radiology resident Mark Kovacs, MD, presented a scientific session at RSNA 2011 on the obstacles that can present when exchanging patient data, noting that the cloud can address many of these with its low-cost, secure, near-instantaneous, and vendor-neutral characteristics.
"We are moving into our new hospital over the next several weeks, so the production eMix launch for SBCH will wait until after that move," he explains, noting that the other enterprise his group covers, the Sansum Clinic, is currently utilizing eMix's ZDA version. "We are using it for transfer between enterprises in Santa Barbara as well as for transfers to patients and remote caregiver consultants."
With his limited use to date, in addition to his research project assessing eMix usage at other sites that have been utilizing the service, Trambert sees near-immediate access to images and reports as a key benefit of the system. That access facilitates better patient care, "especially for patients being transferred with images often arriving before the patients, helping caregivers plan treatment and resources before the patient arrives. This is especially critical for trauma patients," Trambert says.
While appreciating the cost-efficiencies of sharing images vs. printing film or burning CDs, he says the image-sharing service also allows for better patient care at the Santa Barbara Breast Care Alliance, which spans multiple enterprises. "We are constantly transferring mammograms, breast ultrasounds, and MRIs back and forth between enterprises," Trambert says. "eMix is now in production use to do so from the Sansum Clinic, leveraging auto-upload destinations to facilitate these multiple daily eMix transactions."
More recently, Trambert says the health system has also signed up for—and is looking forward to—participating in a beta capacity for DR Systems' cloud-based EHR, which is seeking federal meaningful use certification. "This cloud-based EHR, fully integrated into the PACS, will present the meaningful use information in one screen, accessed via the patient's exam electronic requisition via a click," says Trambert.
"We're also looking forward to leveraging the additional module of EMRConnect, where you can take HL7 [Health Level Seven International] feeds and automatically direct them to a dropbox on a referring physician's office computer so that their local EMR can harvest those reports and put them directly into the referring physician's office-based EMR," he adds.
This is not at all surprising to Saint-Clair, who notes that cloud-based EMRs are becoming much more commonplace and that "meaningful use is a key factor in expanding healthcare solutions into the cloud."
"Meaningful use is certainly a factor [in increasing cloud adoption]," says Maluf, "especially now that a revision of the incentive program will allow most radiologists—95% by some estimations—to benefit more directly. A strategy that ensures incremental progress through the different stages will be pivotal, and cloud technologies can be enablers in that process. Furthermore, existing systems may not be adequate, and in some cases pursuing their overhaul based on traditional approaches may be cost-prohibitive and insufficient to meet new requirements."
Smaller Facilities
While larger organizations may have gravitated more quickly toward the cloud in the past, the adoption of cloud-based services is increasing across the spectrum of facility types and sizes. "Imaging centers and smaller hospitals are seeking ways to enhance their service offerings, drive referrals, and remain competitive," Mackey says. "Facilities both large and small are adopting these same technologies and services to improve physician knowledge exchange, provide new services [such as second opinions, medical tourism], integrate disparate imaging systems, and to create efficient and cost-effective alternatives to current processes."
Though it's relatively easy to demonstrate cost savings by adopting cloud technologies, Mackey says the key to improving patient outcomes using the cloud lies in bringing clinical planning and collaboration tools online. The ability to benefit from expert knowledge and outcomes data, he says, is where cloud technologies' greatest potential may lie. "Aggregating diagnostic patient data, treatment plans, and allowing physicians and researchers across the country, or even the globe, to collaborate on this data is a huge opportunity to advance the state of medical knowledge," Mackey says.
"For example, an online DICOM viewer used to view images could include additional tools that would help a physician outline a tumor and surrounding organs at risk and then plan a treatment. This information could then be shared instantly with another physician at another facility to receive a second opinion or further guidance. Software may even evolve to instantly display then-current national statistical results of outcomes data based on the planned treatment," he adds.
Cristine Kao, Carestream's global marketing manager for healthcare information solutions, believes the cloud also houses distinct possibility for patients down the road. While she says cloud services today are used more to exchange information within healthcare systems and to deliver images and reports to referring physicians, "In the future, healthcare facilities can set up a patient portal that allows patients to securely view and share imaging studies and reports using a cloud service," Kao suggests. "This will allow patients to share data with physicians and play a more active role in the management of their imaging information."
Saint-Clair agrees, noting that he believes a cloud-based, patient-centric PHR will be a game-changer for many organizations, especially health information exchanges. "Once patients begin to realize this technology empowers them to have better control over their own health records, they will be better able to assist their physicians and participate productively in their own healthcare. There are already several solutions that qualify as PHRs, such as Microsoft HealthVault with Amalga. However, such solutions, at least at this time, tend to be essentially enterprise oriented rather than patient centric."
Beyond the PHR, Saint-Clair and others interviewed for this article say mobile devices and mobile health applications will surely play a crucial role in future cloud adoption. "Cloud computing in healthcare is much more than a passing trend," Saint-Clair says. "It is conceivable that the vast majority of solutions currently hosted behind a hospital's firewall will eventually migrate into the cloud—whether it be a private, public, or hybrid thereof. This will be a gradual evolution over the next five years as information systems come up for refresh."
— Juliann Schaeffer is associate editor of Radiology Today.