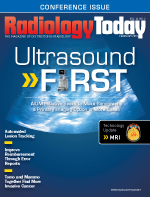 February 2013
Technology Update: MRI
Radiology Today
Vol. 14 No. 2 P. 22
Developments from manufacturers focus on flexibility, patient comfort, and workflow.
GE Healthcare
Improving the Patient Experience
Richard Hausmann, president and CEO of GE Healthcare MR, characterizes his company's technology advancements as "humanizing MR," explaining that this approach "puts the patient's needs at the center of product decisions."
Humanizing MR is the follow-up to GE Healthcare's Caring MR Suite, which includes advancements in comfort such as a wide-bore MR and the "caring hands" design philosophy featuring lighting, interior décor, scenery, and music or sound effects that patients can customize. Hausmann says patients can use an iPad to select an environment of lighting and music that makes them more comfortable for their MR scan. The Caring Suite is available with both the Discovery MR750w and the Optima MR430s, the 1.5T specialty scanner used to image patient's extremities while they're sitting in a chair.
"Our Caring MR Suite allows for a more open and comfortable scanning experience for patients," Hausmann says.
GE Healthcare also has introduced two new investigational 1.5T MR systems: the Optima MR360 Advance and the Brivo MR355 Inspire. Both devices are 510(k) pending and currently unavailable in the United States. Enhancements to the Optima system also follow the "humanizing" theme, with patient-friendly features such as needle-free exams, Hausmann says. In addition, the Brivo system offers a cost-effective solution with a variety of clinical applications, using 16 channels and newly designed RF coils.
Also with an eye toward comfort in MRI scanning, GE Healthcare is introducing its 510(k)-pending Silent Scan technology that reduces the typical noise made during MRI exams, cutting overall system noise to "near ambient levels." Hausmann refers to this as a "revolutionary new acquisition system" that focuses on changes to hardware and coils as opposed to simply looking at new insulating techniques to muffle the sound.
"With Silent Scan, noise is essentially eliminated at the source by using an advanced 3D acquisition and reconstruction technique called Silenz in combination with GE Healthcare's proprietary design of the high-fidelity MR gradient and RF [radio-frequency] system electronics," he says. "This is a completely new acquisition system that minimizes noise in the bore, acquiring the same amount of data as conventional systems in about the same time. There's no trade-off on scan quality."
According to Hausmann, MRI scanners can generate noise in excess of 110 dB. He says Silent Scan technology can reduce that level to 70 dB.
When considering innovative enhancements to existing devices, Hausmann says GE Healthcare often looks to clients, determining their priorities regarding quality and workflow. "We need to find out what our clients would like to have if they could know what the technology could do for them in five years," he explains. "We often take an iterative approach, looking at what this change could mean for the application."
One of the biggest challenges Hausmann sees in the future of MRI development is creating technology that can be implemented around the world, including third-world countries where the rural nature of their environment could prove problematic for adopting new technology. However, by adapting to power and installation issues, he believes manufacturers still can provide high-quality, cost-effective solutions to medical professionals worldwide.
Hitachi Medical Systems America
Oval Bore Shown at RSNA
It's not a matter of size but shape when it comes to the latest advancements in Hitachi Medical's Echelon Oval MRI system. Senior product manager Jason Miller says the company's latest technology advancement, the oval-shaped bore for 3T, was shown as a work-in-progress at RSNA 2012 and is not yet available in the United States.
The 1.5T version, with its oval-shaped bore, was introduced in 2011. The oval-shape creates a wider bore than with circular bores and thus a more comfortable environment for all patients, Miller says. "With Hitachi a leader in open MRI, the oval bore was a natural development for us," he explains. "This fits well into our portfolio."
At the 1.5T level, the device's 74-cm-wide oval bore is the widest available for MRI systems, Miller says. This compares with the 60-cm bore typically found on most 1.5T magnets and the 70-cm bore used with wide-bore magnets. The 3T version also touts a 74-cm bore, with a 63-cm-wide mobile table and 550-lb weight capacity.
Addressing workflow is another focus for Hitachi, as seen with the company's Workflow Integrated Technology (WIT) RF coil system. The system includes 16 channels, optical RF transmission, and multiple coil connection points that optimize workflow and image quality while providing head- or feet-first positioning for all imaging. The feet-first feature allows technologists to continually use eight- and 12-channel WIT coils and remove them from the table only for breast procedures.
Looking at advancements in vascular diagnoses, Miller says Hitachi now incorporates analysis tools for use in angiography. The company's SIR Map (Signal Intensity Ration Map) and RADAR SE introduce the capability to better pinpoint where there may be plaque. Furthermore, a SIR Map of diseased arteries can be used in the diagnosis and treatment of carotid artery stenosis. RADAR is nonlimiting, he says, and can be used in all planes of the body as well as combined with parallel imaging.
 "SIR Map, combined with analysis tools, can help to determine the type of arterial plaque a patient has and then prescribe the best course of action," Miller says. "RADAR can be used throughout the body for complete exams. This application helps with time-saving and workflow issues."
In addition, Hitachi has introduced the Micro TE, an advanced musculoskeletal imaging protocol that offers better visualization for the analysis of tendons, ligaments, and cortical bone for surgical planning purposes. This technology uses 2D multiecho gradient echo to provide high-contrast imaging of tissue with very short T2 values. "Certain tissues have a fast relaxation time and because of that they are difficult to visualize," Miller says. "With Micro TE, it takes less than 1 ms to capture the image."
According to Miller, the spinal version of Micro TE, which was on display at RSNA 2012, is still a work-in-progress.
When looking to the future of MRI, Miller sees an industry focus on workflow improvement features, creating an environment where imagers can accommodate more patients on a daily basis while obtaining consistent results. He sees this being accomplished with the institution of more automation as well as with the creation of systems that incorporate mapping and analysis tools.
"As with our SIR Map analysis, with mapping and quantification tools, I see the industry developing technology that goes beyond just finding what's wrong but actually helping in planning and treatment," he says.
Philips Healthcare
Channel-Independent, Upgradeable Ingenia Platform
A key product solution for Philips Healthcare this year is the Ingenia platform, both 1.5T and 3T systems, according to Paul Folkers, head of marketing for Philips Healthcare Premium MRI.
Ingenia is a digital broadband MRI system featuring an architecture called dStream. Folkers says this technology, with signal digitization directly on the patient, enhances image quality and clinical performance with an up to 40% increase in signal-to-noise ratio. In addition, dStream helps improve patient management, he says, by delivering up to a 30% increase in throughput. This is made possible due to easy coil handling and the SmartSelect feature, which automatically determines which coil elements to use, shortening scan setup time. The Ingenia system also features the largest homogeneous field-of-view for a 70-cm bore, he says.
Along with dStream, Folkers says Philips introduced a number of new clinical applications designed to simplify and enhance neuro and body imaging applications. For example, the Elite Body solution features mDIXON, technology that simplifies and accelerates liver MRI studies by providing more information in a single exam, more signal-to-noise ratio, and uniform fat suppression.
"Where mDIXON was originally just about scanning the abdomen, the new mDIXON TSE feature is designed to obtain fat-free imaging over a large field of view for a variety of clinical application areas," he says.
Philips also offers the next level of its MultiTransmit RF signal technology, called MultiTransmit 4-D, in its Ingenia 3T device, for use in real-time applications such as cardiac. Originally designed for its Achieva 3T product, MultiTransmit adapts the RF signal to each patient's unique anatomy to address dielectric shading and specific absorption rate limitations inherent in 3T systems. The result is improved image contrast, uniformity, and consistency as well as up to 40% faster scans.
While Ingenia's notoriety comes from its use of dStream architecture, with digitization inside the coil, Folkers says the company now takes that technology one-step further by bringing those digital capabilities to the majority of its installed base.
According to Folkers, Philips introduced SmartPath to dStream as a solution for existing customers looking for increased capabilities and enhanced imaging. SmartPath to dStream brings Ingenia's digital architecture (dStream) to existing systems, while saving magnet, reconstruction, and downtime costs.
In the interventional MRI realm, Philips is expanding its MRI line into the therapy arena with the development of the next generation MR-operating room (OR) solution for intraoperative neurosurgery with Ingenia. Adding to its existing 1.5T and 3T MRI-guided neurosurgery solutions, Folkers says an MR-OR suite adds value by saving time, obtaining fast intraoperative MRI results that can reduce the need for subsequent surgery.
When considering technology innovations, Folkers says Philips looks to its customers, considering their clinical needs and the economics of keeping up with the latest technology. "Advancements in technology need to make sense and be meaningful," he says. "We don't believe in innovation just for the sake of innovation."
Siemens Healthcare
Research Magnets and Faster Day-to-Day Imaging
With an eye toward research, Ioannis Panagiotelis, PhD, Siemens' US vice president of MRI, says the company's new product development focuses on features beneficial to the academic community. Siemens' MAGNETOM Prisma, which is currently under development, is a 3T scanner designed to combine high-gradient strength with fast-gradient slew rates. The device, which stems from Siemens' involvement in a National Institutes of Health-funded project in which neuroscientists are mapping connections in the brain, is intended for research and for exploring new clinical applications.
"We took part in something called the Human Connectome Project, where we helped build a super gradient coil for use in studying brain disorders by better understanding its structure," Panagiotelis says. "We will include a safe, scaled-down Connectome coil in our new scanner."
Plans call for the device to feature the Diffusion Spectrum Imaging (DSI) application designed to resolve fine anatomical details of the brain. Panagiotelis says creating a "super machine" like this requires a magnet that is the "most homogeneous" and is combined with other "super features."
 "When looking at advancements to our products, we consider what we can do to bring our mark to the quantitative era," he says. "With our works-in-progress, we believe we are taking a giant step in that direction."
Other technology developments at Siemens currently under way involve upgrades to existing products. This includes trying to upgrade the MAGNETOM ESSENZA with a workflow solution called Dot (day optimizing throughput), already available for MAGNETOM Skyra 3T and Aera 1.5T. Dot, designed by Siemens to help enhance productivity in MRI scanning, assists in tailoring and configuring scans to specific patient conditions, proposing optimized exam strategies. This technology adapts to each patient's breath-hold capacity and then matches the proper protocol to that capacity.
Considerations also are being made to offer Dot upgrades to the MAGNETOM Trio 3T, Verio 3T, and Avanto 1.5T. Panagiotelis says Siemens recognizes the investments made by their customers and want to do everything possible to keep them current with the latest technology. "For example, Trio users were the pioneers in the MRI community," he says. "They made serious investments seven to 10 years ago. We want to bring these customers to the forefront of MRI."
Panagiotelis also says work is under way to offer the latest generation of Siemens' integrated coil technology, Tim (total imaging matrix) 4G, as an upgrade. The Tim coil architecture provides users with enough channels to support imaging with ultra–high-density coils and allows for whole-body coverage. Panagiotelis says Siemens recognizes the investments made by their customers and want to do everything possible to keep them current with the latest technology.
Toshiba America Medical Systems
Scalable Technology and Noise Reduction
Scalable technology that allows imagers to cost-effectively adapt to clinical needs is a driving force behind MRI advancements at Toshiba, says Suresh Narayan, senior manager for MRI market development. "We can customize our platform for what customers need today," Narayan says. "In addition, we can also help customers prepare for future needs with a more scalable platform."
With that in mind, Toshiba is showcasing its scalable Vantage Titan 1.5T MRI series, which includes eight-, 16- and 32-channel systems. As Narayan explains, the Vantage Titan 8-channel meets the clinical needs of a majority of the market, with a patient-friendly 71-cm bore, Toshiba's Pianissimo noise-reduction technology, noncontrast imaging, integrated coils, and an intuitive user interface.
"Our noise-reduction technology reduces noise within the bore by 90% to 30 dB," Narayan says. "When you make the patient experience more comfortable in the bore, you make the MRI process more efficient for everyone."
For the more demanding scanning needed with cardiac imaging, the Vantage Titan line is easily upgradable to a 32-channel system. Narayan says this enables higher spatial and temporal resolution for better cardiac imaging.
Further advancements to the entire Vantage Titan line, announced at RSNA 2012, include M-Power enhancements that streamline the time-consuming steps involved in a routine clinical scan. The updated M-Power includes a user-friendly interface that simplifies both acquisition and post-processing, he says.
One work-in-progress coil is the pediatric Flex Suite, comprised of 16-element flexible coils that make this device suitable for use with pediatric patients. In addition, the 16-element flexible coils can be used independently for general purpose abdominal and orthopedic imaging.
"With the Flex Suite, you can conveniently and efficiently scan your pediatric patients," Narayan says.
Another work-in-progress, the patient transport gurney, increases throughput by helping with efficient patient transfers from the emergency department to the MRI scan room. As Narayan explains, the coils are incorporated into the gurney, where the patient can be prepared and transported seamlessly.
When looking at the MRI market, Narayan says he sees two driving forces: financial hardships for imaging centers and changes in clinical needs based on an increase in the types of diseases that require imaging studies. "With reimbursements decreasing, hospitals and imaging centers are looking for ways to keep their costs down, and they need to be more efficient," he says. "We provide offerings at different levels, enabling our customers to grow along with their clinical needs while at the same time helping them with the needs they have today."