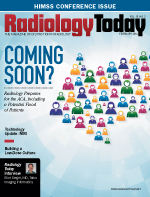 February 2014
Coming Soon? — Radiology Prepares for the ACA, Including a Potential Flood of Patients
By Kathy Hardy
Radiology Today
Vol. 15 No. 2 P. 10
With a new year often come resolutions and the promise of new beginnings. In the health care arena, 2014 brings the broader rollout of the Affordable Care Act (ACA). With initiatives regarding quality of care tied to payment options, radiologists will need to evaluate both their clinical and business operations.
"The stated goal of ACA is to make sure patients are at the center of the care delivery," says Geraldine McGinty, MD, MBA, FACR, chair of the ACR Economics Commission. "That's not to say that radiologists haven't done that before, but we should seize this opportunity to get patients more involved and help them understand the value imaging provides to their quality of care. Highlighting quality will also help us advocate for fair reimbursement."
The well-publicized open enrollment issues may skew expectations for large numbers of newly insured patients flooding medical practices. According to Kaiser Family Foundation statistics, about 365,000 people selected a qualified health plan through the ACA between October 1 and November 30, 2013, short of the 500,000 applicants expected to enroll in that time span. According to the December 31, 2013, issue of The Washington Post, 2.1 million people had signed up for private insurance plans through the exchanges, and 3.9 million have enrolled in the expanded Medicaid program by that date.
Variables such as these make it challenging to prepare for the ACA's effects. McGinty is part of a team at the ACR under the leadership of Bibb Allen, MD, FACR, that has created a resource for radiologists called Imaging 3.0 that "embodies principles of appropriateness, quality, safety, efficiency, and satisfaction" in a collection of tools and behavioral changes designed to "optimize high-value imaging care" as radiology health care evolves from volume-driven success to value-driven success.
"Imaging 3.0 takes radiologists beyond just interpretation to working with referring physicians, making sure reports are actionable and can be understood by all involved," she says. "The focus is on quality of care."
McGinty says Imaging 3.0 is the ACR's way of helping radiologists be more proactive when it comes to discussions with regulatory agency representatives as well as other medical professionals regarding how to ensure appropriate payment in this new quality-of-care based payment model. The program, incorporated into the ACR's website, presents information about what radiologists need to do to be in compliance with evidence-based medicine. The site also presents information about how radiologists can provide value throughout a patient's medical experience, which is a sentiment at the heart of the ACA, she says.
Payment Change, but to What?
One of the most significant effects of the ACA may prove to be how providers are reimbursed for their services, McGinty notes. However, there doesn't yet seem to be a clear-cut answer as to which payment model will rise to the top. She says research is under way regarding what's happening with the different payment models. "We're seeing that some fee-for-service payments may remain but with a focus on value of the service provided," she says. "That would be part of the component."
Radiologists are used to the unbundled fee-for-service (FFS) payment system, according to McGinty, but FFS also has been a point of contention in health care for potentially causing increased costs. Getting radiologists to adjust to a new payment model, particularly in the wake of previous reimbursement cuts, is part of the emphasis behind the ACR's Imaging 3.0 initiative.
The ACA also mandates that the secretary of Health and Human Services develop accountable care organizations (ACOs), which will serve as the coordinating center of care among patients, physicians, and hospitals. The ACOs will aggregate providers who meet certain statutory criteria, joined with the goal of sharing responsibility for patient care and reimbursement. The groups also will manage payments between payers and care providers.
Regarding radiologists' and radiology practices' role in ACOs, McGinty says practitioners need to become involved in the process of interpreting the ACA and providing quality patient care. With PACS, for example, radiologists can join referring physicians in the diagnosis and treatment process for each patient. "Radiologists need to consider how imaging can be optimized," she says. "We need to become more visible and valued."
According to Shawn McKenzie, president and CEO of Ascendian Healthcare Consulting, radiologists have been operating as "report brokers," reviewing images, creating reports, and then sending those reports to referring physicians. He contends that radiologists will need to be more involved in the entire care process, with follow-up regarding patient conditions. "The ACA reinvents the role of the radiologist to that of a true consultant," he says. "This is a huge cultural shift. Right now, we have a care continuum in which radiologists set themselves up as being the group of doctors in the dark room reading images. This mentality makes them easily commoditized."
Bundled Payments
Another question surrounding ACOs is how bundled payments will be distributed. Radiology Business Solutions CEO Cliff Crabtree says he has yet to see exactly how the transition from fee-for-service to bundled payments will work. "Radiologists need to be part of the solution and not wait for hospitals to make the determinations regarding quality and appropriate imaging utilization," he says. "If payments are going to be bundled, radiologists need to step up and determine how they will get paid for providing evidence-based medicine." McKenzie says the idea behind establishing an ACO is to carry one patient episode across all medical specialties associated with his or her particular medical issue as opposed to a process in which each area of medicine focuses on its silo within the patient's overall care.
With members of the ACO determining payments for services provided by physicians within the group, McKenzie says there is concern within the radiology community that new payment models could change radiologists' role within the health care organization. "The biggest effect of the ACA on radiologists is the shift in reimbursement," he says. "The value proposition is in interventional diagnostics and to keep radiology services from becoming commoditized."
If it is determined that radiology services cost more than the revenue they generate, the number of imaging studies ordered could be reduced, McKenzie says. This could bring financial hardship to freestanding imaging centers and ultimately their closure, meaning more patients would rely on hospitals for their radiology needs. With that, hospitals may need to increase staff to handle higher patient loads, he says.
Another concern with ACOs is whether they will be inclusive when it comes to welcoming a variety of imaging centers into their group. Stamatia Destounis, MD, a radiologist and managing partner at Elizabeth Wende Breast Care in Rochester, New York, says imaging centers need to prove the quality and cost-effectiveness of their operations to the ACOs forming in the area in order to be included in these new medical groups. They need to align with their patients' referring physicians. "We would be doing our patients a disservice if we were only able to see those who visit hospitals that belong to one certain ACO," says Destounis, who is also a member of Radiology Today's editorial advisory board, adds. "Our patients may end up in a different ACO, based on where they live, and we don't want them to have to change where they go for their breast imaging. We have their medical history and can continue providing them continuity of care."
From a business perspective, McKenzie says one offshoot of this effect could be an increase in mergers and acquisitions among imaging practices. "Small practices may be looking for suitors, or looking to join with other medical groups to form multispecialty physician mega-groups," he says. "Some believe there will be safety in numbers and this will provide them with more financial security."
Appropriate Imaging
Most imaging professionals believe that research on the appropriate use of imaging and its impact on outcomes can go a long way toward protecting radiology's place in the ACA equation. However, radiologists will need to proactively show the effectiveness of imaging. "We welcome that they're recognizing that quality and an accreditation process is important," McGinty says. "ACR has been at the forefront of quality, establishing appropriateness criteria for a variety of areas within radiology. We are delighted to see this as part of the payment system."
The problem is that all aspects of care delivery are currently tied to relevant quality metrics, McGinty adds. Tracking medical outcomes involves several criteria, from recall rates to patient and referring physician satisfaction.
"We need to ask questions such as, are we taking care of our patients? Are the reports we produce helpful? When we send a patient for a biopsy, was our assessment correct? When we say something looks like cancer, are we correct? Can we reduce redundancy and recall rates?" Destounis notes. "We also need to look at whether we're operating in a cost-efficient manner, checking that we're getting the best prices from our vendors."
Working in a specialized area such as breast imaging puts Destounis in the position of having more face-to-face contact with the same patients on a regular basis, which provides a consistent level of care that she says speaks to the practice's quality of service. "In the end, patients are going to decide where they want to go for their breast imaging, so for us, patient satisfaction is important," she says.
Measuring outcomes is another method of showing quality, and with that the national radiology group Virtual Radiologic (vRad) created Radiology Patient Care (RPC) Indices, which consist of a set of findings-based national and peer group radiology benchmarking metrics. The indices were created from vRad's clinical database of more than 22 million images gathered from more than 2,000 facilities throughout the United States.
Jordan Halter, vice president of solutions for vRad, says, with the ACA's value-based focus, analytics now are more of a requirement rather than an option, as there is a greater need to prove quality to ensure payment. "Fee-for-volume is going away," he says. "We need to find a way to take cost out of the equation and add quality. We need to show the value of imaging to patient care and that we're not just a volume shop. I don't know how the ACA will play out, but I know that radiology must be able to prove and show value."
Improving Analytics
Having a normalized data set allows radiology groups and hospitals to objectively compare imaging use, Halter adds. "Gathering data to prove quality is a challenging task for a hospital or radiology practice; you can drown in data," he says. "We can organize the data to get the insight radiologists need to measure quality going forward."
The first RPC Indices released focus on the use and effectiveness of CT imaging in emergency departments nationwide, which is where the patient care process often starts. Halter says emergency departments are seen as playing a significant role in rising health care costs, with CT being a frequently utilized imaging exam. Those criteria resulted in a large volume of data suitable for compiling and providing information for making appropriate care decisions regarding CT imaging. vRad continues compiling more CT info for future indices, with data gathering expected for other modalities as well.
One component of showing quality is in standardizing what data are important, how those data are entered, and how they're gathered and presented. vRad consistently provides information, something important to chief medical officers, Halter says, particularly when it comes to imaging data, as radiology often is blamed for issues such as length of stay. "For example, we can provide analytical data that show when radiology is the clear cause of long hospital stays and when it is not," he says. "Another example involves information about ER patients from treat-to-street, which can help improve efficiency. We now can pull data and simply report on what happens along the patient's treatment process. We are not acting as judge and jury but showing what the data tells us in a consistent, 'apples-to-apples' manner."
Halter says vRad began compiling indices in advance of the ACA and recommends that radiologists take a similar proactive approach to ensuring their place in the health care process. "Radiologists need to take a leadership position," he says. "They can be marginalized if they're not careful. They need to be seen as providing value, not as a cost center. You're either early to this game or you're too late."
Those leadership roles include speaking with hospital systems and referring physicians in the community. "Radiologists need to talk to the referring physicians and educate them on making decisions based on getting the best outcomes for their patients," Crabtree says. "That doesn't always mean that imaging will be the best solution for providing quality care. For example, physical therapy might be a better solution for someone's back pain than ordering an MRI."
Beyond costs and quality of care, McGinty notes that as more people now can apply for health care benefits under the ACA, there is the potential for expanded numbers of individuals who will be covered. This, in turn, has the potential to increase the need for radiology services. At the same time, however, she says that radiologists must focus on only doing the imaging that is appropriate.
Destounis says the bigger concern is that practices will lose patients if they can't participate in all the ACOs in their community. However, she adds that her facility has sufficient staff and is prepared to handle any new patients. "There may be a slow influx of new patients, but we don't expect that to occur immediately," she says.
For now, Crabtree suggests that radiologists look to shore up business practices and to understand their current costs and how their business can function efficiently before joining ACOs or forming alliances with other imaging practices. They also need to get on the same page when it comes to staking a claim in the ACO arena.
"Find out where radiology sits at the table," Crabtree says. "Radiologists need to speak with one voice and cannot be perceived as speaking on their own personal behalf. They need to determine what's best for the practice."
— Kathy Hardy is a freelance writer based in Phoenixville, Pennsylvania. She is a frequent contributor to Radiology Today.