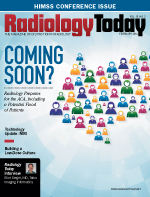 February 2014
Technology Update: MRI — Expanding MR's Clinical Utility
By Dan Harvey
Radiology Today
Vol. 15 No. 2 P. 14
Recent MRI technology developments—many showcased during RSNA 2013—have brought about faster imaging exams with increased patient comfort, versatility, and economic value.
In the United States, replacement is the major MR trend, according to Suresh Narayan, Toshiba's senior manager of market development for the MR business unit. "With the new health care act, it is important for providers to improve patient satisfaction—increased speed and patient comfort," he says. "For users, this translates into increased efficiency and, in turn, productivity."
"Users are being asked to do more with less," adds Beverly Plost, Toshiba's MR business unit director. "New MR systems help users manage the increasing patient load."
As far as versatility, MR manufacturers are adding clinical applications and capabilities, according to Sheldon Schaffer, vice president and general manager of MR/CT for Hitachi. "Many new applications are being pioneered, investigated, and mainstreamed," he says. "For instance, breast MR is becoming a common procedure."
Richard Hausmann, president and CEO of GE Healthcare MR, sees three major MR market directions. "The first involves improving patient comfort," he says. "The second involves expansion of MRI into more clinical areas. The third involves the increasing need for access, especially in emerging countries."
These new directions are expanding the MRI world. "They are helping to bring MRI to more people throughout the world, as the technology is becoming so much easier to install and use and more affordable," Hausmann notes.
GE: Lowering the Noise
Noise levels always have been a problem for MR patients and a hurdle that providers strived to surmount.
To offer a better patient experience, GE has developed its Silent Scan technology, a new type of 3D MR acquisition. It provides dramatic noise reduction, according to the company. Conventional MRI scanners can generate noise levels of more than 110 dB, which equates to a rock concert sound experience. The Silent Scan technology reduces scanner noise to near ambient, or background, sound levels. This not only increases comfort, it enhances safety, Hausmann says, as high decibel levels often require ear protection.
The technology is particularly useful for pediatric and claustrophobic patients because it often reduces their anxiety during the procedure. "Some patients can tolerate the noise, but many others can't," Hausmann says.
Traditional methods of addressing MRI noise levels have involved acoustic dampening or performance degradation; Silent Scan is an alternative to them. Deploying proprietary high-fidelity gradient and radio-frequency system electronics, Silent Scan—available on GE's 1.5T and 3.0T systems for routine head examinations—does more than dampen noise; it eliminates it at its source.
To increase versatility in its applications, GE has introduced MAVRIC SL, also available on the GE 1.5T and 3.0T systems. "This technology is particularly important in determining the status of an implant," Hausmann says.
The innovation couples acquisition technique with postprocessing software to address the increasing need for imaging soft tissue and bone in patients with MR conditional-labeled implants, such as pacemakers. "It enables imaging around metal implants, and it better delineates the implant and surrounding areas," Hausmann says. "Not only can you scan around the implant and see the soft tissue and muscle, but you can see any resulting inflammation [synovitis]. This capability is a huge benefit, as there are a lot of problems related to metal implants."
One way the technology achieves this is by reducing artifacts created by metal presence in both in-plane and through-plane dimensions, which conventional MRI techniques can't do. This fosters better diagnosis and more effective treatment planning. Further, MAVRIC SL requires no contrast media injection. GE reports that MAVRIC SL received FDA 501(k) clearance in December 2012 and is available in most markets.
Hitachi: Patient Comfort
Hitachi's MRI developments not only are designed to increase patient comfort but also help users increase the number of procedures performed per day. The company boasts two new products: the Oasis, a 1.2T open MRI system, and the Echelon Oval.
The Echelon accommodates a broad range of patients, from pediatric to geriatric and bariatric to claustrophobic. It's a traditional horizontal field 1.5T system, "but with its oval shape, it offers a 74-cm wide opening, which represents the industry's widest bore opening," Schaffer says.
"It not only provides a more comfortable patient experience, but it enables users to provide MR services to larger patients—whether these patients are athletes with large physiques or are obese," Schaffer adds. "Sometimes a patient's size is such that they can't be enclosed in the traditional 60-cm, closed-bore system. So larger space is a major industry trend." Additionally, its open design facilitates image-guided procedures and permits a loved one to hold a young patient's hand.
Schaffer explains why these benefits are important to the user: "They mean more procedures, and more procedures mean potential increased revenue stream. That patient population that is accommodated has been increased."
Hitachi's new technology also is helping users expand their clinical applications. "We're seeing new applications in neurology, orthopedics, pediatrics, and breast imaging and breast biopsy," Schaffer says. "One of our customers is even validating MR technology for use in prostate imaging and prostate biopsy."
Looking ahead, Schaffer sees broader applications in advanced neuroimaging as well as advanced orthopedic capabilities. "These will be forthcoming in the next two years," he says.
Siemens: New VIBES
At RSNA 2013, Siemens showed its new technologies that enable rapid body MRIs for all patients, including the following:
• the StarVIBE MR pulse sequence, designed to enable free-breathing, contrast-enhanced liver imaging for patients who find it hard to manage breath holding; and
• the TWIST-VIBE MR sequence, designed to enable correct contrast imaging in dynamic liver MRI for all patients and lesions, allowing fast, robust liver imaging with full 4D coverage.
The two sequences are packaged as the FREEZEit package and available on the company's MAGNETOM Skyra 3T and MAGNETOM Aera 1.5T MRI systems. "MRI technology  continues to reduce scan time, one of the biggest remaining challenges in abdominal imaging," says Stuart Clarkson, senior director of product marketing for Siemens Healthcare's MRI business unit.
Body MRI is excellent for precise tumor evaluation, function, and diffusion. However, as Siemens points out, only about 6% of all MR examinations are currently performed in the body area, as this is a challenging segment due to the relatively lengthy breath-hold times needed for T1 imaging. FREEZEit provides fast and robust liver imaging with whole live coverage in as little as 2.5 seconds. This enables visualization of multiple phases in a single breath hold or, for those patients who cannot tolerate any breath hold at all, Star-VIBE is a totally free-breathing T1 technique with whole-organ coverage.
"Traditionally, CT was a much faster modality, but MR is considered better from the contrast and [image] noise perspective," Clarkson says. "We can now compensate for the patients' breathing motions, which expands body MR imaging for hospitals and private imaging centers. The two pulse sequences in FREEZEit address liver imaging—bringing a new level of consistency and robustness allowing both the patient and the staff to breathe easy."
At RSNA, Siemens also introduced its Quiet Suite of applications, which covers complete, quiet neuro and musculoskeletal MR examinations with a minimum 70% reduction in sound pressure without compromising image quality, according to the company. The Quiet Suite makes the MRI experience more comfortable for both younger and older patients. It's also available with the MAGNETOM Skyra 3T and MAGNETOM Aera 1.5T MRI systems.
"A major priority has always been patient comfort, which now means a lowered acoustic level of the typically noisy MR scan," Clarkson says. "The vibrations from rapidly switching the current within the gradient can create more than 100 dB levels. The Quiet Suite brings noise down to acceptable levels. The suite involves two packages, PETRA (3D T1) and Quiet X, which have a different set of pulse sequences used in more conventional imaging. It allows an acoustically dampened brain series and areas such as the shoulders, hips, knees, and ankles. We set a target of 75 dB as the new noise level for neuro and orthopedic MR exams and with Quiet Suite, we have achieved that target."
Clarkson considers the impact of recent MR advances, particularly as applied to liver imaging. "MR technology can and should be doing more abdominal imaging," he says. Currently, that anatomical area represents about 6% of scans done in the United States. "Five years from now, it could be as high as 15% as new technology allows for better, faster liver imaging. Radiologists are excited about getting their hands on new liver sequences, as they see the potential in growing their practices."
Toshiba: Rolling Forward
One of Toshiba's highlights at RSNA 2013 was its new Rapid Transport System. "One of its main advantages is its dockable tabletop, which enables it to go anywhere in the hospital," Plost says. "It goes right to the patient, transports them, and this increases the efficiency and safety. As such, it also increases productivity."
The new system is light and easy to maneuver, and it's designed to transport patients to the MRI suite without the need for repositioning. The system docks over the MR system's couch, so patients stay on one table during the entire imaging process.
Toshiba also showcased the following new developments to its Vantage Titan MR product designed to make imaging faster and more comfortable as well as improve image quality:
• The flexible, high-density, 16-channel Flex SPEEDER coils conform closer to a patient's anatomy, improving the signal-to-noise ratio. The lightweight coils are available in medium and large sizes and are suited for general orthopedic and body imaging.
• The 3T 32-channel Head SPEEDER Coil provides superior image quality for high-end neuro applications in 3T imaging, such as functional MRI and diffusion tensor imaging, with high signal-to-noise ratio and high spatial and temporal resolution.
"Also, we continue to lead in noncontrast imaging," Plost says. "Our CSF Dynamics imaging technology provides a noninvasive method to visualize flow of cerebrospinal fluid."
"This noncontrast technique, as applied to cerebral spinal fluid, enables the neuroradiologist to distinguish several [related] disorders that were not being properly diagnosed," Narayan says. "Now, a neuroradiologist can better distinguish a disorder such as dementia."
Further, the bulk movement of cerebral spinal fluid can be visualized noninvasively with Toshiba's proprietary Time-Spatial Labeling Inversion Pulse (Time-SLIP) noncontrast technique, a safer and faster way to get diagnostic information. "Right now, we are the only company that offers this type of technology," Plost says.
At RSNA, Toshiba also showed advanced applications for its Vantage Titan MR systems, which offer clinicians more capabilities and includes 3D arterial spin labeling. "3D arterial spin labeling offers a way to look at blood flow perfusion characteristics of the brain without using contrast," Plost explains. "The entire brain can be studied with a single scan."
Another advanced application is the RSDE, a research-only tool that allows the research community to develop its own pulse sequences to explore new MRI applications, according to the company.
Philips
At RSNA 2013, Philips Healthcare showcased its SmartPath to dStream as a cost-effective way to provide digital broadband MRI. According to a company press release, the dStream architecture delivers quality images with digital clarity and speed.
The latest release includes new clinical features that deliver fast and robust MR solutions for neurology, trauma, pediatric, and fatty liver patients as well as routine fat saturation.
The dStream technology is available on the Ingenia 1.5T and 3T systems.
— Dan Harvey is a freelance writer based in Wilmington, Delaware.