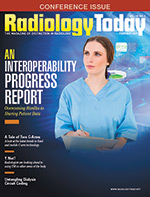 February 2017
A Tale of Two C-Arms
By Keith Loria
Radiology Today
Vol. 18 No. 2 P. 22
A look at the latest trends in fixed and mobile C-arm technology.
Today's C-arm technology developments are closely associated with corresponding clinical trends. Minimally invasive procedures are increasing due to the benefits of reduced procedure time, shorter recovery times, less trauma on the patient, lower radiation dose, lower cost to the health care provider, and better patient outcomes. This is driving the growth of C-arms that have the capability for minimally invasive surgery.
"The big buzz in fixed C-arm is faster and more procedure capability, access to the patient, and the ability to have 3D imaging that can be done fast and used in conjunction with live imaging so you can fuse that together and use it for image guidance," says Bill Newsom, director of the X-ray Vascular Business Unit at Toshiba America Medical Systems.
Clinical procedures—such as thrombectomy for stroke—are driving demand for full sized C-arms, while mobile C-arms are used as more of a clinical tool in today's health care environment. Additionally, ceiling-mounted systems have become a common practice in the industry due to the benefits that this geometry provides—ie, unparalleled flexibility of movement combined with a clean floor.
"Developments [in mobile C-arms] have focused around using less radiation dose and less contrast agent," says Jessica Edge, a health care technology analyst for IHS Markit Technology. "[There have also been upgrades in] providing clearer, better-quality images. Flat-panel detectors, higher powered generators, and better cooling systems have been some of the developments in mobile C-arms."
Procedures using C-arm image guidance are becoming more and more commonplace in part because of the increasing demand for image-guided therapy solutions, as hospitals are under more and more pressure to take less time for patients to be diagnosed and treated. Coupled with this, a lot of innovations and technological advances are taking place. For example, transcatheter aortic valve implantation/replacement procedures are increasingly being used for structural heart disease, while many countries are working hard on solutions for mitral valve disease using C-arm technology.
"With newer systems, [there] is the growing integration of in-body imaging and sensing with C-arm technologies, particularly for cardiac and vascular patients," says Ronald Tabaksblat, business leader of image-guided therapy systems at Philips. "For example, we are working hard to make this happen having acquired Volcano, which is active in angiography-only IVUS [intravascular ultrasound] and FFR [fractional flow reserve]. We believe that the integration of in-body imaging and sensing technologies with X-arm technologies provides major benefits to cardiac and vascular patients by detecting lesions easier and faster."
What's New?
In 2016, Ziehm Imaging celebrated its 10-year anniversary since it first introduced flat-panel detectors as an alternative to image intensifiers on mobile C-arms. "Based on this decade of experience, Ziehm is now introducing a new generation of flat-panel detectors built with CMOS [complementary metal-oxide semiconductor] technology, which provides higher image resolution at the same dose rate when compared to the historic, amorphous silicon technology," according to Martin Ringholz, director of global marketing at Ziehm Imaging. "The Ziehm Solo FD was cleared for sale in October [2016]."
David Ferguson, director of product management for GE Healthcare Surgery, notes that the company started down the path of putting a digital detector on its platform and at the same time relaunched its mini C-arm, the OEC Elite MiniView. GE Healthcare's OEC Elite CFD mobile C-arm with CMOS flat-panel detector technology received CE marking in October 2016 and also received clearance with the Ministry of Health, Labour, and Welfare in Japan. However, it is not yet available for sale in the United States.
"With the lower power and lower dose you get with the mobile compared to the fixed, we did see the C-mount outperform, so we changed our development path to put C-mount panels across our whole platform from the extremity to the full size," Ferguson says. "We see more detail in the image, a better dynamic range so you're better at differentiating soft tissue from bony tissue, and [you're seeing] better digitalization across the board."
Lisa Reid, product manager for Siemens, says that the company introduced three new C-arms at RSNA 2016, one of which is a flat-panel detector. "The Cios Alpha, which has the flat-panel detector, comes in 8-inch or 12-inch [models]. It has a touchscreen interface that makes it really easy to set things up and easy to learn, [as well as] a tableside remote where they can put a control panel next to the surgeon at the table, and he can completely control the C-arm," Reid says. "It also has motorization, so you just push a button, and you can rotate the C-arm and position memory so that it will return to a fixed position that you set the memory on."
Siemens also has two image intensifier systems—the Cios Connect and the Cios Select—with the latter more geared towards pain management-type settings where facilities aren't looking to spend a lot of money on a C-arm.
In November 2016, Philips delivered two products in percutaneous coronary interventions: Dynamic Coronary Roadmap for live anatomical guidance and StentBoost Live for real-time, enhanced visualization of stents, bioresorbable vascular scaffolds, and other devices.
"We also launched the third generation of our HeartNavigator planning and guidance software that provides functionality to measure, select aortic valve repair device, and choose the X-ray viewing angle," Tabaksblat says. "With HeartNavigator, a 3D volume is rendered from previously acquired CT data sets and overlaid on live fluoro for real-time 3D guidance. The software provides an immersive user experience, giving physicians more confidence during challenging procedures."
Earlier this year, Toshiba introduced its Infinix-i Sky +, a ceiling-mounted system featuring a double sliding C-arm and 12-inch X 16-inch flat panel, offering clinicians the potential to increase coverage, speed, and patient access.
"It's able to do 3D anywhere on the patient. You can go up to 80 degrees per second with your 3D spin and, from the patient left or right side, you can go up to 200 degrees of spin, which gives you more samples of 3D imaging," Newsom says. "It gives you a lot more space for people to be in the room and also allows you great patient access because of the ability to get the C-arm out of the way."
He adds that this new double-sliding C-arm offers premium flexibility to support clinicians in performing a wide range of procedures. "The Infinix-i Sky + allows clinicians to move the C-arm around the patient, rather than the other way around," Newsom says.
Ringholz says that the market demands more features on mobile C-arms than ever before. "We have introduced CMOS flat panel technology on our Ziehm Solo FD to serve the orthopedic, trauma, and pain management market and 2D and 3D CT-like imaging with the Ziehm Vision RFD 3D for high-end orthopedic trauma and minimally invasive spine procedures using NaviPort, our open navigation interface," Ringholz says. "In the fields of endovascular surgery and cardiology, mobile C-arms such as the Ziehm Vision RFD Hybrid Edition will approach more and more the capabilities of fix-installed angio systems."
Customers' Needs
GE's plan for many years going forward is to have two production lines—a digital detector production line and the image intensifier production line—and the use of each should really come down to the type of health care that a facility provides. "It really depends on what you are doing with C-arm. If you're doing basic orthopedic work—big bones, fracture repair—you really don't need the detail that the digital detector could bring," Ferguson says. "I don't see a lot of the clinics making changes to the digital platform in the near term."
With innovation continuing to come each year, Edge notes that a facility should consider its budget, patient throughput, the procedures the systems are going to be used for, existing C-arm systems, and the size of the facility that the system is going to be used in before making a choice on when to bring in new equipment.
Tabaksblat says that among Philips' fixed cardiovascular C-arms, the AlluraClarity FD20 ceiling mounted system is the most popular. "Customers also appreciate the 20-inch flat detector, which is popular in size not just for interventional radiology applications but also for cardiologists," he says. "This system can be used in a multitude of clinical applications and has a number of options that customers can choose to tailor it to their needs."
Ringholz notes that if a facility is performing long vascular procedures, then they should consider equipment that offers cooling to prevent overheating. For longer procedures, it is also important to consider dose exposure and choose equipment that offers pulsing fluoroscopy.
"Pulsed fluoroscopy allows for lower accumulated dose to patient, surgeon, and staff," Ringholz says. "Flat-panel detector technology, a feature that began in fixed rooms, is now being implemented by most mobile C-arm manufacturers. Ziehm Imaging offers C-arms that have features such as liquid cooling, pulsed fluoroscopy, flat-panel detectors, and motorization through joystick controls."
Reid says facilities that do a high volume of vascular or urology procedures will want to look at a larger detector or a larger generator, but those doing primarily orthopedics or basic types of surgeries should look at a smaller C-arm because of the different price points.
"It's tough to make recommendations to facilities because we have even our smallest system in very large hospitals," Reid says. "I think it just depends a lot on the procedures and how big of a C-arm [is needed]. Some places want a really small C-arm because they need to fit it in a really small room, or they're only doing a certain type of procedure, like in a pain management clinic."
She adds that C-arms have gotten much easier to use over the years, and Siemens' flat-panel detectors have a complete new design on the interface. "It's all touchscreen, and it's pretty much button guidance through whatever type of procedure you need to set up," Reid says. "It makes it much easier and much faster to use. The image intensifier systems—the Select and the Connect—have push-button interfaces. It's like a keypad; you push the button, and you're pretty much ready to image the patient. The flat-panel detectors also have done a lot for image quality, making them easier and better to use for intricate procedures like vascular [procedures] because the image quality of the flat-panel detectors are typically better than an image intensifier."
Looking Ahead
As with all health care markets, there are budget constraints and consolidation of hospitals in mature regions and higher growth in emerging areas. Overall, industry insiders expect steady growth for C-arms over the next three to five years.
Ferguson believes that the image chain will continue to advance. "All of the companies have gone over that hurdle of the flat-panel detector, and it's really about what's next," he says. "[Flat-panel detectors] will continue to improve, so the next steps I see happening are in the image processing on the software side. What can we do to continue to manipulate the image and improve the image based on the clinical application? Advancements will make them simpler to use; better integrated in the OR [operating room] environment, passing information back and forth; and will continue to improve the image itself."
Tabaksblat notes that the industry needs to continue to make advances with more patients being treated in less time with fewer complications using technology that's safer than ever before. "C-arms have proliferated in many clinical areas, and I believe that this trend will continue with new classes of users, such as different surgeons, discovering their advantages," he says. "Imagine a trauma patient being sent directly to a hybrid OR tailored to that patient's needs, rather than first to a CT and then an interventional lab. There's no doubt that this can be a standard of care, providing much less risk for the patient."
— Keith Loria is a freelance writer based in Oakton, Virginia.