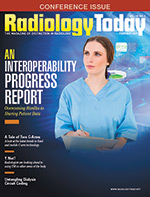 February 2017
On the Case
By Kathryn Becker; Miguel Ramirez, MD; and Alex Merkulov, MD
Radiology Today
Vol. 18 No. 2 P. 28
History
A 43-year-old woman presented for a diagnostic mammogram. She reported two right breast areas of palpable concern (marked via skin markers), one focal palpable area at 5:00/6:00 (Figure 1) and the other at 6:00 (Figure 2). There was no family history of breast cancer.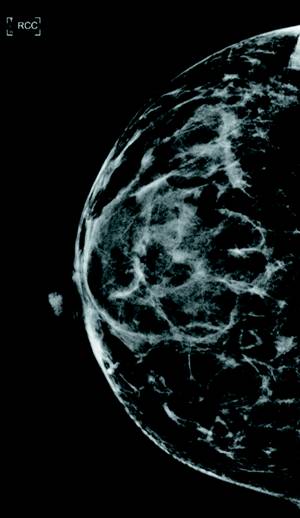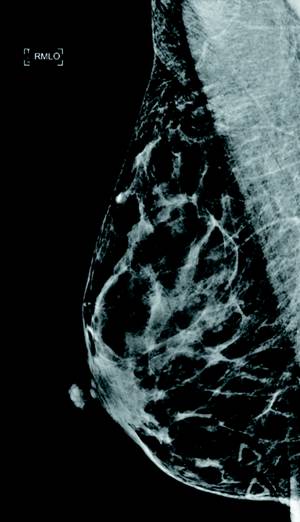 Imaging
Targeted right breast ultrasound was performed at 5:00/6:00. The 5:00/6:00 palpable lesion corresponded with an oval nonshadowing heterogeneous hypoechoic 0.6 cm mass (Figures 3 and 4). The 6:00 posterior depth palpable concern was a benign cyst (images not provided).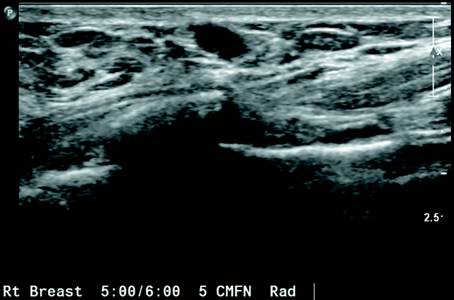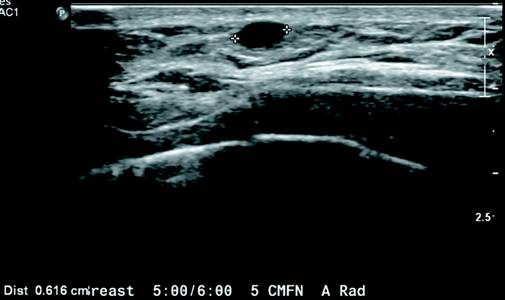 Mammography demonstrated an equal density 5:00/6:00 focal asymmetry at posterior depth which correlated with a nonshadowing heterogeneous hypoechoic 0.6 cm mass on concurrent targeted ultrasound. No suspicious calcifications on mammography. A typically benign palpable cyst was noted at 6:00 (images not provided).
Diagnosis
Granular cell tumor.
Discussion
Granular cell tumors are rare, usually benign neoplasms. These tumors most commonly occur in the tongue but may also occur in the breast, gastrointestinal tract, or larynx. When these tumors occur in the breast, findings in the patient's clinical history, physical exam, mammography, and sonography can mimic those of breast malignancy.
Clinical history and physical exam often reveal a firm, painless, and palpable breast mass. The patient may have dimpling or skin retraction.
On mammography, granular cell tumors of the breast can appear as poorly defined, spiculated lesions, similar to a breast carcinoma. The lesion may also appear as a more well-defined mass.
On ultrasound, these tumors have variable appearances. The lesion can appear as a heterogeneous mass with varying echogenicity, poorly defined borders, or posterior shadowing prompting concern for breast malignancy. Conversely, they may appear as a well-circumscribed hypoechoic mass with posterior enhancement, mimicking the appearance of a complicated cyst.
Core needle biopsy or fine needle aspiration is needed for diagnosis with histologic and immunocytochemical analysis of the obtained samples. Granular cell tumors stain S100 positive, indicative of their neural crest origin.
— Kathryn Becker is a fourth-year medical student at the University of Connecticut School of Medicine.
— Miguel Ramirez, MD, is a fifth-year resident at the University of Connecticut Health Center.
— Alex Merkulov, MD, is an associate professor of radiology and the section head of women's imaging at UConn Health.
Resources
1. Scatarige JC, Hsiu JG, de la Torre R, Cramer MS, Siddiky MA, Jaffe AH. Acoustic shadowing in benign granular cell tumor (myoblastoma) of the breast. J Ultrasound Med. 1987;6(9):545-547.
2. Irshad A, Pope TL, Ackerman SJ, Panzegrau B. Characterization of sonographic and mammographic features of granular cell tumors of the breast and estimation of their incidence. J Ultrasound Med. 2008;27(3):467-475.
3. Kim EY, Kang DK, Kim TH, Jung YS, Kim KS, Yim H. Granular cell tumor of the male breast: two case descriptions and brief review of the literature. J Ultrasound Med. 2011;30(9):1295-1301.
4. Siegel JR, Sanders L, Kalisher L, Kintiroglou M. Unusual sonographic features of granular cell tumor of the breast. J Ultrasound Med. 1999;18(12):857-859.