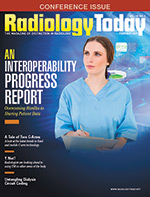 February 2017
Editor's Note: All About Versatility
By Dave Yeager
Radiology Today
Vol. 18 No. 2 P. 3
Versatility is a quality that's increasingly in demand at hospitals and medical centers. With budgets being squeezed and uncertainty surrounding the future shape of health care, the ability to do more with less has never been more important. A couple of IR-related articles in this month's issue look at different types of versatility.
First up, Beth W. Orenstein's article on Y90 radioembolization explores potential new uses for the treatment. Mostly limited to liver cancers at present, researchers are pondering where else in the body it may be useful to deliver potent, highly targeted radiation therapy. Although not all sites will prove feasible, further research may point to some interesting possibilities.
In addition, Keith Loria's roundup of C-arm trends highlights the need for equipment that can multitask. Whatever the predominant workflow may be, there's a C-arm for that. With space at a premium and pressure to keep devices in use, equipment that addresses many needs is always helpful.
Also in this issue, Juliann Schaeffer reports on the state of interoperability—yet another type of versatility—in radiology data management. Interoperability is the cornerstone of digital information exchange, but it's not a given by any means. Health care organizations that want to stay ahead of the value-based care curve need to think more carefully about what interoperability really means.
Finally, don't miss our feature on dialysis coding. The procedure codes and guidelines have been revamped for 2017. And for all of you who will be at the Society of Interventional Radiology Meeting in Washington, D.C., stop by booth 448 and say hello.
Enjoy the issue.