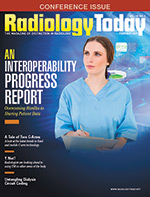 February 2017
Managing to Succeed: Radiology Mergers
By Michael Mahoney
Radiology Today
Vol. 18 No. 2 P. 8
The health care ecosystem in the United States is evolving at a more rapid pace than ever, and, as a result, we are seeing major shifts in the delivery of care, reimbursement, and management of health systems and other health care organizations. In response to a transition to value-based care, both through new Medicare payment methodologies (eg, MACRA, bundles) and the creation of accountable care organizations, health systems have increased expectations for outcomes and service levels provided by partner physician organizations; this is having significant ramifications on the markets of physician specialties that rely on contracts or referrals from systems. In particular, a major trend being seen in outsourced, hospital-based physician specialties such as anesthesia, emergency medicine, hospitalist, and radiology has been an emphasis on size, scale, and practice infrastructure that can be leveraged in order to accommodate these increased service expectations and combat related financial pressures. Among radiology groups specifically, merger and acquisition activity has increased sharply over the past several years with groups deciding to either merge with local counterparts or join larger organizations.
Large publically traded companies primarily led the onset of this recent consolidation in radiology, with Sheridan Healthcare (a division of AMSURG Corp.) and MEDNAX completing landmark acquisitions and substantially increasing their respective presences in the radiology market. Historically a powerhouse in anesthesia, Sheridan Healthcare significantly bolstered its radiology business in the first quarter of 2015 by announcing the acquisitions of Radisphere Radiology and Radiology Associates of Hollywood, which collectively added more than 150 combined full-time employee radiologists. These transactions were largely made possible by the additional access to capital that Sheridan gained through its own merger with publically traded AMSURG Corp. in May 2014—which subsequently merged with Envision Healthcare in December 2016—and represented the pursuit of AMSURG/Sheridan's strategy of offering bundled physician services to hospitals and other acute care settings. Later in 2015, another multispecialty physician organization, MEDNAX, acquired national teleradiology provider Virtual Radiologic (vRad) for $500 million. vRad had previously been owned by private equity firm Providence Equity Partners, which took the company private in 2010 for approximately $294 million.
In the private markets, merger and acquisition activity has largely been driven by private equity groups; many professional investment funds have recently formed investment theses around hospital-based radiology and subsequently ventured to consolidate the market, which remains highly fragmented. In 2011, private equity firm Great Point Partners completed an investment of growth equity into Aris Radiology, an Ohio-based provider of professional radiology and teleradiology services. The original invested capital was likely utilized to expand personnel and bolster sales and marketing efforts; however, the relationship established with Great Point Partners also provided resources that enabled Aris to expand significantly through its major acquisitions of Optimal Radiology in April 2015 and US Teleradiology in October 2016. Another radiology group that has rapidly expanded over the past few years is Radiology Partners, which received a $60 million investment from financial sponsor New Enterprise Associates in 2012. Since forming, Radiology Partners has leveraged a deeply experienced management team led by many former members of DaVita in order to build a physician-led, technology-driven network of radiologists that currently consists of more than 300 physicians across seven states. This growth has primarily come from acquisitions, with one of the largest being the recent addition of nearly 80 radiologists from Columbus Radiology, which was the 13th largest independent practice in the United States in 2015.
Business Considerations
There are a number of factors that have motivated independent radiology groups to consider mergers and acquisitions as a strategy to alleviate reimbursement risk, bolster clinical and back office infrastructure, secure physician compensation, and drive growth. From a business perspective, the shifting health care landscape, payer consolidation, and technological advancement within the specialty have all impacted how independent radiology groups are managed and have thus contributed to increased consideration of alternative strategies. As the US health care system has begun to transition to value-based reimbursement, hospitals and health systems are more closely scrutinizing the outcomes of partner physicians who provide outsourced services. Correspondingly, expectations have risen and hospitals now desire increased subspecialty coverage, faster turnaround times, subsidy reductions, and greater contribution to initiatives such as marketing and coordinating care between providers. While quality of care has always been paramount, radiology groups in today's environment not only have to provide the best outcomes to hospital partners but also have to prove those outcomes through data analytics and constant communication with hospital leaders.
In order to equip themselves with the resources necessary to thrive in a value-based environment, one option radiology practices have pursued is aligning themselves with "mega-physician groups." By joining large, physician-led organizations such as Radiology Partners, Aris, Sheridan Healthcare, MEDNAX, or TeamHealth, radiology practices gain access to extensive back office infrastructure that can help streamline billing, recruiting, credentialing, IT, marketing, accounting, and other administrative functions. In addition, these vast networks of physicians offer improved clinical capabilities such as fully subspecialized around-the-clock coverage, increased quality assurance protocols, shared best practices, and targeted clinical initiatives, such as Radiology Partners' Reducing Variability in Incidental Thyroid Nodule Detection and Management. Although large in size, these organizations remain physician led and thus radiologists maintain a pivotal role in driving the future direction of each group. In line with this philosophy, most of these groups allow the practices that join them to maintain autonomy at the local level, including control over scheduling, vacation time, individual productivity, and local hospital relationships. This preserves the locality that remains so important in health care so that these large groups can add value by providing macro-level support in infrastructure, IT systems, and management and also leverage size to gain negotiating leverage with hospitals and payers.
Another option that has emerged recently within radiology is private equity investment, which can be utilized to scale in a similar fashion to what has been observed with Radiology Partners, Sheridan, and Aris, as well as a growing number of practices within other physician specialties. Private equity represents a community of investors that seek to acquire equity positions in entities with the goal of providing capital and board-level support in order to achieve future growth. Over the past several years, contract-based physician specialties have garnered particular attention from the private equity community, given the tremendous scalability of the business model and the potential advancements that can be created by investing internally in a physician group's clinical, administrative, and IT infrastructure. There are many radiology groups around the country today that have already built highly sophisticated groups that have the potential to be scaled; for these organizations, private equity can provide the additional resources necessary to grow into a multiregional or multistate provider, while continuing to improve and optimize the way that radiology is practiced.
Maximize Value, Diversify Risk
In addition to the aforementioned business considerations, physicians have also been motivated to explore merger and acquisition options by a number of factors stemming from their roles as shareholders. While entity structures and shareholder bases vary across regions and even individual practices, the typical model consists of the majority of practicing radiologists holding ownership in the group and receiving incremental compensation tied to that ownership. Along with this structure comes a number of items that physicians must consider, including how to maximize annual compensation, how to maximize the practice's enterprise value, and how to best mitigate the risk involved in both of those value streams.
From an annual compensation perspective, future reimbursement risk will exist for radiology groups regardless of whether a mergers and acquisitions strategy is undertaken. However, completing a transaction can help to steady income streams. For example, in many cases, when partnering with a strategic buyer, selling shareholders negotiate employment agreements that guarantee salaries for a number of years irrespective of outside market influences. Furthermore, in both a private equity and a strategic transaction, physician shareholders are no longer required to reinvest their earnings into the business to maintain infrastructure and fuel growth, as that capital would be drawn from other sources. All buyers treat physician compensation with care in a transaction because, as the revenue producers of the business, keeping them happy is critical. As a result, buyers show a willingness to be flexible, and this can be highly advantageous to physicians in the long run.
Another critical component of maximizing overall value for physician shareholders is understanding that significant wealth can be tied up in the equity of a practice, even for hospital-based radiology groups that own very few assets. Similar to publically traded equities in the stock market, value can vary significantly depending on market conditions. By completing a transaction in the current market, which is extremely strong, physician shareholders can take advantage of high valuation multiples and receive a lump sum of cash to effectively diversify their personal assets. Taking into account that these funds are taxed at capital gains rates and can be invested until retirement with compounding interest, the concept becomes much more compelling. Additionally, many transaction structures consist of retained equity, which allows shareholders to remain invested in their practice and benefit from all growth that will be resultant of the newly formed partnership. Retained equity is a required provision of any private equity transaction, and it is not uncommon for the value of physician practices to grow by two to three times in a three- to seven-year timeframe under the guidance of a private equity partner. Upon reflecting on all of these matters, partnering with a strategic buyer or a private equity firm is often the optimal strategy to maximize overall value to physician shareholders, especially given current market conditions, and this has certainly been a contributing factor to increased consolidation within radiology.
With the high degree of fragmentation within the radiology market and underlying sector trends supporting the progression toward size, scale, and access to additional resources, merger and acquisition strategies offer compelling benefits to radiologists seeking a means to maximize shareholder value, diversify risk, and build large, innovative groups. A number of physician considerations and sector dynamics have driven consolidation to date and, although the future has not yet been written, it is certainly a transformative time within the specialty.
— Michael Mahoney is an analyst at Provident Healthcare Partners, a health care–focused investment banking firm that has advised physician groups across a variety of specialties. Provident was the exclusive sell-side advisor to Diagna Radiology during its sale to Virtual Radiologic and also to Singleton Associates, P.A., in its recapitalization by Radiology Partners.