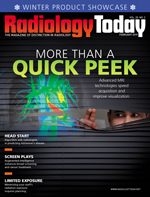 Editor's Note: Rapid Response
By Dave Yeager
Radiology Today
Vol. 20 No. 2 P. 3
The need for speed, whether it be faster protocols or earlier diagnoses, is prevalent in medical imaging. Identifying medical conditions sooner usually improves physicians' ability to treat them, and reducing scanning time allows hospitals and imaging centers to get more use out of existing equipment. The articles in this month's issue underscore the importance of a quick response and/or faster task performance, in one form or another.
Our cover story, by Keith Loria, highlights some of the ways that people are making MRI faster without sacrificing image quality. Speeding up MRI exams is one way that hospitals and imaging centers can get more out of existing equipment. Faster scans mean increased throughput, but they also require patients to be still for significantly less time, potentially reducing callbacks due to patient movement. Loria delves into some of the methods that vendors are using to pick up the pace.
As far as early diagnosis is concerned, finding Alzheimer's early significantly benefits patients by allowing treatment to begin when there's still time for disease progression to be slowed. Beth W. Orenstein reports on an AI algorithm that shows promise for early diagnosis. The project has been described as a good jumping-off point for further research, offering hope to patients with mild cognitive impairment, who live in the shadow of Alzheimer's, and their families.
Early diagnosis is also important for breast cancer. Unfortunately, women with dense breasts are more difficult to diagnose because their breast tissue appears white on standard mammograms, the same as breast tumors. Dan Harvey looks at some augmented technologies that are helping screen women with dense breasts and facilitate more thorough tumor removal. The development of automated and reproducible assessments figures to help breast imagers evaluate dense breasts much more efficiently.
Another situation that warrants early warning is radiation exposure. Jeannette Sabatini reports on best practices for monitoring radiation dose and protecting personnel. As she notes in the article, medical personnel, by virtue of working with and around radiation, not to mention a desire to provide the best possible care, are at particular risk of exceeding safety thresholds for radiation exposure. She speaks with experts in the field to find out how they manage radiation dose in their departments, and what you can do to ensure that your staff's exposure is as low as reasonably necessary.
Enjoy the issue.