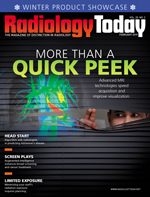 Reporter's Notebook: RSNA 2018
Radiology Today
Vol. 20 No. 2 P. 6
Editor's note: This article is based on materials distributed for press conferences at RSNA 2018 in Chicago.
Pulsed Radiofrequency Relieves Acute Back Pain and Sciatica
A minimally invasive procedure in which pulses of energy from a probe are applied directly to nerve roots near the spine is safe and effective in people with acute lower back pain that has not responded to conservative treatment, according to a study presented at RSNA 2018. Lumbar disk herniation is a common, often debilitating, condition that affects the disks that act as cushions between the vertebrae of the lower spine. Herniation occurs where the jellylike material in the center of the disk bulges through a tear in the disk's tough exterior layer and puts pressure on the roots of the nerves. Herniated disks are often the source of sciatica—pain that radiates downward from the lower back into the leg.
Conservative treatment options for herniated disks range from over-the-counter pain medications to injections of corticosteroids directly into the affected area of the spine. Those who don't respond may require surgery. In some cases, the entire disk must be removed and the vertebra fused together for stability. An alternative technique, CT-guided pulsed radiofrequency (pRF), applies energy through an electrode under CT guidance to the portion of the nerve responsible for sending pain signals.
"Pulsed radiofrequency creates a nerve modulation, significantly reducing inflammation and its associated symptoms," said study senior author Alessandro Napoli, MD, PhD, a professor of interventional radiology at Sapienza University of Rome in Italy.
Napoli and colleagues studied the approach in patients with back pain from lumbar disk herniation that had not responded to prolonged conservative treatment. In 128 patients, the pRF treatment was delivered directly under CT guidance to the root of the nerve. The treatment was applied for 10 minutes.
For comparison, a group of 120 patients received one to three sessions of CT-guided steroid injection on the same anatomical target with no pRF. The one-year outcomes demonstrated that CT-guided pRF was superior to the injection-only strategy. Patients who received pRF saw greater overall improvement in pain and disability scores during the first year. Relief of leg pain was faster in patients assigned to pRF, and they also reported a faster rate of perceived recovery. The probability of perceived recovery after one year of follow-up was 95% in the pRF group, compared with 61% in the injection only group.
"Given our study results, we offer pulsed radiofrequency to patients with herniated disk and sciatic nerve compression whose symptoms do not benefit from conservative therapy," Napoli said.
The results of the study are superior to those typically reported for usual care strategies and injections and may help a substantial number of patients with sciatic disk compression to avoid surgery, Napoli added. The use of pRF also could improve outcomes for patients set to receive corticosteroid injections.
"We learned that when pulsed radiofrequency is followed by steroid injection, the result is longer lasting and more efficacious than injection only," Napoli said. "The effect of pulsed radiofrequency is fast and without adverse events."
Today, therapy for spine disorders allows for definitive treatment of symptoms and conditions using different techniques and technologies.
"Of the different therapies available, pulsed radiofrequency is among the least invasive," Napoli said. "Treatment lasts 10 minutes, and one session was enough in a large number of treated patients."
Weight Loss Procedure Shrinks Both Fat and Muscle
Left gastric artery embolization, a novel interventional procedure used to treat obesity, leads to the loss of both fat and muscle, according to a study presented at RSNA 2018. Researchers said the loss of muscle mass is concerning and underscores the importance of proper nutritional counseling after the procedure.
Obesity is a major health issue worldwide, linked with serious conditions including heart disease, cancer, and diabetes. First-line treatments such as diet and exercise often don't work, leading many patients to opt for gastric bypass surgery. The surgery, which reduces the size of the stomach, has been effective in treating obesity but carries with it significant costs and potential complications.
Currently under investigation in clinical trials, left gastric artery embolization is a less invasive option to surgery. During the procedure, microscopic beads are injected under imaging guidance into the artery that supplies blood to the stomach. The beads block blood flow to the stomach and reduce the production of ghrelin, a hormone that stimulates hunger. Early studies have shown that embolization is effective in helping people lose weight, but information is lacking on how it might change a patient's composition of muscle and fat.
"There has been lots of research focused on the efficacy of gastric artery embolization for weight loss," said the study's lead author, Edwin A. Takahashi, MD, vascular and interventional radiology fellow at the Mayo Clinic in Rochester, Minnesota. "However, there has been no data on what is contributing to the weight loss, whether the patients are losing fat, as desired, or muscle mass or some combination of the two."
To learn more, Takahashi and colleagues studied CT scans of 16 overweight or obese patients who had undergone left gastric artery embolization to treat gastrointestinal bleeding. CT scans, when used in conjunction with special software, allow for measurements of body composition based on the different densities of tissues such as fat and muscle. The scans were done before and approximately 1.5 months after the procedure. The results were compared with those of a control group of 16 outpatients who did not undergo left gastric artery embolization but had CT scans at two different time periods for nonspecific abdominal pain.
All 16 individuals experienced significant weight loss after the embolization procedure, losing an average of 6.4% of their body weight over 1.5 months. Body mass index, a measure of body weight relative to a person's height, dropped by 6.3%. While the weight loss was not surprising to the researchers, the changes in body composition were. The skeletal muscle index, a measure of the amount of muscle that connects to the skeleton and helps move the limbs, fell by 6.8%. Skeletal muscle is important to health, and loss of it can impair physical function and metabolism and put a person at higher risk of injury.
"The significant decrease in the amount of skeletal muscle highlights the fact that patients who undergo this procedure are at risk for losing muscle mass and need to be managed accordingly after procedure," Takahashi said. "We must make sure they receive adequate nutrition to minimize the amount of muscle tissue they lose."
The patients also lost a significant amount of body fat. Their overall body fat index dropped by an average of 3.7%. However, much of the fat loss was subcutaneous—the fat that lies directly under the skin. Visceral fat, the more dangerous fat surrounding the organs and associated with serious health problems including heart disease and diabetes, did not decrease significantly over the course of follow-up.
The researchers plan to expand their studies in the future to include people who are specifically undergoing embolization as a treatment for obesity.