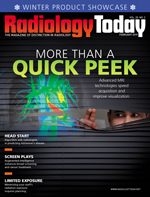 Managing to Succeed: Should Biomedical Engineers Service Imaging Equipment?
By Kenneth Hable, MD, BSRT
Radiology Today
Vol. 20 No. 2 P. 8
Some call it a looming talent crisis for health care: A growing shortage of qualified candidates across various positions and fields has many wondering how providers will meet the medical needs of an aging population.
Like many other industries, health care organizations are looking for ways to automate certain mundane tasks, such as administrative paperwork, so that professionals can focus on areas where they provide significant value and expertise. Beyond automation, hospitals and clinics should also consider strategies allowing them to get the most out of the talent they already have in house.
In some cases, this may require a shift in thinking that breaks from the status quo regarding roles and responsibilities in the medical world. One area that offers some potential to maximize talent involves allowing some crossover between the biomedical engineering and medical imaging departments.
Biomedical engineering technicians (BMETs) and imaging engineers sometimes get lumped together, even though they have distinct knowledge and capabilities. Reports warning of the impending talent shortage of health care technology management (HTM) positions may combine these careers, while they are quite separate in real-world settings.
As an MD and former medical imaging director, I completely understand that hospitals are highly structured environments. People tend to have defined roles and responsibilities, and there are some lines that simply are not crossed.
Whether it's for liability reasons or because of tradition, people do only what their routine requires of them. Typically, surgeons don't administer care in the emergency department, and you won't find radiologists drawing blood. They may have the knowledge and training to perform those tasks, but, in most cases, they don't do it because it's not part of their role.
Likewise, BMETs do not service medical imaging equipment in most hospitals. I worked in that system, and I realize that it requires somewhat of a mindset shift to think otherwise. I also understand why there are some objections. There are convincing reasons, however, to allow BMETs to complete service and maintenance tasks on imaging equipment under the right circumstances.
Education and Training
The Association for the Advancement of Medical Instrumentation projects that there will be a need for around 5,000 BMETs to meet demand in the next few years. The organization held a forum in April 2018 to address the talent shortage, noting that many schools offering HTM-related associate's and bachelor's degrees have shuttered their programs, leaving just 22 schools in the United States, producing only 400 graduates per year in total. Through my work with a local technical college that still educates BMETs, I've seen the demand for these graduates firsthand. Students often land multiple job offers before they even graduate from the program.
An even greater lack of educational opportunities can be found on the career path to becoming a medical imaging engineer. Essentially, there is no way to obtain a traditional four-year degree in this specialized form of engineering. The majority of people who come into careers as imaging engineers or field service engineers (FSEs) have either gained experience through military service or were handpicked by equipment manufacturers to participate in certified training programs.
Much like BMETs, many imaging engineers are retiring, and there is a growing need for a new generation of professionals to replace them. It makes sense to provide capable members of the biomed/clinical engineering departments with opportunities to expand and transition into medical imaging service. And these training and continuing education opportunities do exist outside of typical four-year and technical colleges.
Building Trust
I have a colleague who is a former Siemens FSE. During his time in the field, he realized that there were certain tasks he was paid to do that BMETs were perfectly capable of completing. But it simply never occurred to medical imaging directors that in-house talent could be used as a resource in that way.
Trusting BMETs to service and maintain imaging equipment and devices starts with providing them with education and training that they may not have received in traditional programs. In most situations, it is not feasible to take someone straight out of a biomedical engineering department and say, "Go fix this piece of imaging equipment."
During schooling, most BMETs will spend only 30 to 40 hours of classroom time on medical imaging. That will cover everything from how X-rays are produced to radiation safety, equipment management, and asset control. However, additional training and education opportunities, as well as a source that can provide technical support and a reliable replacement parts supply chain, enables BMETs to take on specific duties and maintain certain equipment.
If you own a Volkswagen, you may want to take it to the dealership or find a certified VW repair specialist for serious issues. But you'd be fine taking it to a local mechanic for oil changes or replacing wheel bearings. You may even do some repairs yourself. The older the car gets, the less likely you may be to take it to the dealership.
Similarly, hospitals can begin by allowing BMETs to help with basic imaging equipment service tasks. That may include regular preventive maintenance procedures, which come with detailed original equipment manufacturer (OEM) guidelines they can follow.
When you have imaging equipment that's no longer under an OEM service contract or has reached end of life, consider utilizing internal resources and talent along with third-party partners who can train your people, offer technical support, and provide reliable replacement parts.
Reducing Downtime
When your department loses procedures because an imaging system is down, you're also losing financially and may even lose patients to the competition. Waiting for the OEM or an FSE from an independent service organization may not always be the fastest or most efficient way to get a device up and running again.
Investing in the talent that's already under your roof helps your health care organization become more flexible and agile. While you may have to overcome some preconceived ideas about roles in health care technology, reversing the stigma surrounding BMETs and medical imaging duties presents an opportunity to diversify.
Adopting this strategy provides BMETs with opportunities to advance. It can also improve efficiency, reduce costs, and ensure that your staff are able to serve patients because there are more capable people in your organization who can service your equipment at the moment of truth.
— Kenneth Hable, MD, BSRT, the director of engineering and training at Technical Prospects, serves as an expert in Siemens Medical Imaging parts and equipment as he works to develop, review, and teach coursework for CT and vascular systems as well as syngo software.