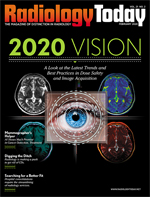 Reporter's Notebook: News From RSNA 2019
Radiology Today
Vol. 21 No. 2 P. 22
Editor's Note: This article is based on materials distributed for press conferences at RSNA 2019 in Chicago.
Prenatal Opioid Exposure May Alter Babies' Brain Function
Connectivity in an area of the brain that regulates emotion may be altered in infants exposed to opioids in utero, according to a study presented at RSNA 2019. Opioid use in pregnancy has become a major public health crisis. Opioids can have a devastating effect on maternal, fetal, and infant health. When babies who have been exposed to opioids in utero are born, they suffer from drug withdrawal, specifically a group of conditions known as neonatal abstinence syndrome (NAS). Exposure to opioids in utero is believed to have lasting consequences on brain development and behavior.
According to the researchers, NAS requires prolonged hospital stays, monitoring, and, in severe cases, additional treatment with opioids. Understanding how opioids affect the developing brain would be one of the important steps in early identification and management of NAS and in improving neurodevelopmental and behavioral outcomes in these children.
"Little is known about brain changes and their relationship to long-term neurological outcomes in infants who are exposed to opioids in utero," said Rupa Radhakrishnan, MD, an assistant professor of radiology and imaging sciences at Indiana University School of Medicine in Indianapolis. "Many studies have looked at the impact of long-term opioid use on the adult and adolescent brain, but it is not clear whether social and environmental factors may have influenced those outcomes. By studying infants' brain activity soon after birth, we are in a better position to understand the effect of opioids on the developing brain and explain how this exposure could influence long-term outcomes in the context of other social and environmental factors."
A team of obstetricians, neonatologists, psychologists, and imaging scientists collaborated to study the brains of 16 infants using resting-state functional MRI (fMRI), which enables researchers to measure brain activity by detecting changes in blood flow. With resting-state fMRI, the connectivity between neural regions—known as resting state networks—can be observed while the brain is at rest. The research team, led by Radhakrishnan, investigated the functional connectivity of the amygdala, a region responsible for the perception and regulation of emotions such as anger, fear, sadness, and aggression.
The study group included 16 full-term infants, including eight exposed to opioids prenatally and eight who were not exposed to prenatal opioids, or opioid naive. Imaging, including fMRI and anatomical MRI, was performed while the infants were naturally asleep. To determine the participation of the amygdala in the resting state networks, the team created brain maps and applied regions of interest for the left and right amygdala.
"Our early results show significant differences in the way the amygdala connects to different brain regions between the infants exposed to opioids and the opioid-naive infants," Radhakrishnan said. "We still need to study what the clinical implication of this finding may be."
According to Radhakrishnan, larger and long-term outcome studies are underway to better understand the functional brain changes in prenatal opioid exposure and their associated long-term developmental outcomes.
"Although our early results showed differences between the two groups in a small study sample, it is very important that we further investigate and validate these findings in larger studies," she said. "In order to identify the best methods for managing NAS and improving long-term outcomes in these infants, it is critical to understand changes in brain function that may result from exposure to opioids prenatally."
MRI-Guided Ultrasound Treatment Destroys Prostate Cancer
A novel MRI-guided procedure that uses therapeutic ultrasound effectively treats prostate cancer with minimal side effects, according to a study presented at RSNA 2019. According to researchers, the incision-free technique could also be used to treat benign enlargement of the prostate gland. Prostate cancer is the second-leading cause of cancer death in men, after lung cancer.
In recent years, a minimally invasive method, MRI-guided transurethral ultrasound ablation (TULSA), has emerged as a promising treatment option. TULSA works by delivering precise doses of sound waves to diseased prostate tissue while sparing the healthy nerve tissue surrounding the prostate.
TULSA relies on a rod-shaped device that is inserted into the urethra. The novel device has 10 ultrasound-generating elements that can cover the entire prostate gland. One or more of the elements are used to send out sound waves that heat and destroy the target prostate tissue. The elements are controlled automatically by a software algorithm that can adjust the shape, direction, and strength of the therapeutic ultrasound beam. The entire procedure takes place in an MRI scanner so that doctors can closely monitor treatment and assess the degree and location of heating.
"Unlike with other ultrasound systems on the market, you can monitor the ultrasound ablation process in real time and get immediate MRI feedback of the thermal dose and efficacy," said study coauthor Steven S. Raman, MD, a professor of radiology and urology and director of prostate MR imaging and interventions and prostate MR imaging research at UCLA. "It's an outpatient procedure with minimal recovery time."
In the new multicenter study, researchers reported on the 12-month outcomes from the TULSA-PRO ablation clinical trial (TACT). The trial enrolled 115 men, median age 65, with localized low- or intermediate-risk, gland-confined prostate cancer. Clinicians delivered TULSA treatment to the entire gland. Treatment time averaged 51 minutes.
Prostate volume in the study group decreased on average from 39 cubic centimeters pretreatment to 3.8 cubic centimeters a year after treatment. Overall, clinically significant cancer was eliminated in 80% of the study participants. Seventy-two out of 111 men, or 65%, had no evidence of any cancer at biopsy after one year. Blood levels of prostate-specific antigen, a marker of prostate cancer, fell by a median of 95%. There were low rates of severe toxicity and no bowel complications.
"We saw very good results in the patients, with a dramatic reduction of over 90% in prostate volume and low rates of impotence with almost no incontinence," Raman said.
Approved for clinical use in Europe, TULSA has recently received FDA 510(k) clearance for prostate tissue ablation in the United States. Assuming follow-up studies support the preliminary results, the technique could develop into an important tool for treating both prostate cancer and benign prostatic hyperplasia—enlargement of the prostate.
"There are two very unique things about this system," Raman said. "First, you can control with much more finesse where you're going to treat, preserving continence and sexual function. Second, you can do this for both diffuse and localized prostate cancer and benign diseases, including benign hyperplasia."
According to Raman, TULSA also has the benefit of allowing further treatment, if needed. If it fails, the procedure can be repeated and more aggressive invasive approaches such as surgery and radiation therapy can still be used. Alternatively, TULSA may enable noninvasive treatment for localized radiation failure.
In addition, the study supports the use of MRI for posttreatment monitoring of patients who undergo TULSA. MRI at one year after treatment had a negative predictive value of 93% to 96% for detecting residual cancer, meaning it was very accurate for ruling out disease recurrence in patients.
Annual Mammography Associated With Less Need for Aggressive Treatment
Cancers found in patients undergoing annual mammography screening are smaller and less advanced than those found in patients undergoing screenings every two years, according to a study presented at RSNA 2019. Breast cancer is the most common nonskin cancer among women in the United States, according to the Centers for Disease Control and Prevention. It is the most common cause of death from cancer among Hispanic women and the second most common cause of death from cancer among white and black women.
Mammography's value is widely accepted among professional societies and government agencies, but there is disagreement regarding how often women should get a screening mammogram. For example, the National Comprehensive Cancer Network recommends annual screening beginning at age 40 for women at average risk for breast cancer, while the US Preventive Services Task Force recommends screening every two years beginning at age 50 for most women.
According to study coauthor Sarah Moorman, MD, from the department of radiology at Michigan Medicine in Ann Arbor, Michigan, "These differing recommendations lead to confusion for both referring physicians and patients."
Moorman and colleagues recently compared breast cancer tumor characteristics and treatment regimens among women undergoing annual mammography vs those getting biennial screening. The study group included 232 women, ages 40 to 84, who were diagnosed with breast cancer. The two groups had no significant differences in baseline characteristics such as age, menopausal status, hormone replacement use, family history, or race.
Of the 232 women, 200, or 86%, underwent annual screening, defined as once every nine to 15 months, while the remaining 32 had biennial screening, once every 21 to 27 months. Mean age at cancer diagnosis was 62. Almost three-quarters of the cancers were invasive.
Almost one-half of women in the biennial screening group (14/32; 43.8%) had late-stage cancers, compared with only one-fourth of women in the annual screening group (48/200; 24%). Interval cancers, or cancers found between screenings, were more prevalent in the biennial screening group. More than one-third of those women had interval cancers, compared with only 10.5% of women who had annual screening. Biennial screening was associated with larger tumor size.
"Screening mammography performed once a year resulted in less advanced-stage disease in patients diagnosed with breast cancer," Moorman said.
The study also found that women who had biennial screening tended to have comparatively aggressive treatment, such as chemotherapy and dissection of the axillary lymph nodes, where cancer from the breast often spreads.
"There were trends toward less frequent axillary lymph node dissection and less frequent use of chemotherapy with annual screening compared with biennial screening," Moorman said.
Moorman hopes the findings of the study will help allow informed decision making regarding screening frequency.
AI Helps Detect Heart Disease on Lung Cancer Screens
AI provides an automated and accurate tool to measure a common marker of heart disease in patients receiving chest CT scans for lung cancer screening, according to a study presented at RSNA 2019. Low-dose chest CT is approved for lung cancer screening in high-risk people, such as longtime smokers. While these CT scans are intended to diagnose lung cancer, coronary artery calcium, a measure of plaque in the arteries, is also visible on CT. The coronary artery calcium score derived from CT is a well-established measure that helps doctors decide who should receive statins.
"The new cholesterol guidelines encourage using the calcium score to help physicians and patients decide whether to take a statin," said study cosenior author Michael T. Lu, MD, MPH, director of AI in the Cardiovascular Imaging Research Center (CIRC) at Massachusetts General Hospital (MGH) in Boston. "For select patients at intermediate risk of heart disease, if the calcium score is 0, statin can be deferred. If the calcium score is high, then those patients should be on a statin."
Despite its prognostic value, coronary artery calcium is not routinely measured in low-dose CT lung screening, as the measurements require dedicated software and add time to the interpretation.
"If our tool detects a lot of coronary artery calcium in a patient, then maybe we can send that patient to a specialist for follow-up," said lead author Roman Zeleznik, MSc, BSc, from the Artificial Intelligence in Medicine (AIM) program at Boston's Brigham and Women's Hospital (BWH) and Dana-Farber Cancer Institute. "This would make it easier for patients to get appropriate treatment."
The research team, which represents a close collaboration between MGH's CIRC and BWH's AIM, recently developed and tested a technique that uses deep learning to automatically measure coronary artery calcium on chest CT images. They trained the deep learning system on cardiac CTs and chest CTs in which the coronary artery calcium had been measured manually. They then tested the system on CT scans from thousands of heavy smokers, aged 55 to 74, who were part of the National Lung Screening Trial, a major study that established CT's value in providing early detection of lung cancer.
The results showed that the deep learning–derived coronary artery calcium scores corresponded closely with those of human readers. In addition, there was a significant association between deep learning calcium scores and cardiovascular death over follow-up of 6.5 years.
"There's information about cardiovascular health on these CT scans," Lu said. "This is an automated way to extract that information, which can help patients and physicians make decisions about preventive therapy."
For example, automated coronary calcium quantification could be used to segregate people into high- and low-risk groups.
The deep learning system runs in the background and adds no time to the exam. The system's ability to automate coronary calcium assessment could be a boon to research, as it can evaluate large numbers of patients in much less time than it would take human readers. It could also have value outside of the lung screening population. The research team has already demonstrated its effectiveness in people with stable and acute chest pain.
"We have a tool that, in the future, can be used on almost every chest scan to generate very clinically relevant information for a large number of patients," said study cosenior author Hugo Aerts, PhD, director of AIM.
The research team has already demonstrated similar results in clinical trial populations in patients with stable (PROMISE Trial) and acute (ROMICAT Trial) chest pain.