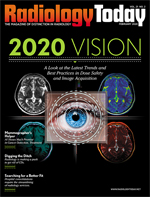 Editor's Note: New Visions
By Dave Yeager
Radiology Today
Vol. 21 No. 2 P. 4
Albeit in fits and starts, the health care industry is in the process of reinventing itself, and radiology provides an interesting microcosm of the changes that are taking place. From the use of AI to an emphasis on consumers to facilities management, people are re-envisioning how health care and radiology services should be delivered. This month's issue considers some of the new visions that are taking hold.
Our cover feature by Keith Loria looks at the latest trends in dose safety and advanced visualization. Better image acquisition has enabled scans to be performed in less time, improving scan protocols and reducing patients' dose exposure to both radiation and gadolinium. As AI tools have become part of the picture, they are increasing workflow efficiency, which benefits radiologists and patients.
There has also been some exciting research on the use of AI with breast imaging, and Beth W. Orenstein reports on some of the most recent progress. AI's potential to reduce the variability of interpretations and increase breast screening access to underserved parts of the world has people talking. Perhaps the biggest development, however, is the possibility of using AI to predict breast cancer risk far in advance of current clinical signs.
Another Orenstein article chronicles the effort to eliminate CDs as a means of image exchange. Although the technology once offered a significant upgrade for image sharing, it has become maddeningly outdated. Recent efforts to streamline image sharing have only shined a brighter light on the inherent limitations of CDs, which are still the predominant means of providing patients with their images. Many in the industry, including the ACR, have decided that enough is enough and it's time to #DitchTheDisk. For more details, check out the article on page 18.
From streamlining image sharing to streamlining workflow, radiology is always looking for more efficient methods. Chuck Green has some insights from AHRA president Chris Tomlinson, the enterprise vice president of radiology/imaging, clinical lab and pathology, and emergency and hospital at Jefferson Health in Philadelphia. Jefferson Health has aggressively grown over the past decade, and Tomlinson has had a front row seat to the changes and challenges that accompany consolidation. His advice on integrating imaging service lines is especially timely in this era of frequent hospital mergers and acquisitions.
Enjoy the issue.