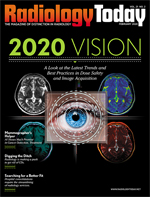 Imaging Informatics: Filling the Gaps in Imaging Workflow
By Michael Esposito, MD
Radiology Today
Vol. 21 No. 2 P. 8
Operational inefficiencies have always plagued the health care industry, and the radiology profession is no exception. Whether cases were read from analog films or PACS, report turnaround time has always been a challenge.
In days past, cases in film jackets were stacked in a pile and radiologists would read cases from these large stacks. The 1990s version of load balancing—or equitable distribution—was to ensure your stack was as large as the next person's stack. If you were able to master this, then, at the end of the month, it was likely your production would be similar to that of your peers. However, the differences in the number of cases read between high-level producers and low-level providers grew with each passing day. This manual system lacked oversight and policing, which inevitably led to an unequal workload distribution. The monthly or quarterly board meetings at radiology group practices became more contentious when billing statistics were reviewed. Arguments over compensation lingered and animosity grew, threatening to break apart longstanding groups.
When PACS replaced medical film systems for diagnostic interpretation, gone were the days of misplaced films, broken rolloscopes, and darkrooms. PACS solved many of the problems that plagued radiology for years. Almost immediately, study volumes increased as imaging modalities became more advanced and offered deeper clinical insights. The adoption of PACS brought about a revolution in efficiency with many radiology groups doubling production per radiologist.
Higher production became necessary to maintain fee-for-service incomes as health care reform impacted the specialty, increasing quality benchmarks and lowering reimbursements. More time and effort were required than ever before to keep up with demand. The hamster wheel spun, and imaging professionals all read faster and faster. Or did they? It seemed some read faster, while others put up their feet and went along for the ride.
Other problems arose from the PACS panacea. Complex or long cases seemed to linger on worklists for days, while routine studies were signed off in hours. Some radiologists fortuitously forgot how to read some types of exams or even entire modalities, forcing their colleagues to take on the responsibility. A counterrevolution began, with calls to bring back the stacks. Factions formed to denigrate less productive members of the team. In the early 2000s, the PACS vendors were asked to develop software that would help radiologists manage their workflow. Their cries for help went unanswered.
Another Way
There had to be an effective way to allow radiologists to manage their daily workflow and return fairness and cooperation to a flawed workflow process. The envisioned solution would provide workflow orchestration and equitable case distribution inside the PACS ecosystem. It would be vendor neutral and eliminate "cherry picking," while preserving the benefits of PACS. To build this solution, a clinical and technical team was assembled; they created a prototype, filed a workflow patent, and began marketing their solution to PACS vendors under the name PACS Harmony.
The road was full of potholes in the early years between 2005 and 2010. Nearly all PACS company leaders avoided talking about workflow orchestration or offering such a product. They described the idea as "a lead balloon" that "wasted time and money." But they were not radiologists, and they didn't feel the pain.
As the decade ended, the need for equitable distribution increased, and awareness was becoming contagious. PACS had saturated the market, and the first replacement cycles began. Vendors needed to add features to grow their business, and they finally heard the cry: Radiologists wanted workflow management. Large radiology groups, merged or acquired with other groups or by larger health systems, needed customized distribution and systems integration. Once opposed to the idea, PACS vendors now reached out to PACS Harmony.
The early adopters were teleradiology service providers, who need to sort, manage, and distribute cases with many custom constraints, including workflow preferences aligned with state licensure and subspecialty credentials. The team continued to expand their offering to include a new teleimaging module. As value-based care initiatives take root, the need for teleradiology services will increase, and the demand for intelligent case routing will continue to grow.
Today, further demand for intelligent workflow orchestration is also being driven by rising industry awareness about the concept of enterprisewide image management. Diagnostic imaging services are at the core of this expanded approach to optimizing diagnostic, clinical, and referral imaging services across specialties. While robust enterprise imaging strategies take into consideration the proliferation of digital image capture at points of care, such as portable ultrasound scans in the emergency department, wound care photos, and ophthalmology images, key challenges still exist in the familiar radiology and cardiology landscapes.
Health systems have accumulated multiple PACS installations from several vendors across their networks of hospitals and imaging centers. Equitably routing cases among imaging professionals colocated across the health enterprise helps balance workloads, optimize efficiency, and ensure that challenging cases are assigned to the most qualified radiologists. Enterprisewide workflow harmonization results in faster case turnaround and quicker treatment, ultimately improving patient care and physician satisfaction. Vendor-neutral solutions offer cost-effective workflow standardization without embarking on an expensive PACS replacement project.
Looking ahead, AI and machine learning will undoubtedly play significant roles in diagnostic imaging as the health care community continues to pursue more effective, personalized patient care. Radiology groups, teleradiology service providers, and enterprise imaging strategies will face unprecedented challenges in integrating valuable AI applications into their routine workflows. Imaging workflow orchestration solutions will need to continue to evolve to take full advantage of the next era of intelligent patient care delivery.
— Michael Esposito, MD, is a practicing radiologist; two-time former group president of RIS Imaging, Inc; former medical director of South Florida Baptist Hospital, Baycare; and a successful entrepreneur. He founded PACS Harmony, LLC, in 2009. More information is available at www.PACSHarmony.com.