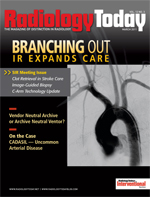 March 2011
A Busy Time for SIR and IR
By Jim Knaub
Radiology Today
Vol. 12 No. 3 P. 4
In a recent interview, Society of Interventional Radiology (SIR) President Timothy Murphy, MD, told me that the society's efforts fall into the following four categories:
• maintaining, adapting, and developing IR procedures;
• validating both existing and new IR procedures;
• getting those services reimbursed in the U.S. healthcare system; and
• working to ensure that IR practitioners can continue to provide those services into the indefinite future.
"Pretty much everything that the society does is directed into one of those four categories," Murphy said.
That's a pretty full plate, but it's useful information to know before heading to Chicago for SIR's annual meeting this month to see the latest IR developments coming down the wire. I'm looking forward to seeing new research on image-guided treatments in oncology, stroke care, peripheral vascular disease, deep vein thrombosis, and various embolotherapy treatments.
In our SIR issue, we have coverage on blood clot removal using Concentric's investigational Trevo system, Veran Technologies IG4 guidance system for biopsies and other interventional procedures, as well as our C-arm technology update. Our interview with Murphy will be part of our digital supplement, "What's on IR's Plate in 2011," which will be published this month and will be available as part of our digital edition.
Outside the world of IR, this issue has an interesting feature on vendor-neutral archives—or should that be archive-neutral vendors? 
So if you're in Chicago at SIR this month, stop by Booth 406 and tell us what you thought was most interesting about this year's meeting.
Enjoy the issue.
jknaub@gvpub.com