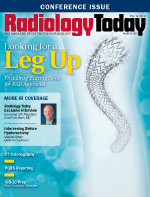 March 2013
Keeping Up With Interventional Radiology
By Jim Knaub
Radiology Today
Vol. 14 No. 3 P. 3
In an interview for this issue's article about balloon angioplasty procedures to manage hemorrhaging after childbirth, interventional radiologist Constantino Pena, MD, discussed his work with obstetricians in cases where women are at high risk of hemorrhage after delivery. The article (on page 22) details research on image-guided procedures to manage hemorrhage associated with placenta accrete, and how interventional radiologists and obstetricians work together to plan for these high-risk deliveries, perhaps reducing the number of hysterectomies performed in cases where the placenta doesn't detach from the uterine lining as usual. Pena sees his consultations and participation in these potentially complicated deliveries as "another way radiologists are important to patient care."
Also in this issue, Beth W. Orenstein reports on data presented in January at the International Symposium for Endovascular Therapy (ISET) about the recently approved drug-eluting Zilver stent for treating peripheral artery disease (PAD). Data from the stenting procedure suggests it may be a longer-lasting treatment option for lesions in the superficial femoral artery, particularly longer lesions. Gary Ansel, MD, director of the Center for Critical Limb Care at Riverside Methodist Hospital in Columbus, Ohio, told the ISET audience that he believes the stent likely will become the standard of care in serious PAD cases.
Another article in this issue features an interview with incoming Society of Interventional Radiology (SIR) President Scott C. Goodwin, MD, FSIR. He discusses the opportunities and challenges facing interventional radiology, including the implications of the new dual primary certificate in interventional and diagnostic radiology from the American Board of Medical Specialties.
There's plenty going on in the interventional radiology world, capped by next month's SIR meeting in New Orleans—five days of endovascular therapy by day, and zydeco music and grilled gator by night. I hope to see many of you there. Stop by booth 1014 to chat about what you see as important and interesting at SIR 2013. Laissez les bon temps rouler!
Outside the interventional radiology world, this issue includes Robert J. Murphy's update on CT colonography. Virtual colonoscopy has not dramatically changed the colon cancer screening landscape, but its advocates are still looking at improving the exam and exam prep issues that may help achieve greater acceptance as a noninvasive screening for colon cancer and maybe greatly increase screening rates.
Enjoy the issue.
jknaub@gvpub.com