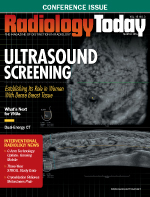 March 2014
Reporter's Notebook: IR News From ISET
Radiology Today
Vol. 15 No. 3 P. 22
Editor's Note: This article was compiled from press material distributed at the International Symposium on Endovascular Therapy (ISET) in Miami in January and other reporting by Radiology Today.
Coated Stent Keeps Working at Three Years in PAD Patients
Nearly three-quarters of peripheral artery disease (PAD) patients who were treated with peripheral angioplasty and stents still had patent arteries three years after treatment, according to the most recent results of the STROLL trial presented at ISET.
The study is a multicenter, nonrandomized, single-arm prospective trial studying the safety and efficacy of a nitinol self-expanding stent called the SMART Stent, manufactured by Cordis Corporation. The postmarket trial of the FDA-approved stent followed patients from 39 centers.
In the study, self-expanding stents were placed in blockages in the superficial femoral artery of 250 patients. Blockages averaged 7.7 cm in length, and 23.6% were completely closed.
Three years after treatment, 72.7% of arteries remained opened in 209 patients. While 3.6% of stents had fractured, all were the least severe form, meaning they caused no problems and continued to keep the arteries open. Blood pressure in the legs remained significantly improved, with almost no change over three years. Further, patients maintained their improved health-related quality of life as measured by several factors, including symptoms and walking distance and speed.
Walking More
"It's impressive that the stent continued to perform so well even three years after treatment," said Michael R. Jaff, DO, a professor of medicine at Harvard Medical School and the lead study author. "Patients still felt much better and walked farther and faster than they did before treatment."
Radiology Today spoke with Society of Interventional Radiology President Scott C. Goodwin, MD, about the study results. He commended the postmarket trial as validation of the research that led to the stent's approval and noted that the results exceed the 50% to 60% patency rates of PAD patients who receive bare-metal stents in studies.
"It [STROLL] is not a comparative trial, and you have to be a little careful about the conclusions you draw, but compared to historical data for bare-metal stents, it is a favorable number," Goodwin says. He also notes that the rate is similar to Cook Medical's Zilver stent, which also has reported patency rates around 75% at time intervals after treatment.
Goodwin compared that with open-surgery approaches to PAD, which have historical patency rates in the 50% to 75% range at five years. He says, presuming that data continue to validate the treatment, the ability to equal or exceed results obtained using open surgery with a minimally invasive endovascular technique would benefit patients and possibly save aggregate health costs.
Patients with PAD often suffer from blockages in the superficial femoral artery, which can cause intermittent claudication pain while walking or during physical activity. Untreated, about one-third of patients with intermittent claudication will develop critical limb ischemia that can lead to constant leg pain and amputation of the feet and legs, according to information from ISET. ■
Cryo Reduced Bone Metastases Pain in Medical Center Study
Cryoablation quickly freezes bone metastases, killing tumors and providing pain relief to patients, according to research presented at the sixth annual Symposium on Clinical Interventional Oncology, which was held in collaboration with ISET.
"Pain can take over the lives of cancer patients, and relief of that pain through this simple one-day outpatient procedure can significantly improve time with loved ones," said J. David Prologo, MD, lead study author. "It's very rewarding to see how cryoablation can positively and dramatically impact lives."
Standard treatments for pain relief in bone metastases patients include narcotic medications and radiation therapy, which often interfere with daily quality of life and may interrupt chemotherapy treatments. Given that these metastases treatments are palliative rather than curative in the majority of patients, improving a patient's day-to-day quality of life near the end of life is a significant benefit. While it wasn't studied in this research, there's evidence suggesting that some palliative care also can extend patients lives.
In the study, performed at University Hospitals Case Medical Center in Cleveland, 51 patients with breast, kidney, skin, lung, prostate, colon, and other cancers received cryoablation therapy to treat 54 metastatic tumors that had spread to the pelvic bones, skull, foot, chest wall, shinbone, thighbone, chest wall, and other areas. Of the 51 patients, 49 (96%) reported statistically significant decreases in pain, scoring an average of 8 out of 10 on a pain scale before treatment (with one representing the least pain and 10 being the most pain) to an average of 3 out of 10 after treatment.
After three months, 48 patients continued to benefit from pain relief, maintaining the average of 3 out of 10 on the pain scale. On average, patients decreased the amount of narcotics they took for pain by two-thirds after treatment. Six patients suffered from therapy-related complications, including fractures of treated bones and temporary cryoablation-induced damage to nearby tissues.
"There is a huge unmet need for pain relief in cancer patients that improves rather than interferes with their quality of life," said Prologo, an interventional radiologist at the Centers for Dialysis Care in Cleveland. "Cryoablation is quick, simple, safe, and effective and patients don't have to miss out on chemotherapy treatments." ■
Dissolving Scaffold Device Shows Promise in PAD Study
A bioresorbable drug-eluting scaffold appears to be effective in opening blocked blood vessels in the legs and pelvis, according to six-month results of a clinical trial presented at ISET.
The bioresorbable vascular scaffold (BVS) manufactured by Abbott Vascular looks and works like a stent to open blocked arteries in the legs or pelvis, while the drug coating prevents restenosis. The investigational BVS is called a scaffold rather than a stent because it's a temporary structure that naturally dissolves into the bloodstream within 18 months to two years instead of being a permanent implant.
"The six-month results are very promising; we're seeing zero restenosis in the first patients to receive the BVS in the peripheral arteries, the vast majority of whom suffered moderate to severe pain while walking prior to treatment and had very little to no pain after treatment," said Johannes Lammer, MD, a professor of radiology and the director of the division of cardiovascular and interventional radiology at the Medical University of Vienna in Austria. "The BVS combines the best of proven treatments while avoiding some of the problems. It opens arteries and prevents restenosis then resorbs into the bloodstream so there are no stent breaks, no prolonged irritation or delayed in-stent restenosis, and no interference with magnetic resonance imaging or surgery."
In the study of the Esprit BVS, 35 patients were treated for blockages averaging about 3.5 cm in length. Four patients had blockages in the pelvic iliac arteries and 31 in the superficial femoral artery.
Six months after treatment, all of the arteries in the 34 patients who were followed remained open, with the narrowing reduced from an average of 80% prior to treatment to 13% after treatment. Prior to treatment, 32 patients (91%) had moderate to severe pain while walking, and no patients were pain free. Six months after treatment, 29 patients (85%) had no pain while walking, and only one (3%) had moderate pain.
The BVS is made of polylactide, which naturally resorbs in the bloodstream and has been shown to be safe in other medical uses, such as for dissolving stitches. A version of the device has proven beneficial in treating blocked heart arteries. ■
Prostate Artery Embolization Update
São Paulo interventional radiologists have treated more than 100 patients.
Prostate artery embolization (PAE) helped men with enlarged prostates experience relief from annoying symptoms, such as frequent nighttime urination, with a minimally invasive treatment that shrinks the gland, suggests research on more than 100 patients presented at ISET.
Benign prostate hyperplasia affects most men as they age, including more than 50% by age 60 and 90% by age 85. It can cause a variety of problems, including frequent urination, weak urine stream, and a constant feeling of having to urinate. The condition typically is treated with surgery or thermal ablation, which can cause side effects such as retrograde ejaculation (into the bladder) or urinary incontinence.
PAE is performed by making a small incision in an artery in the groin, feeding a catheter to both prostate arteries, and injecting fluid filled with microscopic embolic particles, which block the blood vessels. It can be done using local anesthesia.
PAE is an experimental treatment in the United States. A study is under way to compare results of PAE with the standard surgical treatment, called transurethral resection of the prostate, which requires general or spinal anesthesia.
"We have treated more than 100 patients with PAE and are encouraged by the excellent reduction in symptoms and improvement in quality of life for men who have had the procedure, including some with very large prostates who normally would require open surgery," said Francisco C. Carnevale, MD, an associate professor of medicine at the University of São Paulo in Brazil. "None of our patients have experienced adverse side effects, and we have followed a number of them for several years—longer than other studies."
University of São Paulo physicians have treated 120 patients, and 97% have reported improvement in symptoms and quality of life. Follow-up with patients ranges from three months to more than five years, with an average of 15 months. Symptoms recurred in 14% of patients, leading to reembolization, surgery, or medication therapy. ■