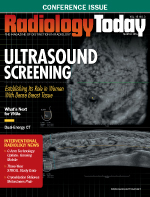 March 2014
Hybrid VNA — Dell Partnership With lifeIMAGE Balances Cloud and Local Storage
By David Yeager
Radiology Today
Vol. 15 No. 3 P. 6
The rise of vendor-neutral archives (VNAs) was an evolutionary step in medical imaging. Now the archives themselves are evolving.
A little over one year ago, Dell partnered with lifeIMAGE to provide image- and information-sharing capabilities with Dell's unified clinical archive (UCA). Current customers range from independent radiology practices to large health care systems. To date, they've signed Aspen Valley Hospital in Colorado; the University of Michigan Health System in Ann Arbor; Memorial Hospital in Gulfport, Mississippi; Turville Bay MRI & Radiation Oncology Center in Madison, Wisconsin; and the University of Tennessee Medical Center in Knoxville.
In many cases, it makes sense to decouple the archive from PACS, but the need for fast access to data has given some facilities pause when considering whether to adopt a VNA. A common question has been whether VNAs can deliver images at clinical speeds. The UCA uses a hybrid structure that keeps an up-to-date mirrored copy of the facility's data in the cloud, at multiple data centers, while leaving three months to two years' worth of data in local storage. The hybrid model can provide a certain level of comfort that necessary data will be available even if the Internet connection is interrupted. In the case of a natural disaster, Dell provides a viewer and access to data within 24 hours.
The UCA can take data from a variety of clinical sources and virtualize them to a standard format, such as DICOM or JPEG, making them readable across the enterprise. The UCA currently holds almost 7 billion images in the cloud. Dell maintains the data in a managed storage service that is HIPAA compliant and protected by Dell SecureWorks software. Customers are charged on a one-time, per-study basis, providing cost certainty for storage and archiving, and allowing facilities to shift the cost of storage from a capital expense to an operating expense.
"Most CFOs, if you ask them, would much rather use their capital for things that are going to generate new revenue, such as a buying a new MRI machine or upgrading their surgical suites, rather than buying IT that currently doesn't generate revenue but is a requirement to provide existing services," says Andrew Litt, MD, a radiologist and the chief medical officer of Dell's Healthcare and Life Sciences division. "Tying the expense of image storage directly to operating expenses and connecting it very tightly with revenue tends to work a lot better for them. It's much easier for a hospital to not have to worry about managing their own data center to accommodate the growing image storage needs."
Dan Trott, director of worldwide sales and business development for the UCA group in Dell's Healthcare and Life Sciences division, says Dell's partnership with lifeIMAGE may eliminate CDs from the care continuum. The UCA provides a temporary repository for patient images, which can then be accessed through lifeIMAGE's software, making it easy for facilities to upload images and referrers to view them. Trott says this process especially is useful for trauma cases.
"A lot of tertiary care hospitals have patients coming in to their emergency rooms with CDs literally taped to their chest. The original imaging was done in a small center, and now they're sending the patient for more critical care. Typically, sending the CD with the patient has been the easiest, most surefire way to make sure the images are available," Trott says. "With our lifeIMAGE tools, the receiving hospital can directly pull up the images with a toolset that transfers easily into the PACS."
Patient Control
The lifeIMAGE tools also allow patients to have more control over their personal data. Although personal health records have seen slow growth over the past few years, Litt says better tools are needed to put health care data in consumers' hands. Ultimately, he believes consumers are the key to bringing down health care costs. "We need to get individuals to take more responsibility for their health. Every country, no matter what type of health care system they have—good, bad, or indifferent—is facing the problem of increasing costs," he says. "Getting people to take responsibility for their care and for the ongoing maintenance of their health, whether that's through diet or exercise or some other type of intervention, is absolutely critical if we want to reduce costs."
In the near term, Trott says the ability to share images and other important information, such as reports and patient histories, across multiple applications and multiple providers will be increasingly important as health care entities transition to accountable care organizations. It also will be necessary to the development of health information exchanges (HIEs). Dell helped build Maine's HealthInfoNet HIE and is supporting the Central Alabama HIE.
Another important consideration is the ability for health care organizations to mine their data. Trott says all of the metadata from DICOM studies are available directly from the UCA. Currently, the UCA uses an edge device that connects PACS servers to other types of applications, allowing clients to store non-DICOM data and add metadata to non-DICOM studies, such as ophthalmology JPEGs, and perform enterprise content management within the archive. Trott says additional analytics development will be a significant focus in the coming year. "That's another important type of process that makes it possible for the UCA to be a real clinical archive, not just a DICOM archive, but a clinical archive of all of the different health care data that has to be retained, and provide real value to health care providers from the data they put in the archive," he says.
— David Yeager is a freelance writer and editor based in Royersford, Pennsylvania. He writes primarily about imaging IT for Radiology Today.