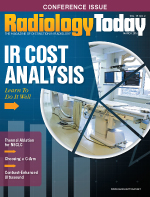 March 2016
JIM KNAUB: 1961–2016
Radiology Today
Vol. 17 No. 3 P. 3
On March 3, 2016, as this edition of Radiology Today was being finalized for print, the Great Valley Publishing family bid a wholly unexpected and reluctant farewell to our friend, editor, and mentor, Jim Knaub.
We have, all of us, seen a few magazines published, brilliant articles written, and accolades collected on this long literary journey. We are unanimous in our opinion that there was no one better to be beside on this endless and sometimes bumpy highway than Jim.
To all the readers of Radiology Today, with whom Jim walked hand in hand throughout their medical perils and triumphs, exchanging knowledge and insight into that which befalls the human body and spirit, we hope that this tragedy instills in us a resonance that will better help us understand and identify with the daily workings of our readership—professionals and patients.
May the MRI scans of tomorrow be able to approach, with any degree of scientific accuracy, one percent of the insight into the ways of the human condition so readily bestowed upon us by the colleague we have recently and reluctantly lost.
Goodnight Jim, and thank you.
— The staff of Radiology Today
IN MEMORIAM
From The Great Valley Publishing Company family:
President Kathy Czermanski: Jim was the face of Radiology Today for the last 13 years. He was a tremendous ambassador of the magazine. He will be sorely missed by his family, friends, and colleagues.
Vice President and Publisher Mara Honicker: For 13 years, at the end of (almost) every day I would hear Jim's steps coming toward my office and a "hey chief" as he got to the entrance. I knew it was time for our evening wrap up. That time consisted of reviewing the day in editorial, an action plan for the days ahead, and a few moments to talk about life and mainly our children, who are similar in age. He was so incredibly proud of their accomplishments, and I enjoyed seeing them turn into amazing young adults, though Jim's words. Those conversations always ended with some humor and a smile, and some more humor. He will truly be missed by all his family here at Great Valley Publishing Company.
Associate Sales Manager Peter Burke: Chicago Deep Dish Pizza will never be the same for me. Each and every year, Jim would gather the entire Radiology Today team for traditional "Deep Dish" to celebrate another RSNA completed. He made everyone feel welcome and part of the team. He was a good friend and I will miss him ever so much.
Lee DeOrio, editor of For The Record: Whenever he'd knock on my door—well, he actually said "knock, knock"—I knew I was in for some enlightening conversation, whether it be work-related or about the plight of the hometown sports teams. Most important to Jim, he loved to share stories about his children's impressive accomplishments. The gleam in his eye and the enthusiasm in his voice made it clear that family was the driving force in his life.
As readers could attest, Jim's vast knowledge of the radiology industry served as the backbone for the publication you're holding. He was the face and voice of Radiology Today, guiding the magazine to a prominent spot in an era when print is supposed to be passé. Similar to his life away from the office, Jim stressed fairness and a gung-ho approach to journalism. As editorial director, he helped guide our entire stable of publications, lending insight and suggestions to make them respected throughout their respective industries. Coming to work will never be the same.
Marianne Mallon, editor of Social Work Today: Jim was a character. His sense of humor was his calling card that opened doors and lifted many spirits.
Barbara Worthington, editor of Today's Geriatric Medicine: Every year our own "Jimmy the Greek" delighted in managing GVP's March Madness basketball pool. His skillful maintenance of the leader board kept us apprised of all the brackets from top to bottom. It was great fun to assess the field with him and make our (wild guess) predictions.
Judy Riddle, editor of Today's Dietitian: Jim was a great person to work with. He was always fair and informative whenever I needed advice concerning my work at Great Valley. We'd talk about our kids and who we knew in the journalism profession. He will be greatly missed.
Hadley Turner, editorial assistant: Jim had a sense of humor that really brightened our workplace. I feel lucky to have worked with him even for the short while that I did.
Heather Hogstrom, editorial assistant: Jim was the Editorial Yoda, though as he said, "If we're being Star Wars characters, I want to be Qui-Gon Jim." I will miss his sage leadership and entertaining wit.
Tony Fioriglio, editorial assistant: I worked closely with Jim as the editorial assistant for Radiology Today for almost two years. In that time, he taught me a lot about both radiology, which I admittedly knew very little about when he initially hired me, and life as a journalist and professional, which I thought I knew more about (although like most people in their early-mid 20s, I quickly learned that I didn't actually know much about anything).
After serving as Jim's running buddy at two RSNAs, a SIIM conference, and a host of informal meetings in his office, I can confidently say (and not misguidedly this time) that not only am I a better journalist for having known and worked with Jim but I'm also a much better person.
Sales Director Brian Ohl: Jim and I shared a common bond, both graduating from Bloomsburg University in the 1980s. Many nights he would pass by my office and we would discuss the many experiences shared while there. In addition, he talked so proudly of his kids and their paths at Temple and Penn State. Before departing on a given Friday, we would discuss the weekend plans, and many times it involved catching a Temple game or a road trip to State College. He will be missed dearly as a friend and coworker.
At the end of every editor's note, Jim would sign off with "Enjoy the issue." Under the circumstances, those sentiments don't seem quite right. Nevertheless, I'm sure he would scoff at the idea of omitting them.
Enjoy the issue.