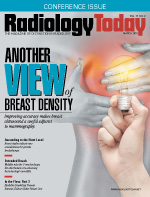 Another View of Breast Density
By Kathy Hardy
Radiology Today
Vol. 19 No. 3 P. 12
Improving accuracy makes breast ultrasound a useful adjunct to mammography.
Looking at new breast ultrasound tools, it's clear that some technologies are turning over traditional processes, while others are incorporating software with an eye for human assessments. Regardless of the technology, it appears that the future of breast ultrasound comes with a clear, consistent view of possible cancerous lesions, found as an adjunct to mammography during the screening process and as a diagnostic tool.
Developments in breast ultrasound have been spurred by the heightened awareness of dense breast tissue. More than 40% of women in the United States have dense breast tissue. If those women live in one of 31 states with mandatory dense breast notification, they're finding out about their condition and asking their doctors what they should do. Answering that question involves finding the best way to look through the white matter of dense breast tissue to find potentially hidden lesions.
"Tools that can provide a more accurate view of what's in the breast, better detection of lesions, and better diagnosis, while reducing the number of unnecessary breast biopsies and false positives and callbacks, are some of the drivers behind developments within breast ultrasound," says Alberto Goldszal, PhD, chief operating officer of University Radiology, the largest provider of subspecialty radiology and teleradiology services in New Jersey. "There are a few ultrasound modalities now dedicated to perform breast screening. The industry is dedicated to this modality, looking at it as being complementary to traditional X-ray-based mammography."
Facedown Breast Ultrasound
In one case, Delphinus Medical Technologies is turning breast ultrasound upside down, literally, with SoftVue, a 3D whole breast ultrasound that allows women to lie facedown on the exam table. SoftVue, approved for diagnostic screening, generates tomographic image volumes of the entire breast. While the patient lies prone on a padded table with one breast submerged in warm water, a ring-shaped transducer, 22 cm in diameter, encircles the breast and pulses low-frequency sound waves through the water and into the breast tissue. More than 2,000 elements in the transducer's 360-degree array emit and receive ultrasound signals to analyze echoes from the breast anatomy in all directions, from the chest wall to the nipple. SoftVue captures data from the reflection of the sound waves off of tissue boundaries and structures within the breast and also captures signals that are transmitted through the breast.
"SoftVue scans the entire breast in two to four minutes, with no breast compression and no radiation exposure to the patient," says Mark Forchette, president and CEO of Delphinus. "We're looking for options to improve specificity and reduce false positives. While mammography remains the gold standard in breast screening, there's still an opportunity to do a better job of screening and diagnosing breast cancer, particularly for women with dense breast tissue."
During the scanning process, three distinct imaging volumes, also called sequences, are created, showing reflection, speed of sound, and attenuation.
"With three imaging views, we're able to look at breast tissue in three different modes," says Linda Hovanessian Larsen, MD, director of women's imaging in the department of radiology at Keck School of Medicine at the University of Southern California. "This is extremely helpful in screening women with dense breasts and can help reduce the number of false positives and the anxiety that comes with them."
The repetitive, automatic nature of SoftVue also helps reduce false positives by bringing consistency to a breast ultrasound scan, Forchette says.
"It's easier to duplicate a study with automatic breast ultrasound vs handheld ultrasound," he says. "Handheld isn't as consistent."
SoftVue Clinical Study
Data are a big part of proving the benefits of new ultrasound technology. For that reason, Delphinus is spearheading the SoftVue Discover Breast Ultrasound Prospective Case Collection project, a 10,000-patient clinical study of asymptomatic women with heterogeneously or extremely dense breast tissue that is being conducted at eight sites across the country. Qualified participants will have both screening mammography and SoftVue exams. Imaging information gathered from the project will compare SoftVue with digital mammography and measure the effectiveness of SoftVue in detecting additional cancers that are not seen with mammography alone.
Larsen, a subinvestigator of the study, says the first patient was enrolled in the study in September 2017 at Keck School of Medicine.
"Mammography is the best tool for breast cancer screening," Larsen says. "But, for women with dense breasts, there's room for improvement. Ultrasound detects cancers not seen on mammography. We've been using handheld ultrasound for diagnostic imaging, but it's time consuming to use handheld ultrasound for the whole breast. There's also too much variability with handheld ultrasound. SoftVue addresses these concerns."
With SoftVue, Larsen says the images are read much the same way as MRI images. SoftVue produces 2-mm slices coronally through the breast, for each of the three sequences. Each sequence produces images from the nipple to the back wall of the breast.
"You're looking at the same views of the breast for each sequence," she says.
Another Unique Perspective
Hitachi Healthcare is also bringing a different perspective to breast ultrasound, with its SOFIA 3D breast ultrasound system. SOFIA involves facedown image capturing as well, scanning an entire breast in one 30-second radial sweep. Data for each breast are then sent to the radiology workstation as a single 3D volume. Matt Ernst, ultrasound radiology marketing manager for Hitachi Healthcare Americas, says the key to SOFIA's speed is its scanning cone, which is recessed into the scan bed and houses an extralong linear probe.
"Breast centers are seeing increased numbers of women with dense breasts seeking adjunct imaging to mammography," Ernst says. "Handheld ultrasound can take 30 to 45 minutes. SOFIA takes less time, so centers can image more women. SOFIA's capabilities help people see the potentially life-saving concept of adjunctive ultrasound for women with dense breasts."
In addition to a reduction in scan times, Ernst says that SOFIA also enables faster interpretation. SOFIA's workstation delivers images in planes just like those acquired with handheld ultrasound exams but with larger fields of view than conventional ultrasound images. Radiologists can see all the full-field slices better, he says, and come to a faster interpretation. SOFIA also presents the entire breast in a single volume study, and images can be reviewed in the same plane as they were acquired.
Radiologists are in agreement that ultrasound has been a good adjunct to mammography, and Michael Stadnyk, MD, of Scott Radiological Group in St. Louis, is no exception. He sees ultrasound as a safe way of looking at the anatomy within the breast, seeing beyond the white, dense tissue seen on a mammogram. He is a proponent of automated breast ultrasound, but not the time it takes to acquire images with that modality. That's where he sees the speed of SOFIA benefitting users and women with dense breasts.
"Automated breast ultrasound was the first mousetrap, and it was awesome," Stadnyk says. "But with 20-minute image acquisition times and 10-minute read times, it's really only feasible to use this technology with high-risk patients. Hitachi's SOFIA gives you the same image sets with less work and in less time than the initial iteration of automated breast ultrasound."
Ernst notes that adoption of SOFIA is in the early stages, but that the market for the product is changing. In many cases, imaging centers are committing budget funds to digital breast tomosynthesis (DBT). When DBT was introduced, many thought it would solve the issue of imaging women with dense breasts.
"However, studies are showing how, with extremely dense breast tissue, DBT has the same problem of distinguishing density from cancerous lesions," Ernst says. "Ultrasound is still finding more cancers."
Decision Support
As radiologists acquire more ultrasound images, they're looking for tools to process those data sets, Goldszal says. He has used computer-aided detection in the past but now looks at artificial intelligence (AI) and machine learning technology as new alternatives to assist in viewing images, detecting lesions, and making proper diagnoses. One such tool, Koios Medical's Decision Support (Koios DS), assists in classifying breast ultrasound images.
"You want to have tools that are as good as humans in analyzing breast ultrasound images," Goldszal says. "When you get to that point, you can leverage on the human knowledge embedded in the AI tool."
Koios adapted the technology used in face recognition software to create its decision support offering, says Chad McClennan, Koios president and CEO. Koios DS, built on multiple machine learning algorithms, is a cloud-based solution trained on a database of tens of thousands of medical images and pathology data. Hardware agnostic, Koios is compatible with any diagnostic imaging device or PACS and is DICOM compliant. The suite of algorithms generate thousands of features from a single lesion to provide both lesion characteristics and a clinical assessment.
McClennan has seen a renaissance in the use of ultrasound, with increased reliability and value as an adjunct to mammography in breast imaging. It's attractive because it does not rely on radiation for imaging and is a low-cost alternative to other modalities, such as MRI. In addition, it has withstood the surge of DBT use.
"There was a thought that digital breast tomosynthesis might be the thing that kills ultrasound," says Leo Barinov, vice president of clinical excellence at Koios. "Studies show that ultrasound hasn't been replaced by DBT. Actually, automatic breast ultrasound has been a key factor in bringing consistency to ultrasound. From the field standpoint, ultrasound is alive and kicking."
Goldszal sees the importance in incorporating decision support software into a practice's day-to-day workflow. That's where having clinical input can help in the development of tools that will be more readily adopted by practitioners, he says.
"You can't develop tools in a vacuum," Goldszal says. "Engineers working in a lab can't be the only audience for a new product. There are a lot of good solutions out there, but they need acceptance in a clinical setting. You need scientific validation as well as proof of efficiency in the workplace."
Koios DS fits into an imaging center's existing workflow, using a standard PACS interface, Barinov explains. Once connected to the PACS, the radiologist or technologist can analyze any breast ultrasound image using Koios DS. Working within the image viewer, the radiologist or technologist selects the Koios DS icon and "drags" the cursor around the area of interest on the image.
"With one or two clicks, our algorithms are analyzing the area, comparing what it sees to the data from other images," McClennan says. "It gives radiologists information to help them determine what to do next."
Koios continues to collect training images to add to its database. In the future, the hope is to create a real-time solution, enabling radiologists to see results as they're working. This could result in a mobile system down the line, McClennan says.
Impact of Dense Breast Notification
Forchette says everyone is looking for the right adjunct imaging modality to mammography when it comes to handling women with dense breast tissue. The heightened awareness of dense breast tissue has created greater demands on imaging centers, which in turn are looking for viable solutions that bring minimal impact to workflow but greater results in finding breast cancers.
"Radiologists are seeing patients who have received letters notifying them that they have dense breasts," Forchette says. "They have the letter but want to know, 'What next?' We're bringing different capabilities to the table."
— Kathy Hardy is a freelance writer based in Phoenixville, Pennsylvania. She is a frequent contributor to Radiology Today.