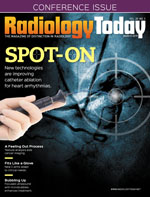 Spot-On
By Beth W. Orenstein
Radiology Today
Vol. 20 No. 3 P. 12
New technologies are improving catheter ablation for heart arrhythmias.
More than 2 million Americans have arrhythmias, and the number of patients with atrial fibrillation (AF) is on the rise. A number of factors explain the increase. One is demographics. People are aging, "and the most important risk factor for atrial fibrillation is getting older," says David Frankel, MD, an assistant professor of medicine and director of the electrophysiology fellowship at the Hospital of the University of Pennsylvania in Philadelphia and a fellow of the Heart Rhythm Society (HRS).
Obesity is another well-established risk factor and is also on the rise nationally. AF itself is usually not life threatening, but it can lead to other medical problems including stroke and heart failure. "The most important thing is protecting patients with atrial fibrillation from stroke," Frankel says. More than 1 in 6 ischemic strokes can be traced to AF, especially if it's untreated. In patients who are 80 and older, the ratio jumps to 1 in 3.
Treatment for patients with paroxysmal AF—episodes that stop spontaneously—has long been anti-arrhythmic drugs and often, when drugs fail, catheter ablation. The ablation procedure starts in the heart's upper chambers and works by scarring or destroying tissue in the atria that disrupts electrical signals causing arrhythmias. Over the past two decades, ablation technologies have improved significantly. As a result, the threshold for catheter ablation has been lowered, Frankel says.
"Now, ablation is quite acceptable for first-line treatment for patients who don't want to try an anti-arrhythmic drug," he says.
Catheter ablation also has gained acceptance for persistent AF—episodes that no longer stop on their own. Randomized trials are in the planning stages to look at catheter ablation as an upfront treatment for persistent AF.
"In other words, the threshold for catheter ablation of AF continues to decrease as the ablation procedure improves," Frankel says.
Traditionally, catheter ablation has depended heavily on fluoroscopy to guide the physician through the patient's heart to the areas that need ablating—either by burning or freezing. Thanks to technological advances over the years, physicians have become less reliant on fluoroscopy and more reliant on intracardiac echocardiography (ICE) and electroanatomic mapping systems. "We are certainly using less and less fluoroscopy each year," Frankel says.
Ultrasound-Based Reconstruction
ICE, which uses ultrasound, and electroanatomic mapping systems offer several advantages to the patient and physician. "With ICE there is no radiation, and it's real time," Frankel says. Also, he says, ICE with mapping is continuous. "With fluoroscopy, you put your foot on the pedal and when you lift it up, you can't see anymore. With ultrasound, it's continually imaging."
Electroanatomic mapping systems work similar to GPS in automobiles, Frankel explains. "The way they figure out where you are on Google Maps is by triangulating your position between three satellites." With electroanatomic mapping systems, three patches are put on the patient's back, and a sensor on the tip of the catheter indicates where it is in relation to them.
While catheter ablation is becoming a more common treatment for heart rhythm disorders, the long-term success rates still leave room for improvement. About 30% of patients experience recurrences of AF after their procedure and may need to have it repeated. Some patients experience early recurrence, within three months, due to inflammation from the procedure, and some experience what's called late recurrence, beyond three months.
Thus far, mapping technologies have implemented voltage-based information. Many are excited about new technology that is improving these systems. Pasquale Santangeli, MD, PhD, an assistant professor of cardiovascular medicine at the University of Pennsylvania, has worked with the Acutus Medical AcQMap High Resolution Imaging and Mapping System, which was cleared by the FDA in October 2017. The system creates highly accurate ultrasound-based heart chamber reconstructions combined with high-resolution maps of electrical conduction using dipole density instead of voltage. When the AcQMap system was presented at the HRS meeting in San Diego in May 2015, the medical device company said it is designed to generate real-time 3D images of the heart chamber with quality equivalent to a CT or MRI scan.
Voltage-based maps display a blended view of the broad and smooth cardiac activity, which can obscure the details of complex rhythm patterns. Dipole density mapping represents only the local charge sources on the interior surface of the chamber, resulting in a sharper and narrower delineation of cardiac activity for the electrophysiologist to see. Santangeli says the system's ability to display dipole density maps is what makes it different from others on the market.
"More clinical studies are necessary to better understand the role of dipole density maps to guide complex ablation procedures," Santangeli says. However, he adds, "In my view, the possibility to display dipole density maps is most intriguing." Santangeli says he's anxious to learn from large-scale clinical studies whether this system and others like it are associated with improved procedural outcomes.
Santangeli has used the Acutus system to examine both persistent and long-standing persistent AF and finds it easy to use. "It does not require additional training beyond what's needed for a standard AF ablation procedure," he says. In his opinion, it helps that the mapping catheter provides ultrasound data for anatomy reconstruction as well as electrogram data for dipole density maps. He is able to identify more ablation targets with this system than with conventional mapping systems.
"On average, in my cases, we have identified two to three additional ablation targets when using this system," Santangeli says. Frankel adds that he expects more competitors will come to market and electroanatomic mapping systems will continue to improve.
Ablation Improves Outcomes
A study published in the New England Journal of Medicine in February 2018 found that catheter ablation reduces mortality when used to treat heart failure patients with AF. Mortality and morbidity are higher among patients with heart failure and AF than they are among those who have only heart failure. The multicenter study found a 38% reduction in all-cause mortality and hospitalization for worsening heart failure when patients underwent catheter ablation vs pharmacological therapy for treatment of AF.
Lead author and one of the trial leaders, Nassir F. Marrouche, MD, of the University of Utah School of Medicine in Salt Lake City, whose specialties include management of cardiac arrhythmias, says the study, which went on for almost nine years, is the first ever to show that catheter ablation improves outcomes and saves lives. Marrouche notes the data suggest that the sooner the ablation procedure is performed, the greater the likelihood of achieving ideal results. He believes that advances in ablation technology and imaging deserve much of the credit for the results. Thanks to imaging, he says, the procedure has become not only faster but also safer and, as a result, more useful and effective. Like Frankel, Marrouche points out that, in the past, catheter ablation was guided by fluoroscopy only.
"Now we get a CT scan and an MR image and merge them into the mapping system we use today," Marrouche says. "These pre- and postimaging procedures have made us faster and more accurate. That wasn't the case 13 years ago."
Frankel says patients can come a day before their ablation procedure for an MRI of their heart and view the image merged with the electroanatomic map of their left atrium that will be used during the procedure. An MRI image can highlight the fibrotic and/or scarred atrial tissue that could be targeted during the ablation procedure.
Evolving Trends
Over the past 10 years, balloon ablation catheters have come on the scene and are being used more frequently. They also have shortened catheter ablation procedure times, Marrouche says. Balloon catheters that help eliminate the need for connecting multiple ablation points have been developed.
"You inflate the balloon and ablate all around the pulmonary veins," Marrouche says. Balloons make the procedure more objective and less operator dependent.
A small number of centers around the world are using catheter ablation guided by real-time MRI. "This is truly cutting edge," Frankel says, "and has potential for real-time imaging of ablation lesions, which could be a game changer."
Frankel says these MRI systems, which are still in the research stage, have the potential to provide significant advantages. One is that they use no ionizing radiation. That's helpful, especially if the procedure needs to be repeated, as some do. Another advantage is that these systems enable the electrophysiologist performing the procedure to visualize the catheter and the reaction of the tissue to the ablation.
"Whenever you give a burn, you wonder whether it is going to be a durable lesion," Frankel says. "Is it deep enough? When MRI images the lesions, you can see, yes, it was deep enough."
If these MRI systems develop as expected, they could become part of the clinical workflow in the future, Frankel says.
— Beth W. Orenstein of Northampton, Pennsylvania, is a freelance medical writer and frequent contributor to Radiology Today.